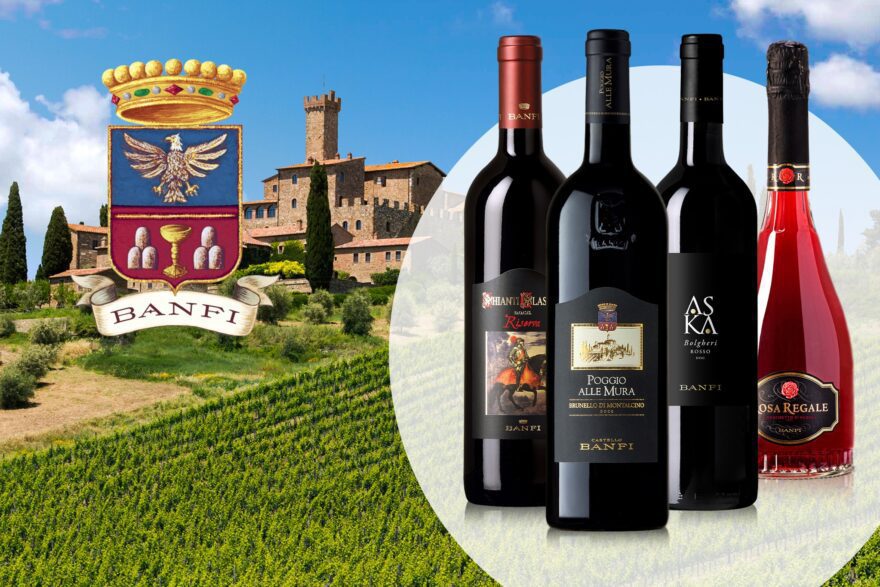 Brunello di Montalcino is one of those wines that you remember forever. As one of the very first DOCGs in Italy, this region of Tuscany has historic significance, and produces one of the best known and most loved Italian wines of all time. Among the classic wines of the world, Brunello definitely deserves to be recognized for its complex aromas and flavors, long ageing potential, and intricate winemaking process.
Among Tuscan wine producers, Banfi stands out for its range of wine styles and the excellent quality of its wines across different price points. Whatever your budget or type of event, Banfi has a wine for you. Our focus here though will be specifically on their terroir-driven, Brunellos, which showcase the richness of the area and the capabilities of different sites within the Brunello DOCG.
Intro to Banfi
The original Banfi Vintners was founded in 1919, and was one of the most prominent importers in the United States. Giovanni F. Mariani Sr. was born in the US but moved to Italy to stay with family following the death of his father at an early age. Giovanni would later return to the US to found Banfi Vintners, and his two sons, John and Harry Mariani joined him in running the family business. In 1978, just two years prior to the establishment of the Brunello di Montalcino DOCG, the brothers realized their dream of returning to their roots by founding Banfi in the heart of Tuscany.
As a family company, quality and sustainability are very important to Banfi, in both their vineyards and their winery. The current owners strive to maintain rigorous standards of ecological, ethical, and social responsibility, to ensure that they leave things in the best condition possible for future generations.
Brunello di Montalcino
Montalcino has been a center of wine production since at least the 14th century, making red wines from the local red grape, locally called Brunello, derived from the word Bruno (brown). This grape is actually a form of the Sangiovese grape, well known throughout the region, and indeed all of Italy, for Chianti, Brunello, Rosso di Montalcino, and many of the Tuscan region's red blends.
Montalcino's warm and dry climate lends itself perfectly to Sangiovese production, as the climate reduces disease pressure and brings the grapes to full ripeness levels, which are necessary to avoid harsh tannins in this grape varietal. The region has a complex mix of soils, including limestone, clay, schist, volcanic soil, and marl, which provides a variety of different plots and slightly different terroirs within Montalcino. For those of you who are not familiar with the term, terroir is a French word expressing the idea that wine reflects the place from which it came. Each vineyard within a region will have its own properties and produce a slightly different style of wine than even the vineyard right next door.
The winemaking process for Brunello takes time, as the wine spends extended time on the skin to extract tannin and color, as well as help to soften the tannins, which can be too aggressive otherwise. Brunello also requires significant ageing before it can be released – 5 years is mandatory before release, including at least 2 years in oak and 4 months in bottle. A Brunello Riserva will require 6 years of ageing.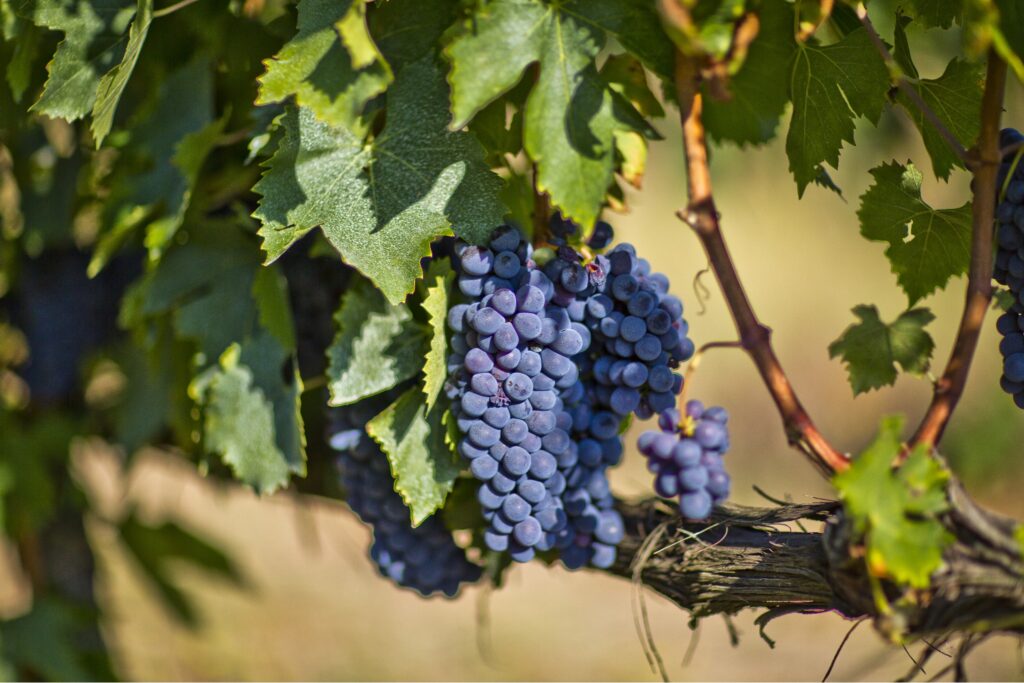 Banfi's Terroir-driven Brunello Wines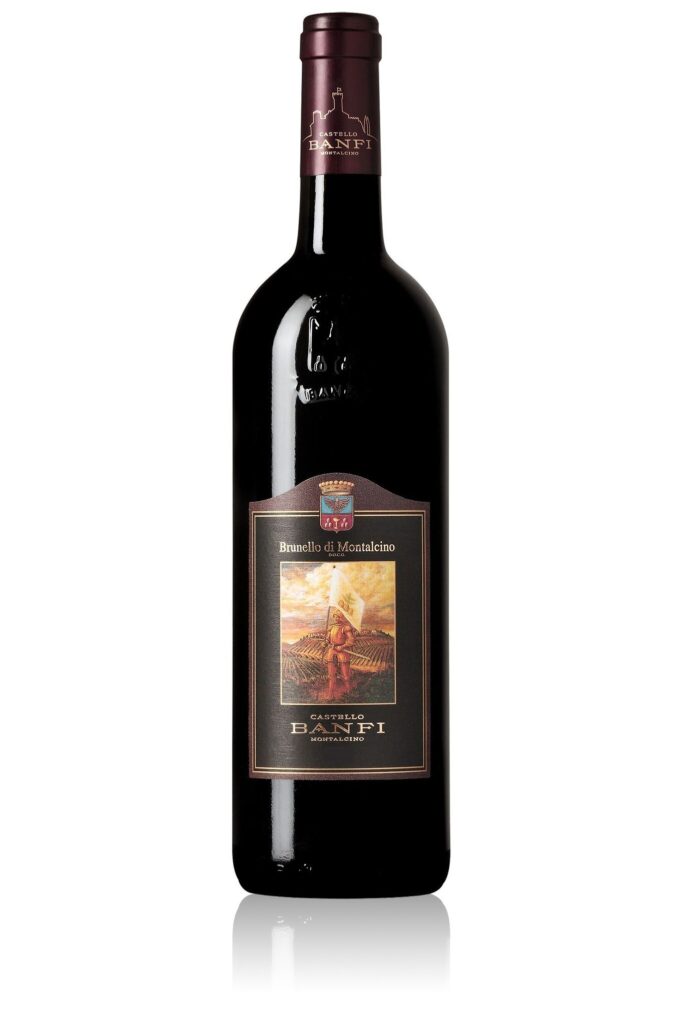 While Banfi makes several different Brunello wines, some of their most interesting offerings come from single-vineyards or specific zones within the region. Many years of research have gone into the development of these special Brunello cuvées, as Castello Banfi worked with the University of Milan to select the most adapted Sangiovese clones and the best vineyard sites with which to produce these wines.
Castello Banfi Brunello di Montalcino offers a good introduction to Brunello, using a blend of grapes from different vineyard site, while the Poggio alle Mura and Poggio all'Oro cuvées will give you a look at the variation possible between specific sites within the Banfi estate.
Castello Banfi Poggio alle Mura Brunello di Montalcino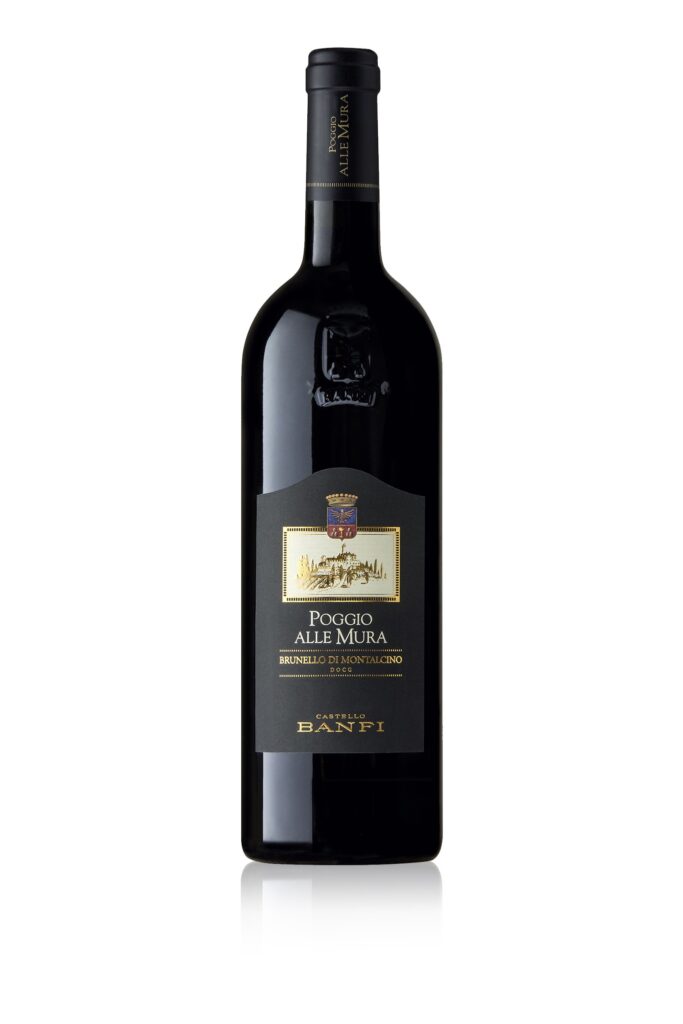 The Poggio alle Mura cuvée itself is aged 2 years in oak, a combination of large and small barrels, with further ageing in bottle before release. The grapes that go into this wine come from the vineyards surrounding the castle of Poggio alle Mura, the historic name for Castello Banfi. The name refers to a "fortified hilltop", which you can see in the logo on Banfi's wines, depicting a gorgeous fortified castle set on top of a hill, looking out over the surrounding countryside.
The resulting wine is a vibrant ruby red, with aromas of red plums, tobacco, black liquorice, vanilla, herbs, and a hint of caramel, from the use of small oak barrels. Flavors of bright fresh red fruit, red plum, cinnamon, and baking spices dance on the palate. I last tasted the 2015 vintage, which was generally warm across Europe, and the 2015 Poggio alle Mura was gorgeous, but still very, very young. The tannins are tight, though they begin to soften as the wine sits open, and the acidity is refreshing. Give this wine another 5 years in bottle and it will begin to mellow out to something silky, smooth, and aromatic, with a full body and a lovely, graceful structure.
The obvious pairing for Brunello is, of course, steak, particularly the traditional Tuscan dish Bistecca alla Fiorentina. While this is a great pairing, it is by no means the only one. Personally I love Brunello with cinghiale (wild boar) or with venison. The savory, herbal qualities in Brunello, especially one with a bit of age, are an excellent match for game meats, and dishes incorporating tomatoes or tomato sauce. Rich cuts of meat help to soften the strong tannins in Brunello and reveal some of its other complex layers.
Sustainable Wine Production
For Banfi, another aspect of showcasing the remarkable properties of their vineyards includes using sustainable farming and winemaking methods, encouraging the biodiversity of their land, and recycling water. To allow the natural hallmarks of the land to shine within the wines, Banfi strives to limit the amount of synthetic pesticides and fertilizers, trying to be as respectful of the natural environment as possible. Only one-third of Banfi's estate is actually under vine, with the rest devoted to olive, plum, wheat, and truffle production, or left as large meadows, providing land for deer, wild boar, and pheasants. This variety of flora and fauna ensures that the soil is not depleted of nutrients, and helps to reduce the greenhouse effect of deforestation.
The estate is also working to prepare the future of wine production, with two experimental vineyards. These plots are dedicated to exploring how climate change is and will continue to impact vines and grape production, so that we can learn to prepare for future changes to our planet and the growing environment. Banfi's findings can then be shared with vineyards around the world, as winemakers search for ways to continue environmentally-friendly production in a changing world.
Further Exploration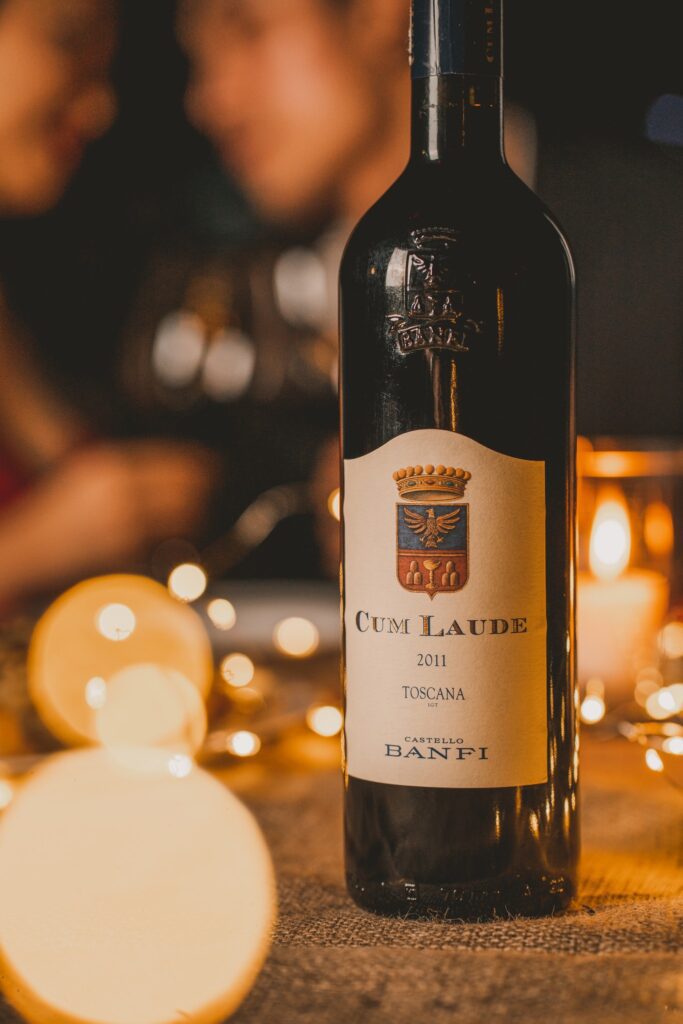 If the Banfi Brunellos have impressed you, consider exploring further with some of their other wines. Banfi produces several other Tuscan wines, such as Chianti Classico and Super Tuscan blends Aska, made from Cabernet Sauvignon and Cabernet Franc, and Centine, made from a blend of Sangiovese, Merlot, and Cabernet Sauvignon. These wines will give you more insight into the Tuscan region as a whole, across the different winemaking areas and different grape varietals, which will help you understand the great diversity within Tuscany.
Tuscan reds in general are also great food wines, with their high acidity and earthy, savory profiles. Red meat and game are some of the best options for pairing with these wines, especially beef, boar, venison, and pheasant. Dishes with a tomato-based sauce and Italian herbs also bring out the red fruit and dried herbal characteristics within Brunello, Chianti, and Tuscan blends.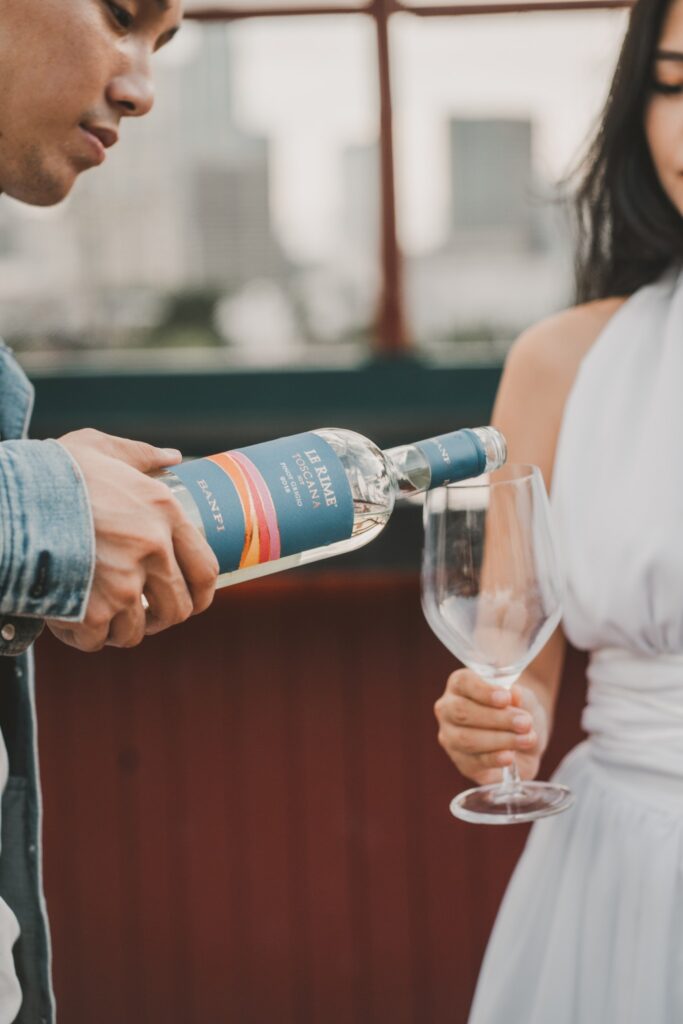 If you wish to explore even further, Banfi produces wines from the Piemonte region in Northern Italy. Banfi Piemonte makes several wines from Piemonte grapes, including Rosa Regale, a sparkling red wine made from Brachetto, as well as traditional reds Dolcetto d'Acqui and Barbera d'Asti, and white Gavi. The quality and attention to detail that Banfi brings to wine production have quite obviously traveled north, and their Piemonte wines are every bit as elegant and refined as their Tuscan offerings.
Rosa Regale in particular is an excellent choice for holiday gatherings, as an alternative to Champagne or Prosecco, especially if you have a very dedicated crowd of red wine drinkers. This lightly sparkling, semi-sweet wine is a great pairing with desserts, red fruit, and dark chocolate desserts especially, or even as an apéritif. Brachetto had fallen out of favor in recent years, though it is one of my favorite grapes, and Banfi has been instrumental in bringing this type of wine back to the table.
Conclusion
Banfi has a proud tradition of Tuscan wine production and has brought their focus on quality and high standards to the Piemonte estates as well. This winery has always placed importance on sustainable production and making wines that showcase the terroir and speak for themselves. To experience Italian winemaking at its best, explore Banfi wines, through Brunello and beyond!