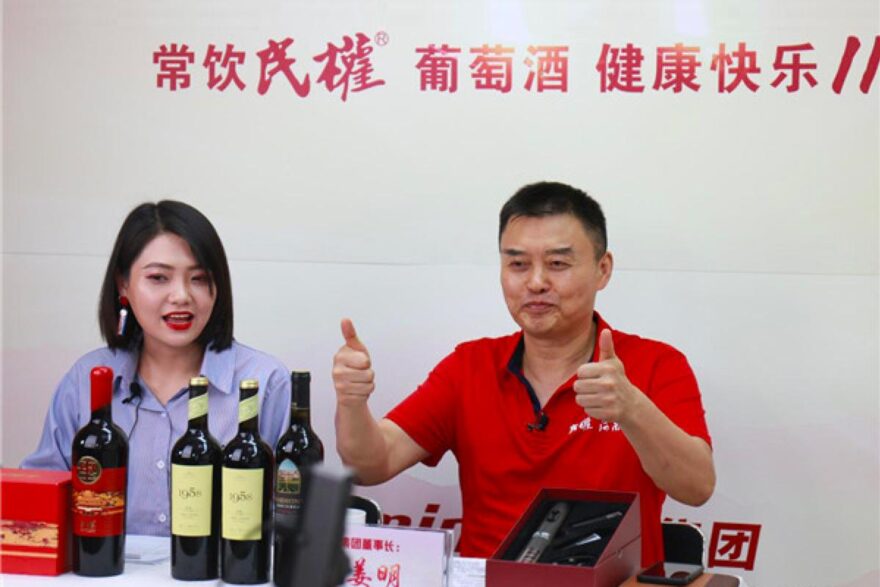 As the Internet continues to increase its influence on modern society, wine bloggers are finding innovative new ways to get their content in front of more consumers than ever before, with their success giving them value as one of the most important segments within the industry. They often serve as the leaders at the forefront trying out new ideas and sales methods, helping to guide the public opinion as their content is broadcast throughout the web and therefore across the globe. The rise of the influence of the Internet blogger has even led to the creation of a new term for the Internet Age, which has become gradually more familiar to the Chinese – the KOL (Key Opinion Leader).
Generally speaking, a KOL will make assessments of different wines, and express these opinions on their various self-media platforms, thereby influencing the tastes of their viewers. They will typically be at least somewhat specialized in the evaluation and appreciation of wine, with some educational background to serve as a basis for their influence, and they will strengthen their connection with their viewers through frequent online interactions.
To be a KOL, one must have a good grasp on methods of information broadcasting in addition to an attractive and charismatic personality. If their viewers are under the impression that they are in it purely for personal profit, they run the risk of "losing control of the conversation." By losing control of their content, some bloggers have seen themselves reduced to nothing more than a product spokesperson in the eyes of their viewers; a clown who sold out and got swept up in personal profit and fame.
So, who are some of the most important KOLs within the Chinese wine industry?
1. Lady Penguin: China's Top Wine KOL
Lady Penguin is the pseudonym of Wang Shenghan, a graduate of Brown University's history and economics programs who decided to continue her education by attaining a wine management specialty degree at France's Le Cordon Bleu culinary institute.
The origin, and rise, of the Lady Penguin brand
Lady Penguin began creating wine-related self-media content in 2013, and in 2014 established her brand and official public accounts with the birth of her Penguin Red Wine Daily video series. In 2017, based on the original Penguin Red Wine Daily series, she entered into a one-year contract with Himalaya Television to create audio content for the Lady Penguin Wine Dictionary.
Because of the interesting, fresh, and substantive content packed into each short video or audio feature, Lady Penguin quickly drew a large and loyal following. Today, Lady Penguin has over 1.3 million followers on Weibo, and nearly 3.4 million followers on Douyin (the TikTok equivalent for the Chinese market), while her Penguin Red Wine Daily videos have been viewed over 200 million times. Lady Penguin is truly worthy of her title as the wine industry's most popular Internet presence.
Lady Penguin targets the majority of her content toward the wine novice
In order to lower the threshold for those new to drinking wine, and to provide consumers with a better, more straightforward set of terminology for describing wine, Lady Penguin has adopted a method of speaking about wine that can be understood by anyone. She avoids much of the specialty vocabulary often used when talking about wine (such as soil and climate types, optimal humidity levels for storage, etc.), and instead places her focus on content that is more practical to the everyday consumer (such as how to read and understand a wine label, or how to elegantly open a wine bottle).
Lady Penguin has created her online persona as that of a young woman who, although she has an extensive knowledge of wine, speaks the everyday language of the younger generation (and utilizes their preferred presentation format) in order to better share her experiences and opinions with any and all Chinese consumers.
Taking on increased responsibility as a trusted member of China's wine industry
Lady Penguin once said that she initially developed her brand for the purpose of "creating China's best introductory content into the world of wine," but later refocused with toward "lowering the threshold for the younger generation of wine consumers." Today, following her successes in implementing these first two goals, she has something even bigger in mind – challenging what she sees as the many flaws and maladies of the modern wine industry.
In China, the cost of wine is not transparent enough, and foreign wineries often treat their true cost and value as a closely guarded secret, leaving consumers unable to determine what a fair and reasonable price for a particular type of wine should be. Furthermore, regardless of whether the purchase is made through online retailers or at brick-and-mortar stores, there are always excessive markups. For a wine that may cost $8 to produce, the final price for Chinese consumers can reach $100.
Because the typical consumer lacks sufficient knowledge and experience when it comes to selecting wine, they are extremely limited in their ability to recognize the advantages and disadvantages of different wines and choose the one that is most appropriate for a specific occasion or for their individual taste. This is because recognizing the characteristics of wine based on its variety, label, region of production, or any other number of different factors, all require a systematic learning process. As a result, these inexperienced consumers end up making their purchase by chance, passively selecting a wine at random without the knowledge to make a more suitable choice.
Monthly "Penguin Club" wine lists
To help resolve this issue, Lady Penguin made a push to bring more wine sales into social e-commerce platforms, where consumers can easily access her assessments and recommendations while they shop. She accomplished this by compiling two different wine lists and offering her followers a subscription service to receive monthly orders carefully selected from her lists, which she calls the "Penguin 200" and "Penguin 2,000."
The ultimate purpose of this service is to reduce the time that consumers spend deliberating over their wine purchase, while also alleviating any worries about excessive price markups. However, subscription to this service also provides the customer with access to a large amount of online content in which she shares her extensive wine knowledge, which is a great method to ensure she retains her followers and fans.
The "Penguin 200" was created for Lady Penguin's primary fanbase – new and inexperienced red wine drinkers. Each month, members of the group pay 200 yuan (~$30) and receive a bottle of wine selected by Lady Penguin, exclusive audio content and other materials developed to increase their knowledge of wine and ability to judge wine, and a special members-only price across other Lady Penguin media platforms. Subscriptions are up for renewal at six-month intervals.
The "Penguin 2,000" is an upgraded version of the "Penguin 200," where subscribers receive two bottles of wine every two months that have an average value of no less than 2,000 yuan (~$300). Members of the "Penguin 2,000" are also invited to attend offline, VIP wine events. Although Lady Penguin's primary fanbase is made up of younger, inexperienced red wine drinkers, their spending power and knowledge of wine will surely increase over time, at which point they can upgrade to the "Penguin 2,000" to continue their journey and become familiar with more expensive wines. Lady Penguin has created this two-tiered service in order to separate her followers by their willingness and ability to spend money on wine, and in the end this optimizes her personal profit per subscriber.
A constantly developing service helps Lady Penguin stay connected with her followers
With their guarantee of high-quality wine selections, these "Penguin" groups allow consumers to continuously develop a trusting relationship with the Lady Penguin brand, and over time come to depend on her knowledge and suggestions. Today, Lady Penguin has become synonymous with red wine in China, as she has cultivated the taste preferences and lifestyle habits of her large following. Members of these groups will also often purchase other varieties of wine outside of the monthly subscription bottles, thereby increasing the sales and repurchase rates that can be associated with Lady Penguin.
In July of 2019, Lady Penguin launched her online wine course WinePro, which attracted over 10,000 students in its first three months. Each month, Lady Penguin wine events are held across 12 different cities; even while maintaining her online presence, Lady Penguin has not overlooked the importance of developing a strong and deep wine community in the real world.
2. Zhengshan Niurouge (Beef Brother): From a Million Bottle Sales Event, to an Account Ban
"By going straight to the source, I knock down the price of your wine!"
Although his pseudonym is derived from his promotion of beef products, Zhengshan Niurouge (Chen Qi) has now become involved in the promotion of many different types of products, including wine, athletic shoes, luxury goods, and more.
During his e-commerce promotional events for the '618' Shopping Holiday in 2019, Niurouge announced sales of 1 million bottles of wine and 100,000 cases of beer, largely due to his "discount everything" philosophy. With his industry leading price of six bottles of wine for 99 yuan (~$15), Niurouge sold completely through one of his supplier's stock of over 400,000 bottles of wine in a month and a half.
Niurouge claims to be "working for the benefit of the consumer"
"By going straight to the source, I knock down the price of your wine," has become a catchphrase of sorts for Niurouge, used often in his popular Douyin videos as he entertains his followers with direct attacks against the wine industry's huge markups. With this method, he was able to transform himself into the image of someone working for the benefit of the consumer.
Zhengshan Foods CEO Li Rongxin had also once stated to the media that "Our prices do not damage, but are rather of benefit to, the industry. Zhengshan strives to become a company trusted by consumers, and we want to achieve this goal by giving a transparent and honest view of the costs of our products and our supply chain." Chen Qi's ideal for "reducing the cost of wine for everyday consumers, and allowing more people to drink wine" has been called a "declaration for equality in the wine industry" by his legion of online followers.
The true cost of a deep discount
During an interview last year, Chen Qi proudly revealed the details behind his supply chain as evidence of his "equality in wine" initiative:
"With one type of wine that we have sold, we placed a single order for 50 shipping containers with a total of 900,000 bottles, at a cost of 0.88 euros ($1.03) per bottle; after adding tariffs and consumption taxes at a total tax rate of 46.2%, and shipping costs of approximately 0.07 euro (~$0.08) per bottle, our total cost comes to 1.5 euro ($1.76) – a savings of 0.5 euros ($0.59) when compared to a direct purchase from Europe."
Based on the fact that this Spanish wine could be purchased for little more than $1 per bottle, and that an order as large as 900,000 bottles could be fulfilled in a single transaction, it's easy to tell that this was a cheap, low-quality, industrially-produced wine. It's the type of wine that doesn't require an expert to assess its (lack of) quality, and Taobao users soon flooded its product review section with negative feedback.
Controversy strikes as the story of Niurouge becomes a warning to other KOLs
In April of 2020, the "Niurouge Selects" Douyin account, which had amassed some 6 million followers at the time, was banned, with the entirety of its past video content removed. The reason for the ban was said to be due to "issues with product quality leading to a large number of complaints." Following the ban, more details regarding Niurouge himself began to surface, with hundreds of Internet users claiming that this once-famous Internet celebrity had a "criminal record," "spread false information," and "sold counterfeit products."
In the Internet Age, KOLs can wield their influence to sway thousands of customer opinions within the span of a minutes-long video, but this power is truly a double-edged sword; it takes only an instant to lose their trust, too. As Niurouge discovered the hard way, selling inferior products under the guise of a "price knockdown" may fool your customers once, but once you lose their trust you'll never be given the opportunity to fool them again.
3. Local Officials Get In on the Livestreaming Game: Sales of 2,280 Bottles of Wine in a Mere Three Hours
Beginning this year, and capitalizing on the hot trend of livestream promotional events, an increasing number of county commissioners and other local officials throughout China have been teaming up with KOLs to promote their region's local goods to a wider audience.
Using humor to gain viewers and make sales
Deputy Commissioner Qiang Yousuo, of Gaotai County in Gansu, has quickly transformed himself into a livestreaming star, using Taobao to promote some of his county's unique agricultural products. In a humorous ten-minute broadcast, Qiang Yousuo gave Internet users across China an introduction to Qilian wine, tomato pastes, dried peppers, and other agricultural products from the Gaotai region. His entertaining delivery helped to attract more than 400,000 viewers, and kicked off a golden age in livestream promotional events as a nonstop stream of likes and sales has inspired other officials throughout China.
Giving the world a glimpse of local wines
During his own broadcast, the Deputy Commissioner of Yining County in Xinjiang declared: "We'd like to help our local wine businesses by utilizing this livestreaming format to raise awareness for their brands, and allow them to break into a larger market. We also invite our friends from across China to come and learn more about us here in Yining, including our Yining wines!"
Ha Re, commissioner of Hoxud County in Xinjiang, has also used Taobao's livestreaming feature for enthusiastic promotions of his county's wines, chili sauces, tomato sauces, prune pastes and other products. His livestreams attract a continuous barrage of viewers from beginning to end, and a glance at some viewer comments are proof of their effectiveness: "The Commissioner can really sell;" "I want to hear The Commissioner's stories;" "The Commissioner is promoting a flash sale for wine." According to more concrete data measures, during Commissioner Ha Re's three-hour broadcast, he received 591,000 likes, and achieved 2,280 transactions for a total of 103,000 yuan (~$14,800).
Livestreaming: the future of wine promotion
Online livestream sales events have become an excellent method of promoting products on the Internet. Because of the particular difficulties in effectively transmitting information about local products to a wider audience, many have remained in obscurity despite their unique features and high quality. However, with an entertaining livestream promotional event, these local products are finally given the spotlight as viewers from across the Internet are offered a simple and easy method to learn about them, and even make purchases.