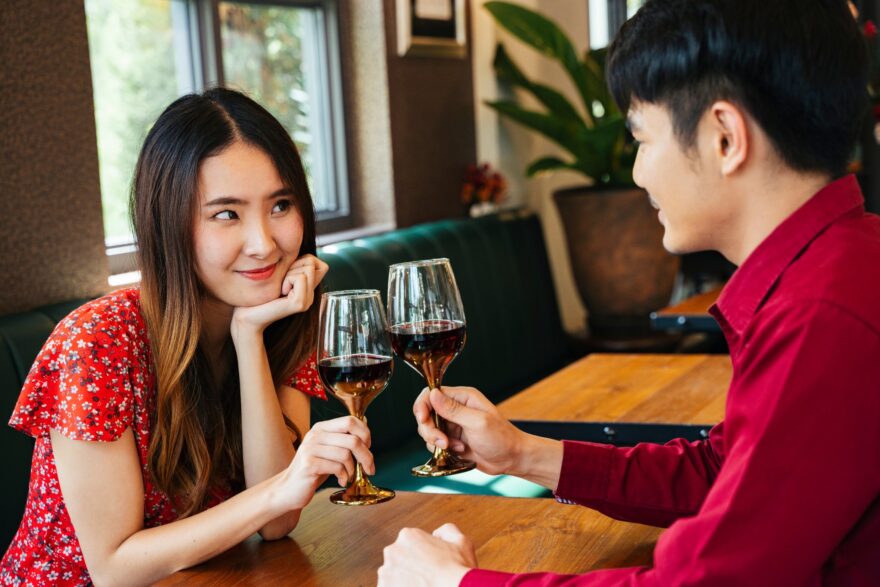 On Valentine's Day, a romantic, candlelit dinner shared with your partner is a beautiful and time-honored tradition, a night spent staring deep into each other's eyes, full of emotion and love – however, to live up to this idyllic vision, it's essential to set the mood with a glass or two of fine wine.
And what better way to spoil that mood than to be left staring wide-eyed and helpless when your server hands you a wine menu that might as well be written in Greek? To save you from such a fate this year, we're passing on 5 tips to help you conquer any wine list with poise and grace, making you the envy of the restaurant and a Valentine's Day hero.
Smiling and kindness go a long way in building rapport with your server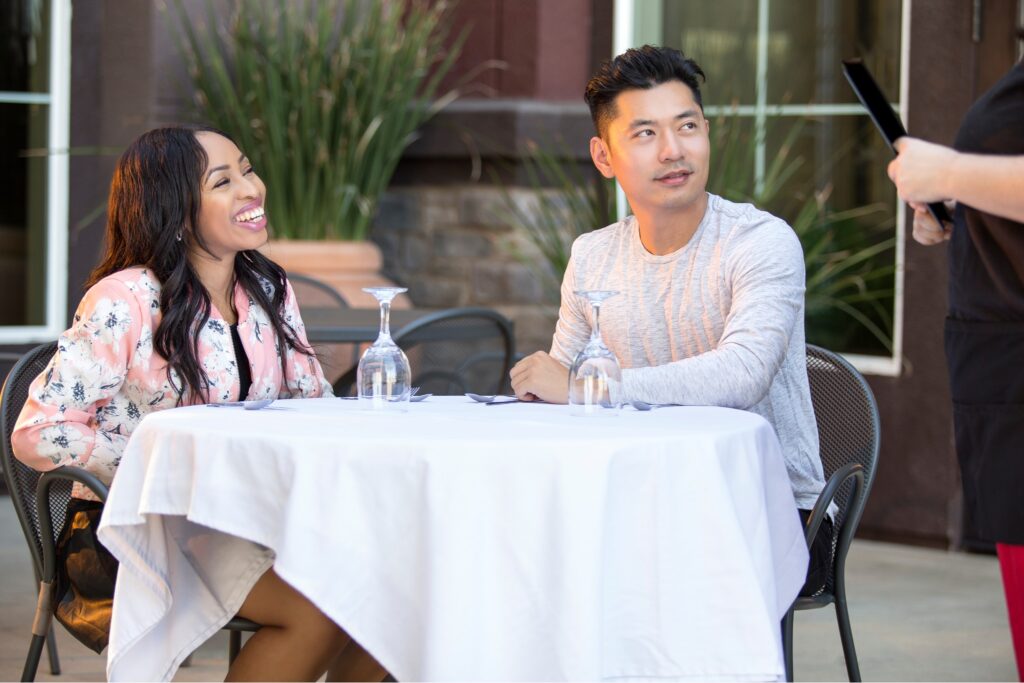 As you're seated at the restaurant, make sure that you have a smile on your face, and allow your server to offer you the menu. Your focus at this stage is to remain polite, friendly, and patient with the waitstaff; keep in mind that although you may be out celebrating, they are still working, which can be especially difficult on holidays. If you become impatient or act rudely toward your server, you'll be far less likely to receive the top-grade service you want on such a night. However, if you treat them with kindness, they'll become an important player on your quest to impress your partner, providing the assist for your perfect romantic evening. The right course of action is clear to see.
Once the menu is in your hands, start off by ordering food, making sure that it is something you know you and your partner will both enjoy. This way, even if your wine selection disappoints, you'll still have a great meal to save some of the holiday mood.
Take your time when reading through the wine list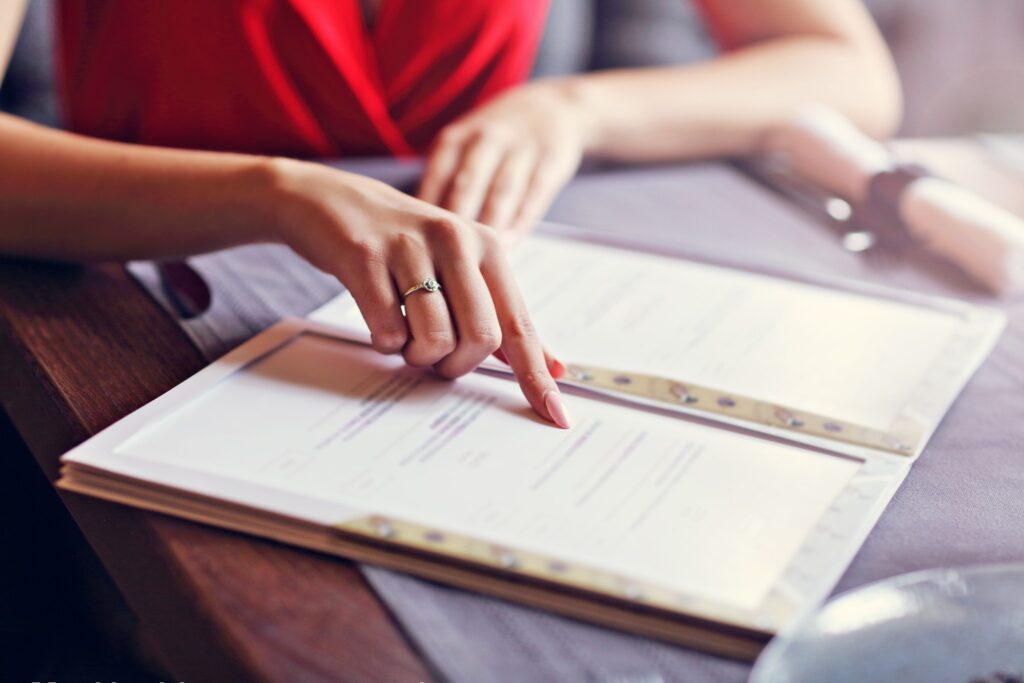 After you receive the wine list, study it with patience and care (reading from front to back), and make sure that the expression on your face remains controlled. A slightly furrowed brow, accompanied by the occasional graze of the menu with your fingers, shows your focus; however, be sure that these actions remain subtle.
When choosing a wine, it is also important to consider its region. Try to follow this simple principle whenever possible: Let the wine follow the cuisine.
When choosing a wine, it is also important to consider its region. Try to follow this simple principle whenever possible: Let the wine follow the cuisine. When ordering Australian lobster, for example, consider spending a little bit more time on the Australian wine section of the menu; when ordering paella, focus on Spanish wines. This same principle applies in many more cases: if you find yourself dining at an Italian restaurant, look through the Italian wines; at a French restaurant, focus on the French wines. Even if you've just ordered Peking duck, you can look to Helan Mountain Wines for an excellent pairing.
At this stage, keeping track of time is a top priority. Try to strike the perfect balance, letting the game play out by its rules without drawing the process out unnecessarily. Some wine enthusiasts tend to hold on to a menu with an obsession, muttering to themselves as they consider every option, but you must not forget what you've actually come here to do – order and enjoy a fine wine.
Continue to have friendly interactions with your server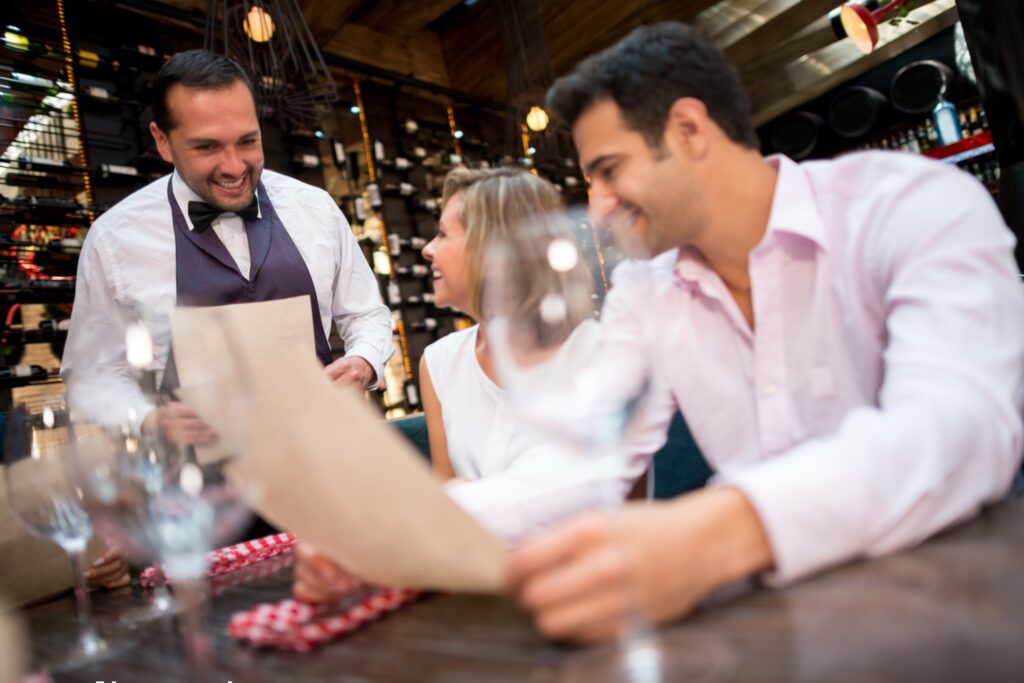 Now is the time to put your relationship with your server to the test. Many restaurants that serve food and wine also train their waitstaff to offer wine suggestions based on their customers' meals. With this in mind, some clever usage of wine-related terminology and a positive attitude can help guide your server toward the wine you're looking for, preventing a potentially awkward situation.
Technique 1: Tannins
Tannins are the spirit of a wine, and are also your best hope for a last-minute save. For example, you could ask your server: "I prefer a wine that is relatively low/rich in tannins; what would you recommend?" This can be quite an effective way to point your server in the right direction.
Technique 2: Body
Generally speaking, this is the quality or thickness of the wine's texture and feel in the mouth. If you are able to casually bring up the wine's body to your server, "Oh, by the way, it would be best if the body was light/full…," you've just raised your credibility several levels.
Technique 3: Flavor
The flavor of a wine is a description of the various notes and tastes it contains, and mentioning a preferred flavor can help in these situations. To steer the conversation in this direction, ask your server for a wine that has a fruity/spicy/fragrant flavor. A clever server will certainly get the hint, and respond with some good suggestions.
The key issue idea here is to clue the server in on what you are planning to order, avoiding the embarrassment of having to decline a poor suggestion. In reality, you shouldn't have to worry about this too much; the typical trained server will be able to understand your desired wine based on the meal you have ordered. You will commonly be offered choices at several different price points, allowing you to stay within the range of what you're comfortable spending. If you're dining on a budget, try drawing attention to the price level you had in mind. If the server's recommendations are too pricy, you can use facial expressions to communicate with your server that you'd like something similar to their suggestion, but a little bit cheaper.
Evaluate your wine selection when it arrives at your table
Once you've arrived at this stage, you can begin to relax. After you've ordered your wine, the server will typically present you with the wine label to confirm your order. A smile and nod will suffice as your response. Then, the server will proceed to open the bottle, and pour some for you to taste.
This step is an invitation for you to ensure that the wine meets your expectations; gently swirl and smell the wine using your finest wine tasting technique, and then take only a small sip to taste. Of course, be sure to offer your partner the chance to taste as well.
Enhance the Valentine's Day mood with a Prosecco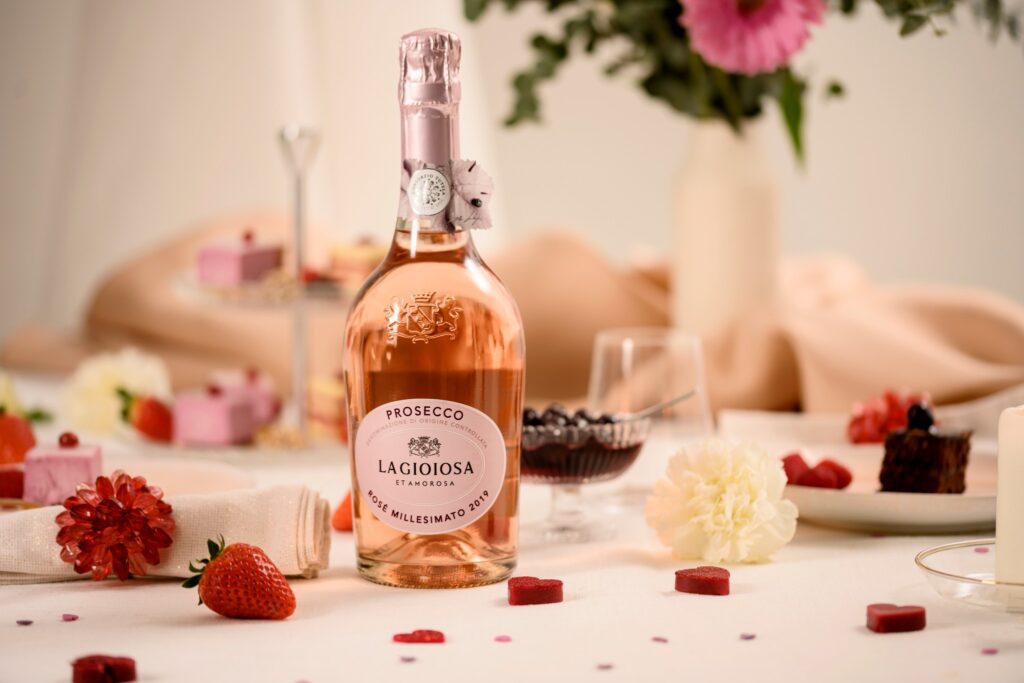 This final tip is meant to save you time with the menu – as soon as you pick up the wine list, simply order a Prosecco. A favorite of many wine lovers, Prosecco can be enjoyed on its own but truly shines when paired with sweet or salty foods. Try pairing a festive Prosecco with your pre-meal appetizer or post-meal dessert, a choice that is certain to enthrall your partner and add that special touch to your night out. With you and your partner all dressed up, the beautiful pink color of a Prosecco Rosé will be an exceptional complement, further enhancing the Valentine's Day mood.
In the end, routine always takes over, and it's better to realize this from the start. When pairing wine with your meal, it is most important to remain calm and simply enjoy your food and drink, cherishing the time you are spending with your partner.
Life is meant to be enjoyed to the fullest, and you shouldn't let wine list anxiety detract from your special evening. With these useful tips for demystifying any wine menu, we hope that love will find its way to couples everywhere this Valentine's Day.