Valentine's day is swiftly approaching – the day to celebrate the romance and excitement that that special person brings to your life. Some couples like to go out to a fancy dinner or party, while some prefer to stay home and just enjoy being together. But whatever your evening holds, a good bottle of wine is often a key part of the plan.
Though picking the perfect bottle of wine for the most romantic day of the year may seem like a daunting task, the most important thing to remember is actually very simple. Get what your partner likes.
This day is supposed to be all about celebrating the person who is closest to you – it doesn't matter if you buy the most sought-after, highly-rated bottle of wine you can find, if it is not something your partner enjoys then it is the wrong wine for the occasion. So, with this in mind, what should you look for as you plan your celebration?
Champagnes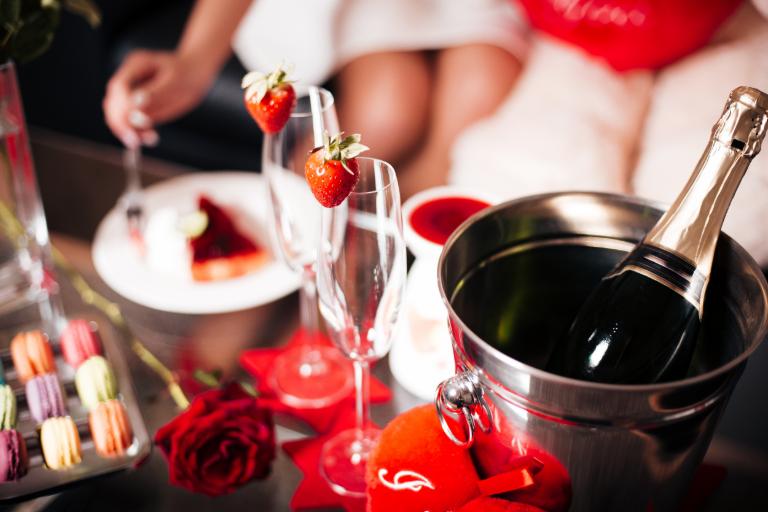 Champagne is the traditional wine of celebrations and milestones. It's hard to go wrong with a beautiful bottle of bubbles, plus champagne is very versatile in terms of pairings. You can use it as a pre-dinner drink with appetizers, for a toast at a party, or you can even pair heavier versions with dinner.
If you're looking for something really in the theme of Valentine's Day, try a rosé Champagne. Rosé champagnes are pink because they are made using predominately red grapes, which can also give them the body to stand up to pairings with meat courses during dinner.
Pinot Noir
Whether it comes from France or from the New World, Pinot Noir is known for its smooth, silky, seductive feel, and its ripe fruity taste. This can make it an excellent choice for an elegant, refined meal, where a bolder red such as Cabernet Sauvignon or Bordeaux blends may be too heavy.
Pinots pair well with French and Italian dishes, which are often consumed for Valentine's Day, and, depending on the exact style of the wine, they can transition effortlessly from dinner to dessert. The silky smoothness and light body of Pinot Noir goes well with chocolate, and the fruitiness enhances red fruit desserts made with cherries, raspberries, or strawberries.
Amarone della Valpolicella
If you and your lover absolutely adore full-bodied red wines, then consider trying an Amarone from Italy this year. Properly known by its full name, Amarone della Valpolicella, this rich red is velvety, complex, ripe, redolent in red fruits, incense, and wood scents, and best drunk after at least 5 years of aging. My personal wine of choice for Valentine's Day, an Amarone offers a voluptuous sensory experience, and pairs with rich foods like beef, wild game, ragoût, and dark chocolate.
Wines with Romantic Names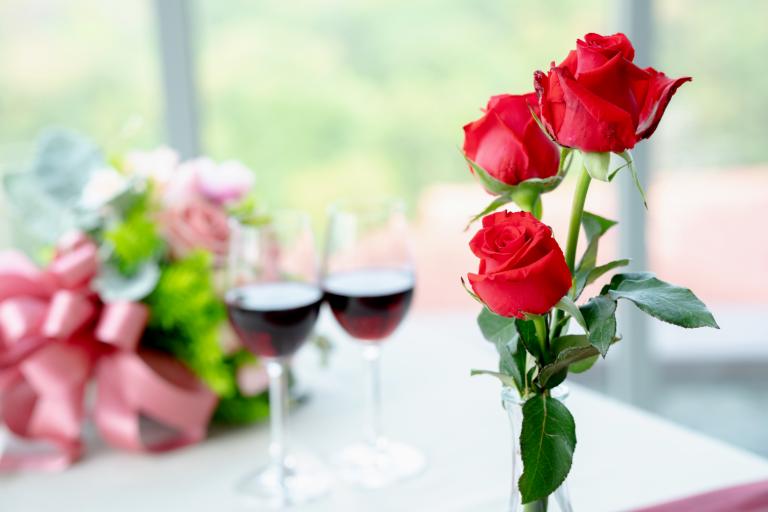 Another option for selecting Valentine's Day wines is to choose something love-themed. Take a look at the following list of wines whose names could describe your relationship:
Les Amoureuses
Meaning « The Lovers » in French, these classic Burgundies come from a Premier Cru site within Chambolle-Musigny, an area known for its delicate, perfumed wines made from Pinot Noir. A wine of this quality carries a heavy price tag, but it's a special wine for a special occasion.
Château Les Amoureuses
For those who may not be able to afford Les Amoureuses but who love the name, try wines from the producer Château Les Amoureuses. This is a completely different style of wine, from the Rhone Valley and the Ardèche in France. Much more affordably priced, the Château offers red wines made from Grenache, Syrah, and Mourvèdre, as well as rosés and whites. Ripe, pleasant wines with a lot of warmth and a hint of spiciness that go with a wide variety of culinary styles. The whites in particular pair well with Asian cuisine.
St. Amour
Which translates as « St. Love » in French, this cru Beaujolais is not the simple light wine that many associates with Beaujolais. St. Amour comes from a specific area within Beaujolais, known for rounded, fruit-forward, but more complex wines. There are many good wines at very accessible price points from this region, and they are very pleasant to drink both on their own or paired with a meal.
Château La Tour Carnet « La Passion »
« The Passion » is a wine for those Bordeaux lovers who want something memorable. A second label of La Tour Carnet on the Left Bank in Bordeaux, this wine is predominately Cabernet Sauvignon, but ready to drink sooner than the estate's first label. And who doesn't love a passionate bottle of Bordeaux?
Loveblock Sauvignon Blanc
Sometimes only a white wine will do. Though red is the traditional Valentine's Day choice, perhaps you need something crisp and refreshing. Loveblock Sauvignon Blanc from New Zealand is the latest project from internationally known winemaker Kim Crawford. Perfect for a lighter meal, and especially with seafood.
There are many ways to approach choosing a wine for this special day, but whatever you choose, make sure it's something that both you and your partner will enjoy. Remember that it's not the price of the bottle that counts, but who you share it with. The memories you make over a good bottle of wine are memories that last forever.