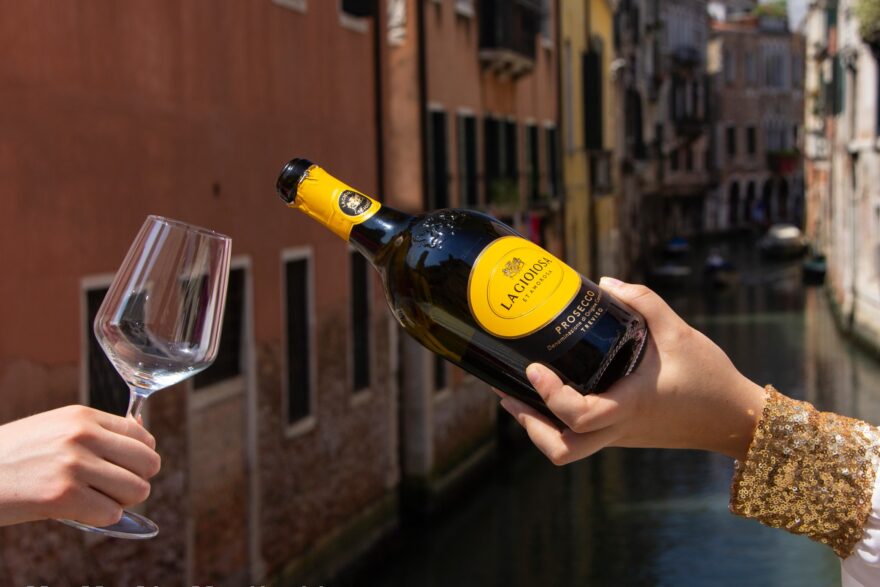 Do you love a good sparkling wine? Then congratulations, you've come to the right place. I love sparkling wines any time, anywhere, in fact I'm in the midst of studying for the sparkling wine exam as part of the WSET Diploma, so I was very happy to have the chance to spend some time recently with Flavio Geretto, global export director at La Gioiosa winery, learning about the range of Proseccos that La Gioiosa is now offering across China, Southeast Asia and the whole Asia-Pacific region.
If you haven't heard of La Gioiosa before, you may know that it is part of the Moretti Polegato family, an Italian wine group sharing a particular philosophy and value. Sustainable farming, care for the environment, and winemaking practices that yield a maximum of freshness and purity in the wines are a hallmark of production for the brand. But before we get deeper into my discussion with Flavio, let's take a quick look at Prosecco itself.
What is Prosecco?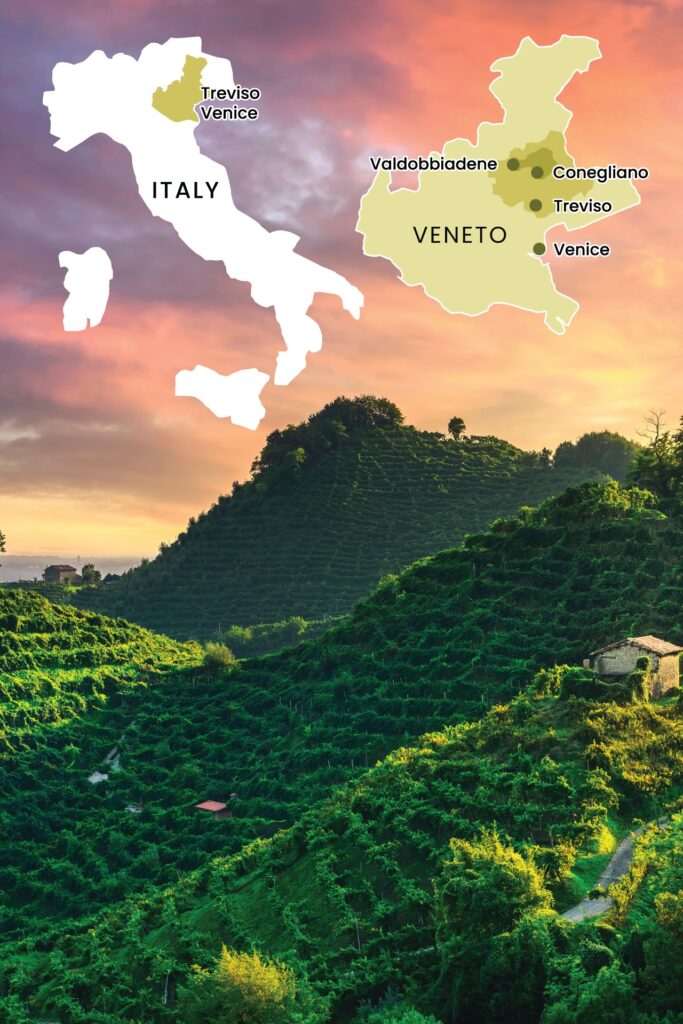 First things first, what exactly is Prosecco? It is both a wine and a region, and by definition, a Prosecco wine must originate in the Prosecco region. Sparkling wines made outside of the Prosecco DOC appellation must use a different name. Located in the northeastern region of Veneto, in Italy, and very close to Venice, this area has long been known for white wine production, and Prosecco is one of its most popular wines worldwide. The wine is made primarily from Glera grapes, though small amounts of other varietals may also be used.
As Flavio tells me, "Prosecco is a democratic wine, both in terms of pairing possibilities and price point." It is certainly available at a much more attractive price point than Champagne, for example, making it accessible to everyone, and it is perfect for pairing with food. In terms of style, it is a light, crisp, bright wine with fine bubbles, that is known for its fresh and fruity flavors and aromas. Meant to be consumed young, it is generally drunk quite quickly after production, and it spends no time ageing at the winery. This is why you will notice a difference between the fresh fruit flavors in Prosecco and the toasty, bready characteristics of Champagne.
About La Gioiosa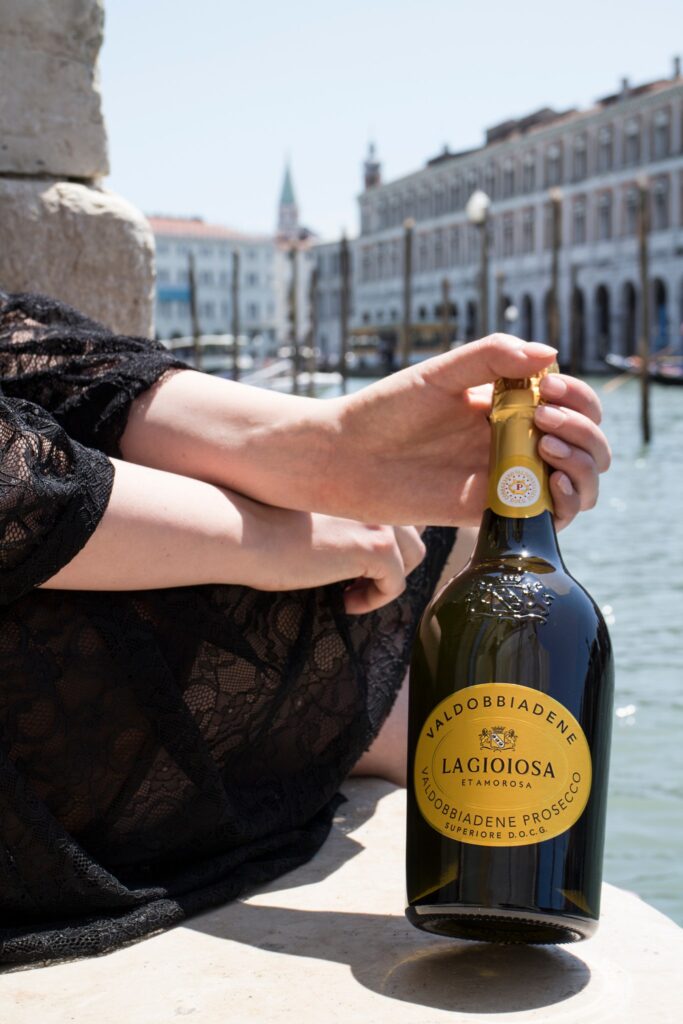 Based in the province of Treviso, La Gioiosa takes its name from the ancient province name and motto – The March of Treviso, the joyful and loving. A family-owned company, founded in the 1970s, La Gioiosa brings both joy and love to their winemaking processes, producing a range of Proseccos from different appellations, with innovative and sustainable methods of viticulture and winemaking. A family-owned winery for generations, La Gioiosa is proud to offer their beautiful wines to wine lovers around the world.
One of the most striking things about La Gioiosa is the fact that despite the very high volume of wine production, they manage to maintain the tight control of production necessary to make high quality wines. As one of the top 5 Prosecco brands worldwide in terms of volume of wine produced, one might expect that the wines would suffer from the dangers of overproduction and cutting corners. However, Flavio notes that the Moretti Polegato family is native to the region, and very concerned with maintaining the reputation of both the family name and the winemaking area. "We have seven winemakers across the company, keeping a close eye on production, and we have worked with many of our growers for years, to ensure that we get high quality fruit for our wines. Our winemaking processes are developed to ensure our wines have a maximum of freshness and purity of fruit."
The difference is striking when you compare with other high-production, mass market Prosecco brands, who often rely on high levels of sugar in their wines to give an illusion of flavor, rather than the clean fruit apparent in La Gioiosa's wines. The winery sources their grapes from across the Treviso province, making wines from the wider Prosecco DOC region, as well as the more premium areas of Asolo, Valdobbiadene-Conegliano, and Cartizze.
Special Production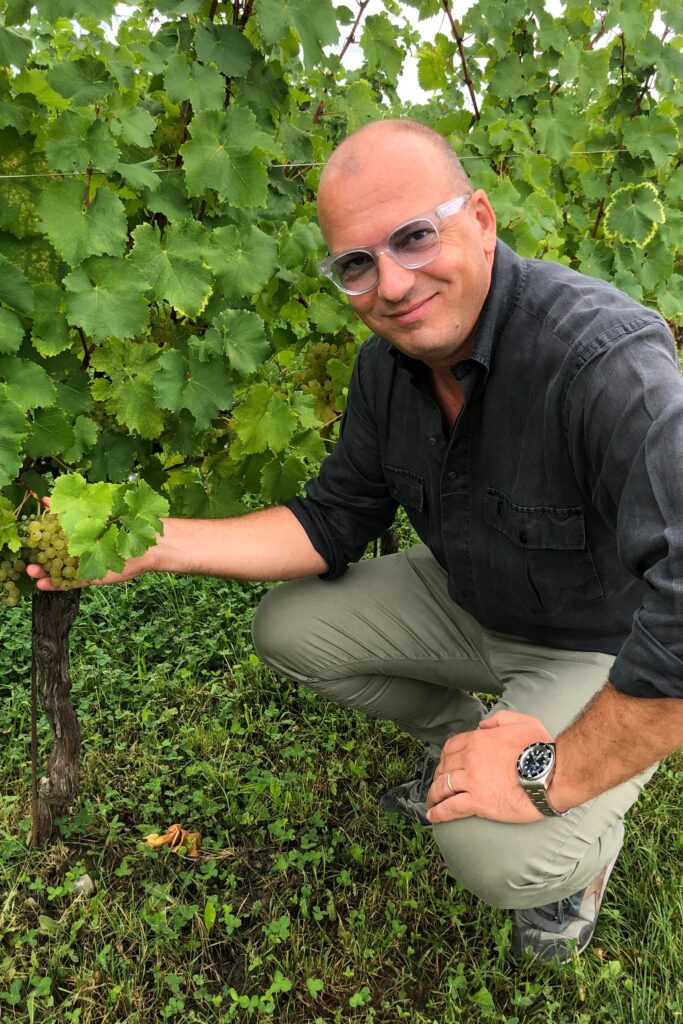 "Time is the enemy of Prosecco" Flavio tells me, "which is why we use only a single fermentation in our production process. We are the only winery in the region to use 100% of this method." Generally, in Prosecco making, the wine is fermented as a still wine right after harvest, and this is stored in large tanks until the winery is ready to produce the sparkling wine, at which point the winemaker will induce a second fermentation in a closed tank to produce the bubbles. Flavio explains "At La Gioiosa, we freeze the grape must right after pressing, keeping it very cold at 0 °C maintains all the freshness of the grapes, and when we are ready to make wine we put the must through one single fermentation. There is no storage time in tank, and that's what makes our wines so fresh and crisp." Let's look quickly at a couple of the different styles La Gioiosa produces, starting with Prosecco DOC Treviso Brut La Gioiosa.
Prosecco DOC Treviso Brut La Gioiosa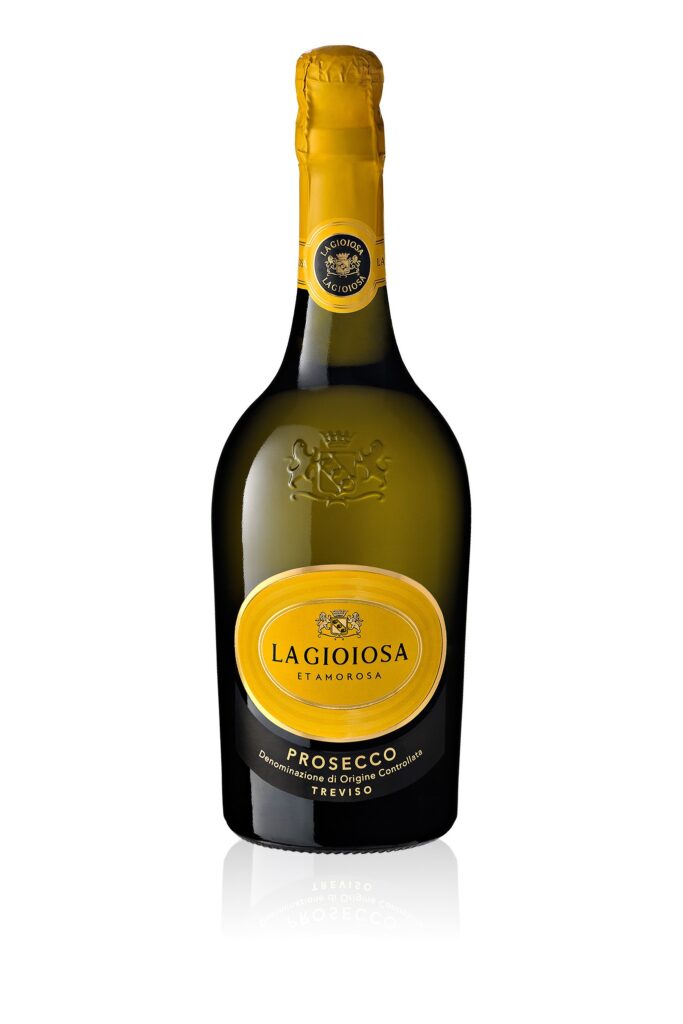 This wine is produced in the Treviso DOC Prosecco region, a region that has long been dedicated to the production of sparkling wines. Treviso is a province in Italy, located in the Veneto region, in the northeast near Venice. As a Brut-style Prosecco, there is just a touch of sweetness in this wine, but very minimal. This hint of sweetness rounds out the edges and adds a smooth finish to the wine, making it a very pleasant apéritif or appetizer wine. It has a beautiful lightly golden color, with aromas of white blossoms, apple, and pear. Fine, persistent bubbles make it lively and enticing.
This wine's bright acidity whets the appetite and stimulates the palate, which is perfect for salty and fatty holiday foods. It's a great pairing for traditional Italian cheeses and charcuterie, especially semi-firm, fruity style cheeses, or rich, soft triple-cream cheese. All types of cured salumi or ham pair well with this Prosecco, as well as fruit, cheese tarts, or light salads. A salad that incorporates pears, strawberries, or apples would bring out the ripe fruit flavor within the wine, and the acidity in the wine is robust enough to stand up to a vinaigrette. It's also a great choice with fried foods such as tempura, because it refreshes and cleanses the palate.
Valdobbiadene Prosecco Superiore DOCG La Gioiosa Extra Dry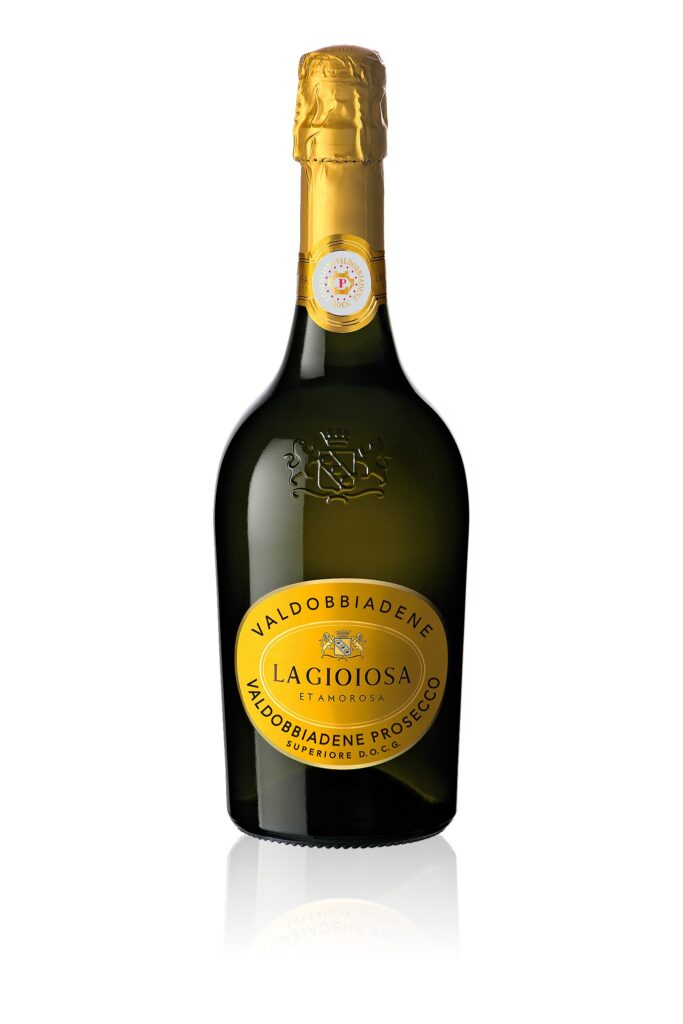 From the Valdobbiadene Prosecco Superiore DOCG, comes La Gioiosa Extra Dry, which has a slightly higher level of sweetness and more refined quality from this superior region. In Valdobbiadene, vineyards are planted on steep hillsides, rather than the flatland of the main Prosecco DOC, and many vineyards require intense manual labor and hand harvesting. This appellation offers a higher quality wine with added complexity. La Gioiosa Valdobbiadene Extra Dry has touches of tropical fruit notes and peach, along with the more traditional notes of apple, pear and white flower. The bright acidity balances the extra sweetness of this off-dry Prosecco.
An extra dry Prosecco is, for me, one of my favorite wines for pairing with desserts. The extra touch of sweetness, combined with the naturally fruit flavors of the wine, make it a perfect refreshing dessert wine, and keeps your palate from becoming too tired. End the meal with a touch of sparkle, rather than a heavy dessert wine, and pair it with fruit or cream tarts or cheesecake. It can also be a natural partner for certain main courses that have some sweetness, such as glazed ham or pork belly. It also pairs particularly well with Asian cuisine and the aromatic spices it uses, such as garlic, ginger, lemongrass, sesame, etc. The touch of sweetness can help soften spiciness and add body to the wine.
La Gioiosa in China, Japan and Southeast Asia.
As the winery's export director, Flavio has been overseeing the introduction of La Gioiosa in the Asia-Pacific region for some time. "Japan was our first market in the Asia-Pacific region, over 30 years ago, but now we cover all the markets. We are exported to 111 countries worldwide, and we are actively looking to grow our brand in Asia. La Gioiosa will be available in all your favorite places to purchase wine, liquor stores, supermarkets, as well as restaurants, and I strongly encourage you to try it out when you see it. In 2020 we started a business collaboration with the Italian Agent in Asia Ethica Wines. They are still our national importer in the USA and Canada."
Bubbles pair well with so many things, and specifically with many of the fried foods or tempura, and the spices used in Asian dishes.

Flavio Geretto, global export director at La Gioiosa winery
An important thing to keep in mind, says Flavio, and I would agree, is the perfect pairing between Prosecco and many types of Asian cuisine. "Bubbles pair well with so many things," he says, "and specifically with many of the fried foods or tempura, and the spices used in Asian dishes." Personally, I believe Prosecco is a much better pairing with the regional cuisines than Champagne, despite the fact that Champagne is more well known. Because Champagne is made using a different winemaking process, it has many yeasty, bready aromas that do not pair particularly well with the spices and herbs used in many Asia-Pacific countries. The bright acidity and fresh fruit flavors in Prosecco can temper the heat of chilies and pair well with aromatic herbs, while Proseccos with more structure can go very nicely with hot pot and ramen dishes.
Another option is using it as a mixer in cocktails. Sparkling wine cocktails are refreshing and fun, and can be made in a variety of flavors. La Gioiosa even offers low calorie and zero alcohol wines that can be used for guests who want to have fun, while cutting back on consumption.
La Gioiosa is a great choice for your celebrations, or really anytime you need something fun and bubbly to drink. If you've never tried Prosecco before, or if you have but are looking for something interesting and seasonal, try one of the many options La Gioiosa offers. These wines are great pairing options for food and very versatile with different flavors and dishes. Pop open a bottle at your next party and embrace the joy and love of La Gioiosa. Salute!