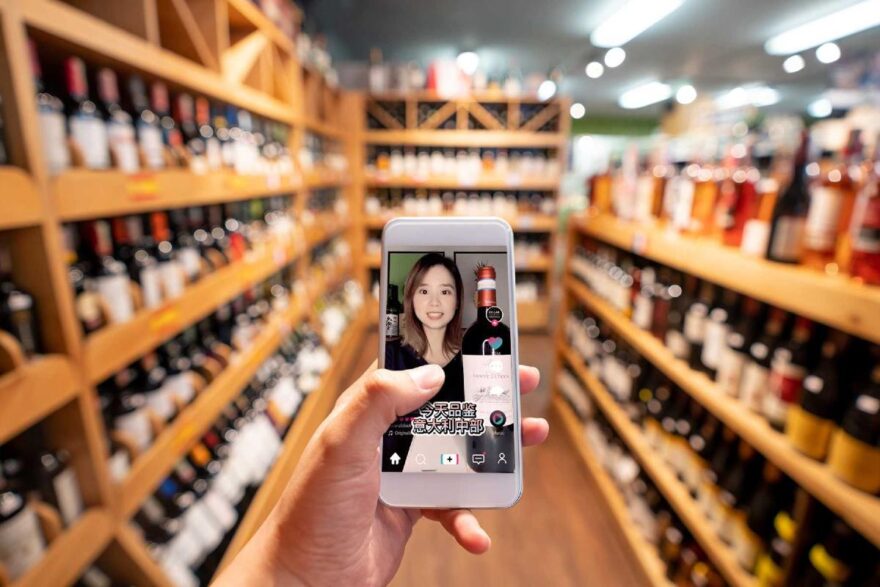 As a professional in the wine industry, you have undoubtedly tried what must seem like every method in the book in order to attract customers' interest, but what about social media? Among the overwhelming sea of choices available for promoting your products, social media platforms have proven to be an effective method that has stood the test of time. Once you have a sufficient handle on the proper use of these platforms, you will easily break through its mystery and begin increasing sales while establishing your brand's reputation.
Although many of the most popular worldwide platforms such as YouTube, Facebook, and Instagram, are inaccessible in the country, China has developed many of its own applications that fill similar roles, including the ability for businesses to promote their goods and services through advertisements. If you want to use the Internet to promote your brand's products in China, then this article will certainly be able to help.
1. WeChat (Weixin)
Active Monthly Users: 1.151 billion (2019)
Active Daily Users: 620 million (2018)
Active Daily Applet Users: 300 million (2019)
Average Daily Usage Time, per user: 85.8 minutes (2018)
If you are familiar with the Chinese market, then you have certainly heard of WeChat. WeChat is a "super-app" developed by Tencent which combines many different features within one program, to the degree that you would be able to obtain nearly any service imaginable solely through use of this single app. In addition to sending and receiving messages and information, it also provides gaming, online shopping and financial services, and is the most popular and widely used social media platform in China.
WeChat Official accounts can help facilitate interaction with consumers
In addition to personal accounts, WeChat also allows businesses to create official accounts. Businesses can track and manage their connections with an official account, and brands and users can establish one-on-one, personalized interactions through it. Businesses in China utilize this functionality to the extent that many no longer bother to maintain official websites, instead focusing all of their resources on constantly improving and updating their official WeChat account. Many well-known wine brands have created official accounts on the social media platform, including our very own Cellar & Friends.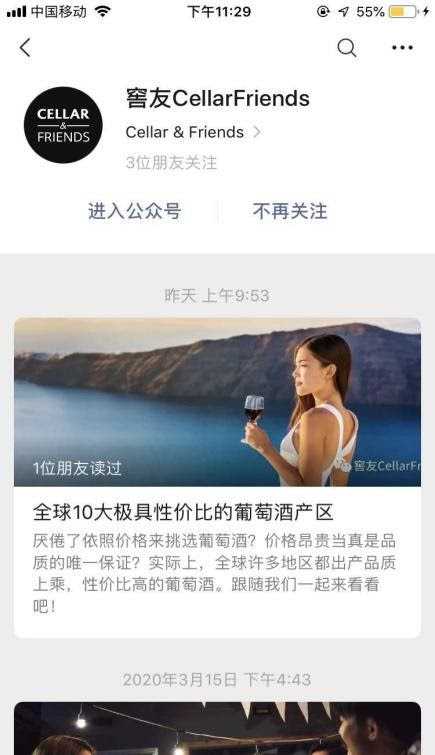 The interface of our WeChat Official Account
Applets make it even more convenient for users to make purchases
Within the last few years, WeChat has also added applet services. As compared to 2018, the number of users utilizing applets has nearly doubled in 2019, increasing by 98%.
The biggest appeal of applets is that they don't take up much internal storage space, because it is not necessary to download the app in order to take advantage of the same features it offers. For example, you can download an applet on WeChat to scan wine labels and find out the production region, year, and reference prices for the product. You can also avoid having to download the apps for Taobao and Jing Dong, and instead purchase wine directly from their applets within WeChat.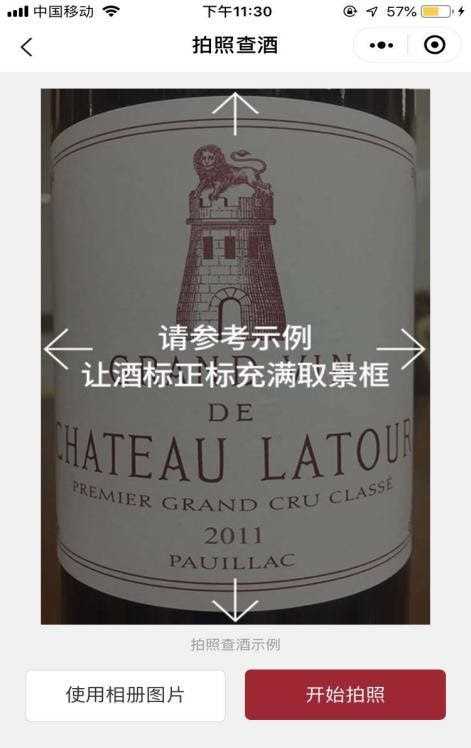 The display when scanning a wine label within the WeChat applet
Be sure to make use of WeChat's popular QR code features
WeChat's QR code scanning feature is also extensively used in China. To cater to Chinese consumers, many wine brands have condensed their complex product information to fit on a small QR code, so that consumers only need to open WeChat and scan the code in order to find out everything they need to know concerning the bottle of wine.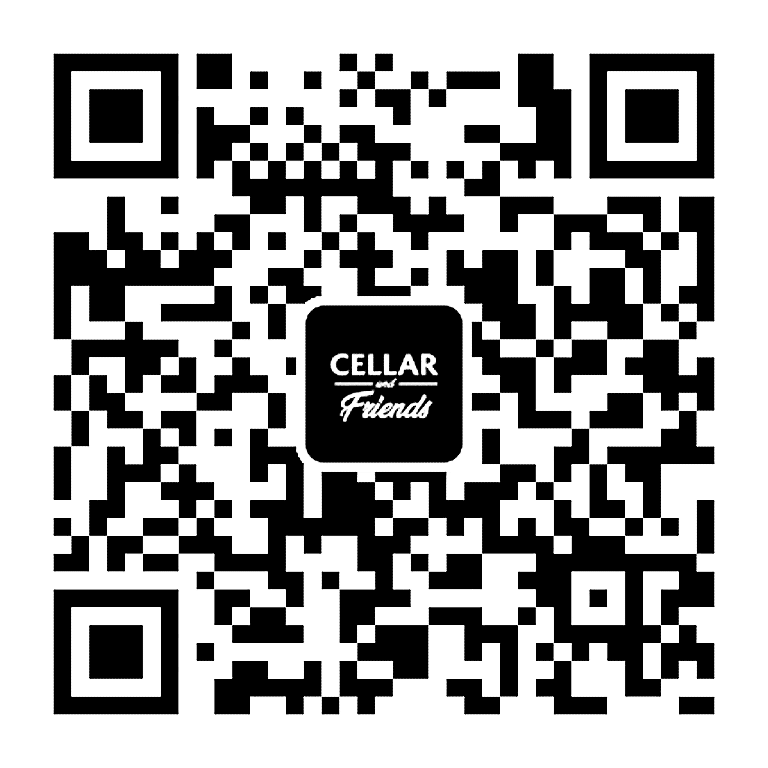 Don't forget to open your WeChat, scan this QR code and follow our Official Account.
2. Sina Weibo
Active Monthly Users: 516 million (2019)
Active Daily Users: 222 million (2019)
Sina Weibo (or simply Weibo), where users can post text, images and videos, is often considered to be China's version of Twitter. In addition, users are also able to follow labels of people or topics that interest them, and can thereby easily obtain recent updates from the bloggers or topics.
Utilize Weibo to reach the younger segment of your customer base
Weibo is used more by youth and those living in major cities. According to the user data revealed by iResearch Consulting Group, those under the age of 35 make up 80% of users.
Weibo Official accounts provide additional features, and could even replace your business's website
With the exception of personal accounts, other accounts such as those for companies, organizations, government institutions, and celebrities need to go through a required information and identity verification process in order to begin posting and interacting with their customers, fans, and followers. Compared to personal accounts, business accounts provide additional specialty features, businesses can enjoy advantages such as customizable display pages, data analysis, and CRM tools.
Nearly 300,000 businesses have opened Weibo accounts, and official Weibo and WeChat accounts can effectively replace an official website for many businesses, as they have become the most important aspect of building a brand image in China.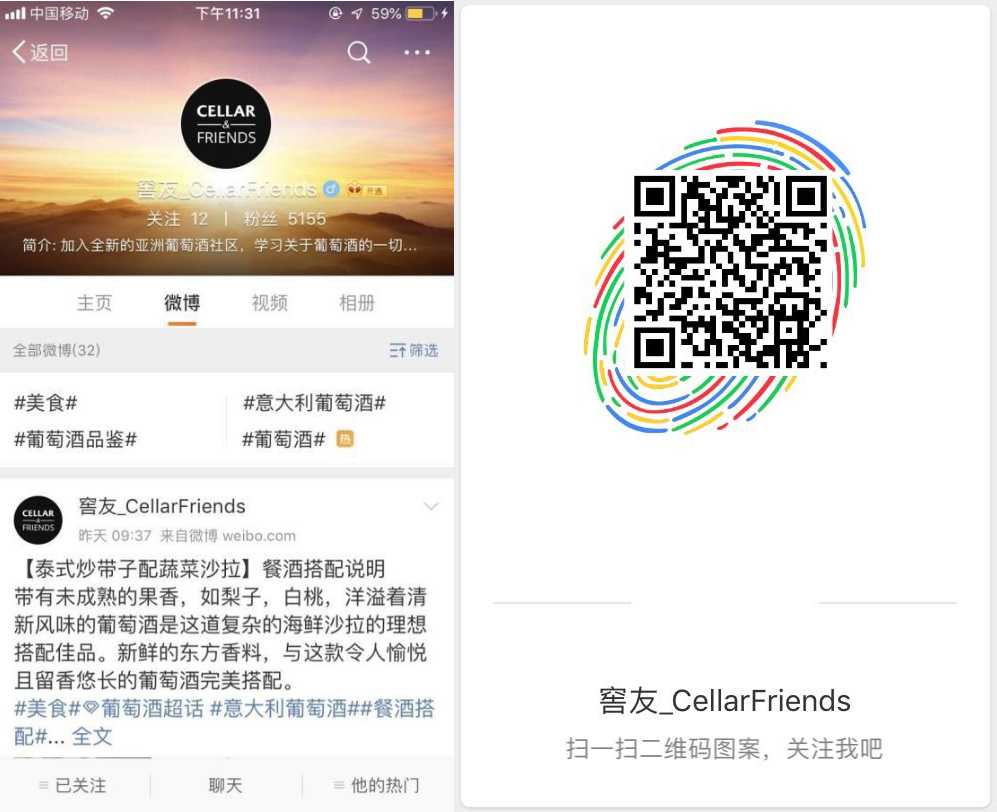 Our Cellar & Friends Weibo; scan this QR code to follow us!
There are some advantages to promoting through Weibo over WeChat
Weibo's listings of trending searches and topics provide users with an even faster route to discussion as well as a richer content selection, which can further strengthen competitive advantage through discussion. Additionally, because there are no limits on posting like those imposed by WeChat, businesses, celebrities and KOLs can engage in marketing and promotional activities multiple times per day, greatly increasing the exposure of their brand and products.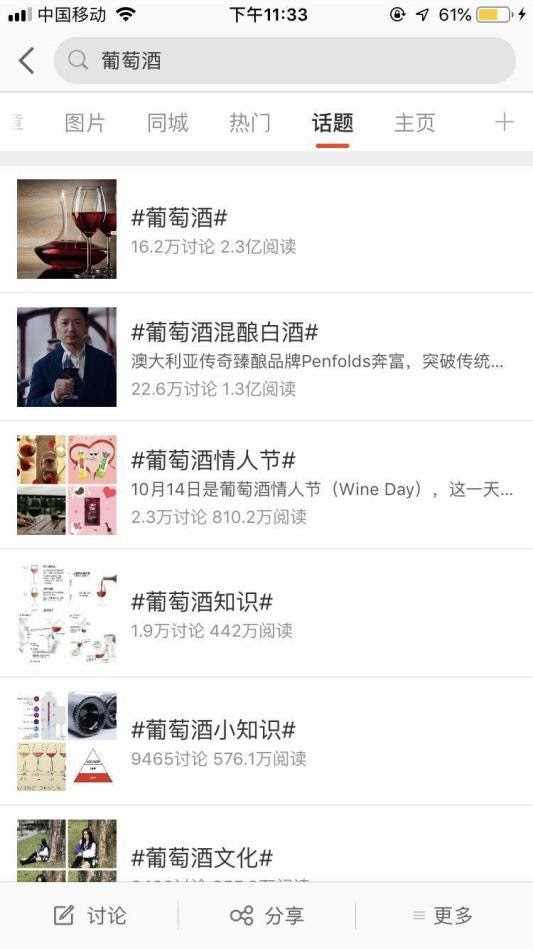 A search for 'wine' under Weibo's Topics category gives many results, with the most popular discussion topic containing 162,000 posts and 230 million views.
Another aspect that is extremely convenient for retailers is Weibo's Display Window, which allows any person (including normal users) to purchase their products from within the platform, with no need for additional registration. Weibo has already established collaborative relationships with many e-commerce platforms (Taobao, Vipshop, etc.), enabling users to publish verified links to e-commerce platforms within their Weibo Display Window in order to reach customers directly. This feature is used by many well-known international companies and KOLs, including L'Oréal.
3. Xiaohongshu (RED)
Registered Users: 250 million (2019)
Active Monthly Users: 85 million (2019)
Active Daily Users: 25 million, peak (2018)
Xiaohongshu can help reach the female segment of your customer base
Female users make up the overwhelming majority of Xiaohongshu's user base, with male users accounting for a mere 12.76%. On Xiaohongshu, operations on the platform, and marketing have all developed centered around the female user base.
As for the consumer capability distribution, high-end consumers make up the majority of the Xiaohongshu user base. During its early period as an experience-sharing platform for foreign markets and foreign purchases, Xiaohongshu accumulated many of these high-end consumers who are interested in premium products and luxuriant lifestyles.
Influencers and celebrities are an important part of promoting on Xiaohongshu
The Xiaohongshu platform has also gathered a large number of celebrities, and these celebrities use the app to share products that they use, restaurants that they have visited, delicious wines, and more, and their recommendations often send fans on a mad dash to try them for themselves.
Besides celebrities, Xiaohongshu is also home to many Influencers, with some of these KOL accounts having amassed millions of fans along with exposure rates that are practically vertical.
What are some of the distinct features that users find within Xiaohongshu?
Xiaohongshu also permits users to share posts externally through Weibo and WeChat (many Chinese Internet platforms are not so welcoming of external links, so this type of permission is rarely seen).
Besides sharing and commenting, Xiahongshu also utilizes browsing and search histories to establish a custom home page for each user. This ensures that users can concentrate on the content that they are interested in, and tidies up their experience by removing information that they don't need.
In addition, "Nearby" will display popular topics based on the current location of the user, while "Following" will show only the recent posts from accounts to which the user is subscribed.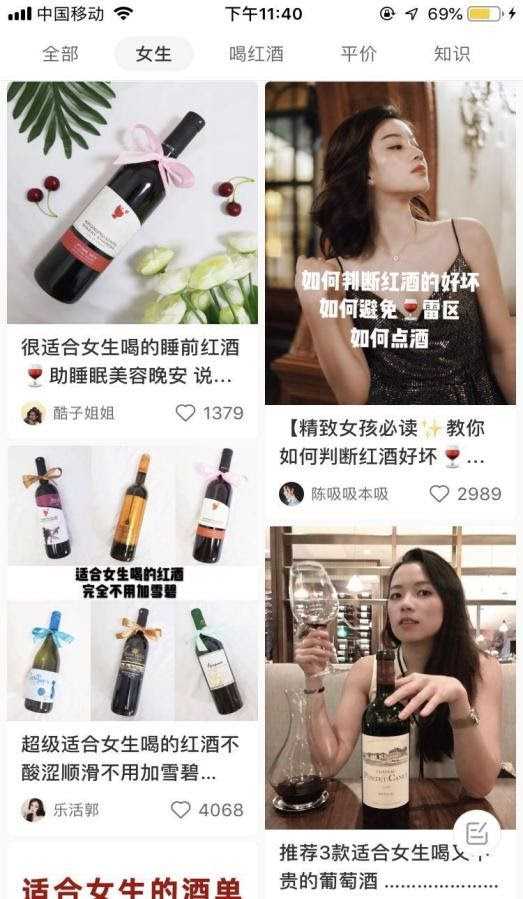 The relevance of Xiaohongshu to the wine industry
For any brand whose target customer demographic is younger females, promoting through Xiaohongshu is an excellent choice. Today, when searching for wine on Xiaohongshu, there are a total of 50,000 relevant posts, and 1,000 products. For the majority of these posts, the authors are wine professionals or metropolitan women who are pursuing a refined lifestyle, and the platform generates a large amount of discussion over "wines that are suitable for women."
4. Taobao
Active Monthly Users: 800 million (2019)
Taobao Live Viewer Count: 6.925 billion (November and December, 2019)
Taobao Live Average Daily Broadcast Count: 60,000
Average Viewer Count per Broadcast: 2,161 (November and December, 2019)
What is Taobao Live?
A method for simultaneous viewing and shopping within-platform, TaoBao Live is Tabao's version of television shopping channels. When users arrive at the main Taobao app to shop, live streams and videos will further increase their desire to buy the products.
The rapid rise of selling through Taobao Live
According to official data presented by Taobao Live, 2018 sales through Taobao Live exceeded 100 billion, for a year-over-year growth of 400%. In 2019, on Single's Day alone there were nearly 100,000 KOL live streams for products, representing a 15x increase when compared to the activity in 2018, and 17,000 brands also participated in live stream marketing. Transactions on Single's Day 2019 spurred by Taobao Live streams reached 20 billion. Nearly 50% of the merchants used live streaming to achieve their sales increases.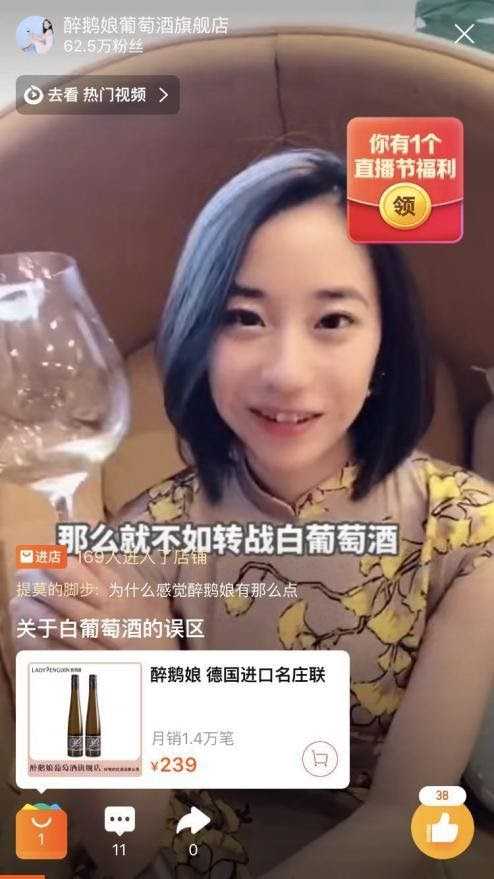 With a reputation as China's first wine video blogger, @LadyPenguin has shared on Weibo that her personal Tmall shop saw nearly 100 million yuan in sales (Renminbi) on Single's Day in 2019, and much of this was surely due to live streaming.
5-6. TikTok, Kuaishou
TikTok Active Monthly Users: 486 million (first half of 2019)
Kuaishou Active Monthly Users: 341 million (first half of 2019)
Short-form video has become an extremely popular format for new social media, and it continues to rise day by day. From April 2017 to April 2019, total daily usage of Chinese short-form video apps skyrocketed from just under 100 million hours to 600 million hours. TikTok and Kuaishou are the two largest of this style of app, and they have led this increase in user numbers and usage time.
How short-form video platforms are typically used
Within TikTok and Kuaishou, users can share and create videos covering nearly any topic imaginable. In addition, these applications also provide many different kinds of tools, including filters and background music, which allow user-created videos to appear professionally made and thereby encourage users to create their own content and further their participation within the platform.
Users can choose videos to watch from a list of selections made by the platform, and because every video is at most 15 seconds long, users can watch without taking up a huge portion of their time. Even if a video doesn't meet the user's expectation, the majority of users will customarily just swipe to the next video, rather than leaving the app entirely.
In addition, the auto-play feature that has been adopted by many short-form video platforms can deepen the user's "intoxication." Once a video has finished playing, the user does not need to take any action for the next video to begin automatically.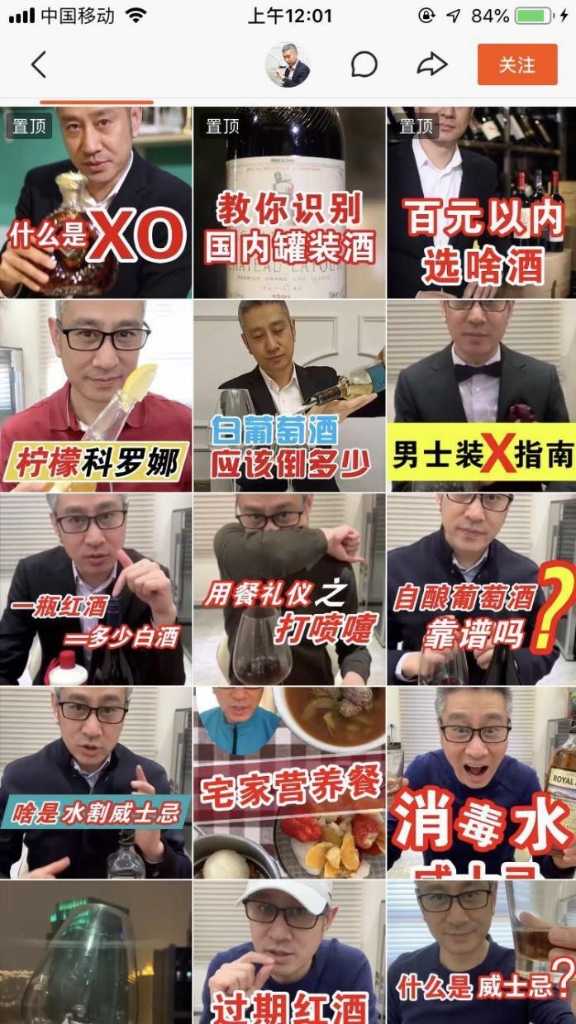 A wine KOL on Kuaishou, @葡萄酒老韩
How to "go viral" with your brand's short-form video
Short-form video provides brands the opportunity to show off their products with interesting, unique, and carefully crafted short videos that give a clear overview of the product advantages. This type of promotion stands out among other advertisements, and leads to strong results that are difficult to believe.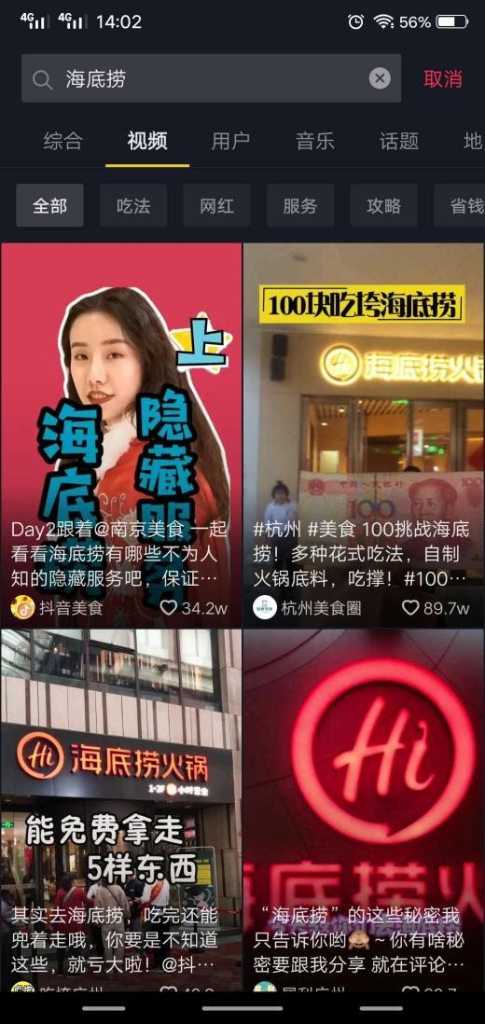 HaiDiLao Hotpot, an enterprise which began in China and has now taken the world by storm, used short videos on TikTok and Kuaishou to give an introduction to their innovative method of eating hot pot, and these videos went viral and were shared across the Internet. Consumers rushed to HaiDiLao stores, imitating the style of eating hot pot as seen in the TikTok and Kuaishou videos, while also creating their own unique styles which they posted in new videos, forming a chain of viral videos.
Bringing entertainment to an activity such as eating a meal has huge benefit for the food and beverage industry. HaiDiLao was extremely fortunate, but they surely will not be the only ones. Because of the prevalence of this type of viral fad, brands and businesses that jump in now will have their own opportunities to advance their development.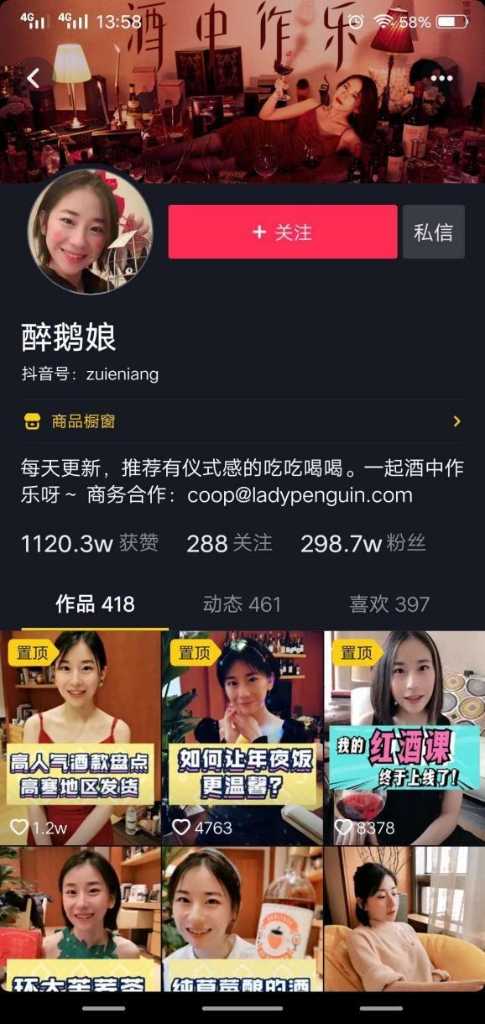 Short-form video platforms not only help reach consumers, but also provide a simple way to make purchases
In March 2018, after TikTok's parent company ByteDance formed a collaborative partnership with Alibaba, those "Influencers" with millions of fans are now given the option of adding a shopping cart icon to their personal profiles. By clicking the shopping cart, users can purchase products through Taobao and Tmall without ever leaving TikTok ! This creates a seamless experience for brands and KOLs when promoting and selling on TikTok.
Lu Zhenwang, CEO of Wanqing Business Consultants, Ltd., a consulting company that concentrates on e-commerce, gave the following statement regarding this type of application: "Short-form video attracts the attention of mobile users by providing 15 seconds of entertainment, it can become a strong weapon for e-commerce, especially for those brands which hope to get in touch with young consumers or consumers who live in relatively small cities."