Recipes
Crispy Pork Fillet Stuffed with peach tossed in black vinaigrette pineapple sauce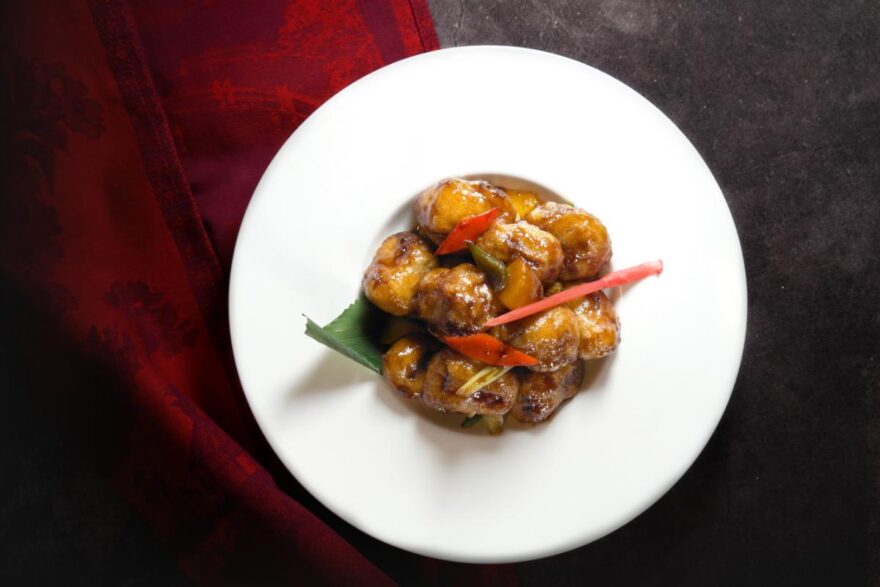 Wine pairing notes
Flavor some dishes as these crispy pork crepinettes are a very good match for the robust Enzo Vincenzo Puglia IGT. The robust body of the wine is in tune with the intensity of the striking flavor of ingredients and condiments that contain. Its notes of ripe dark cherries and fresh herbs and the powerful alcohol together with the high residual sugar complement and enrich this vibrant creation of chef Au.
Ingredients
80g Italian Aceto Balsamico Tradizionale di Modena aged 100 years
100g Iberian pork chops
5g green onions
5g ginger
8g sugar melon
5g fruit kernels
40g caul fat (crépine)
100g starch paste (French style)
5g Japanese ginger bud
40g pineapple
40g young fresh spring ginger
5g red pepper
Method
Dice the pork chops
Add onions, ginger, sugar melon, nuts, and sesame seeds and mix well
Wrap the mixture with the crépine and put in the refrigerator
After one hour take it out, coat with the starch paste and deep fry until crispy
Stir fry pineapple, ginger, onion, red pepper, sugar, and Italian Aceto Balsamico
Serve by adding Japanese ginger buds for decoration
Wine

Enzo Vincenzo
Sgarzi Luigi
| | |
| --- | --- |
| Description | "Enzo Vincenzo" is obtained from Negroamaro, Primitivo and Merlot grapes grown in Puglia using the method called "Appassimento" (Drying) that gives to the dried grapes an extract of flavors and taste. |
| Country | Italy |
| Region | Puglia |
| Vintage | 2016 |
| Grape | Negroamaro, Primitivo, Merlot |
| Colour | Deep ruby red |
| Aroma | Rich and complex with notes of ripe dark cherries, fresh herbs and vanilla |
| Taste | Well-balanced with subtle tannins and sweet vanilla notes |
| Alcohol | 15% |
| Aging | In oak Barrique |
Winery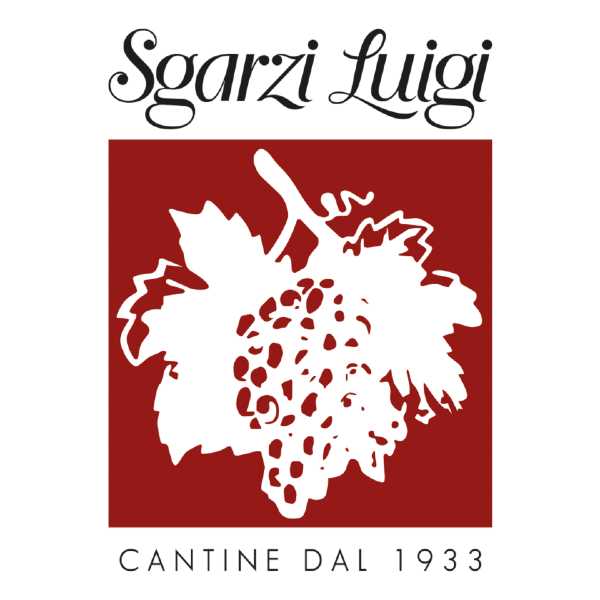 Sgarzi family has been growing vines and producing wines for many generations in Castel San Pietro Terme, a city located on the "Wine Route" a gastronomical itinerary, among plain and hill, at the point where Emilia becomes Romagna, a region where the vine has been cultivated from the most ancient times.
The first recognitions date back to 1933, when the current owner's grandfather, Luigi Sgarzi, had a small winery and delivered wines to the famous inns of Bologna, in oak barrels on horses carriages.
From those early time, Cantine Sgarzi Luigi has always considered the genuineness as the most important goal and it has continued to invest in the estate and in the winery by combining traditional viniculture with modern technologies, not only to promote the product of its own vineyards, but also with the winning insight to deliver the best Italian wines in the world. Year by year, Cantine Sgarzi Luigi has developed an important export volume till to evolve into a sizable company that presently sells in more than 80 countries.
An original Wine & Food pairing from

The guide Zhong Can Yi Jiu and the program Chinese cuisines meet Italian wines are promoted by the Italian Wine Bank, a branch of the project MELIUS, both produced by The I Factor Limited. The guide is realized in collaboration with the Chinese Culinary Institute of the Vocational Training in Hong Kong, the Club China AIS (Associazione Italiana Sommelier) and the Italian Wines World Summit.
This guide is an unprecedented attempt to marry two great gastronomic cultures and artisanal producers: Chinese cuisines and Italian wines. This guide is the first of many steps in a grand project that will be fully realized over the next few years. Our mission is to give interpretive tools to the consumer as well as provide a point of reference for the Italian wine industry, as well as for contemporary Chinese chefs and restaurateurs operating in China, Hong Kong, Macau, Taiwan, Singapore and worldwide.
Discover this original Wine & Food pairing on Chinese Cuisines Meet Italian Wines.