Recipes
Chef's Xue Short Ribs & Amarone Della Valpolicella Classico DOCG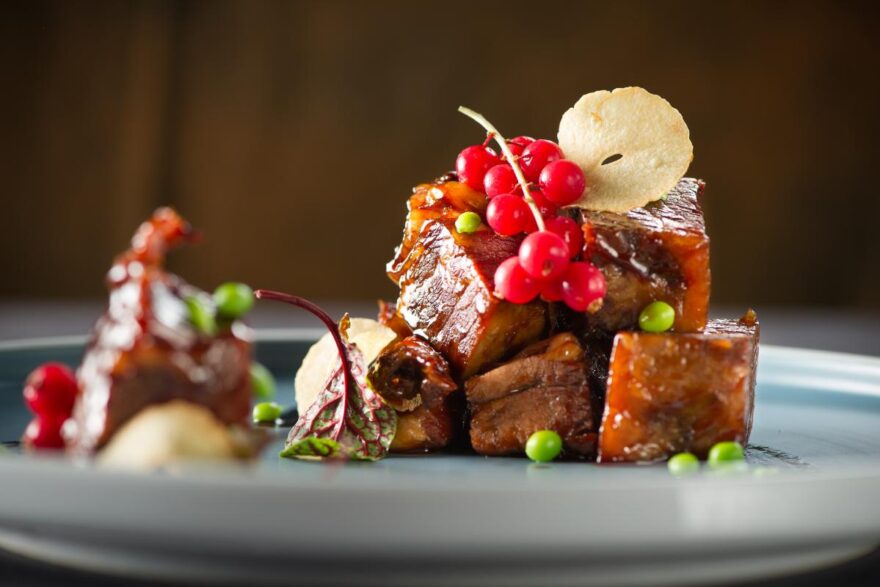 Wine pairing notes
Marziale has a sealed fate: to go very well, in general, with stew and braised meats. No wonder then that it is very much in tune with this flavorful example of contemporary Chinese cuisine. Its firm tannins and the wine's high alcohol content balance well the tasty and succulent meat. Marziale's typical Amarone lingering together with its spice notes and nuances of ripe and dried fruit, all work well with this robust dish.
Ingredients
750g short ribs (Australian meat)
30g celery
30g carrot
50g onion
50g oyster sauce
5g rock sugar
2g cephalopod ink
2g redcurrant
50g "Sherlone" abalone juice
2g green peas
20g Donggu (delicate flavor soy sauce)
Method
Cut celery, carrots, and onions into 3cm*3cm cubes
In a pan put the short ribs, chopped celery, carrot, and onion. Add water without covering the short ribs
Bring to a boil over high heat, remove the floating foam with a spoon, reduce the heat, and cook for 2.5 hours. Set aside
Debone the short ribs and cut them into 4cm*4cm pieces and set aside
Blanch in water green peas and set aside
Brush the plate with the cephalopod ink
Put in a pan oyster sauce, abalone juice, Donggu soy sauce, rock sugar, and cut short ribs. Cook over high heat for about 2 minutes until the sauce thickens
Put in the plate previously brushed with the cephalopod ink
Garnish with green peas and redcurrant
Wine

"Marziale" Amarone Della Valpolicella Classico DOCG
Tinazzi – Campopian
| | |
| --- | --- |
| Description | The name of the wine "Marziale" is a reference to the Roman God of War, Mars, a powerful character like this Amarone. The grapes of Marziale Amarone come from the premium site "Poderi Campopian" with 12 hectares of vineyards at an altitude of no less than 600 meters above sea level. |
| Country | Italy |
| Region | Veneto |
| Vintage | 2012 |
| Grape | Corvina, Corvinone, Rondinella |
| Colour | Deep ruby red with garnet highlights |
| Aroma | Aromas of ripe and dried fruit, spices, and a toasty finish |
| Taste | Balanced thanks to the alcohol content and fine tannins. Very pleasant to drink |
| Alcohol | 16% |
| Aging | 12 to 18 months in new French and American oak barrels |
Winery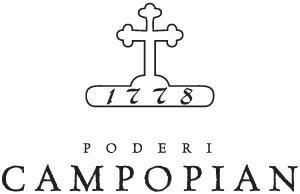 The history of Cantine Tinazzi began with the commitment and passion of Eugenio Tinazzi at the end of the '60s in Cavaion Veronese, on the shores of Lake Garda.
Gian Andrea Tinazzi, the founder's son, at the time only 18 years old, worked alongside his father in running the business from the outset. Thanks to his decisive and entrepreneurial character, he gradually broadened the company's horizons, both in terms of production and markets.
Today, Gian Andrea's children, Francesca and Giorgio, manage with their father what has become a major wine production group based in Lazise, on Lake Garda. A quick and successful development of the business led the family to expand their properties in the Valpolicella Valley and in Apulia, a region with great potential.
The wines of Cantine Tinazzi are now sold in more than 30 countries around the world.
An original Wine & Food pairing from

The guide Zhong Can Yi Jiu and the program Chinese cuisines meet Italian wines are promoted by the Italian Wine Bank, a branch of the project MELIUS, both produced by The I Factor Limited. The guide is realized in collaboration with the Chinese Culinary Institute of the Vocational Training in Hong Kong, the Club China AIS (Associazione Italiana Sommelier) and the Italian Wines World Summit.
This guide is an unprecedented attempt to marry two great gastronomic cultures and artisanal producers: Chinese cuisines and Italian wines. This guide is the first of many steps in a grand project that will be fully realized over the next few years. Our mission is to give interpretive tools to the consumer as well as provide a point of reference for the Italian wine industry, as well as for contemporary Chinese chefs and restaurateurs operating in China, Hong Kong, Macau, Taiwan, Singapore and worldwide.
Discover this original Wine & Food pairing on Chinese Cuisines Meet Italian Wines.