Recipes
Fujian Rice & "Morassina" Barbera d'Alba DOC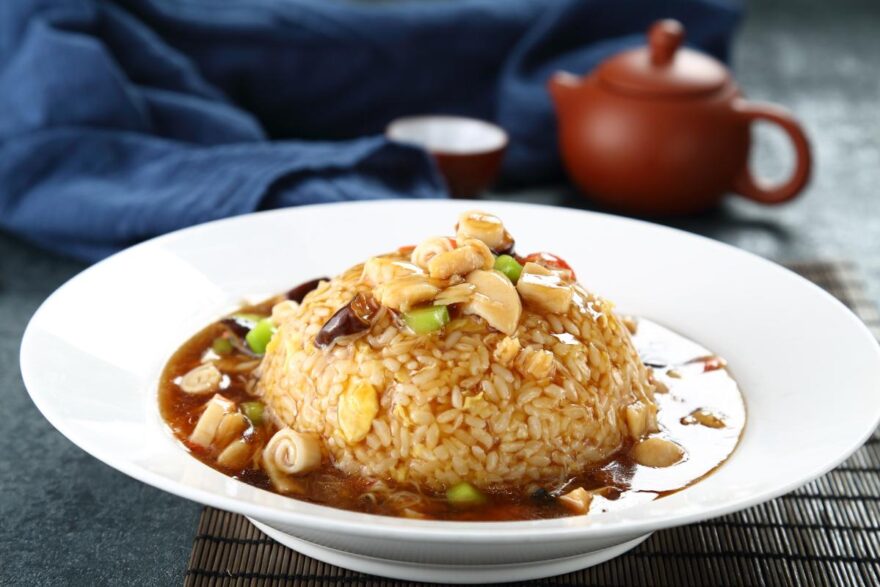 Wine pairing notes
Not a typical match, in fact, it is indeed a challenging one. Morassina is an intense Barbera D'Alba DOC and a dish containing seafood is not exactly its ideal union. But we are in the realm of Chinese cuisine, so the wine's acidity, its body and dryness are a good contest for the bites of roast duck and chicken, the condiment in which the rice is infused and the dominant mushroom flavor. The wine contrasts the sapid structure of the dish and doesn't overpower its flavor.
Ingredients
250g rice
40g shrimp
40g roast duck
40g diced chicken
40g diced shiitake
2 egg yolks
40g dried scallops
80g Chinese broccoli
110g crab stick
1 tsp oyster sauce
Chicken flavored powder
Salt
Soy sauce
1tbs tapioca starch
300g chicken soup
Frying oil
300g Water
Method
Wash well the shrimps, wipe dry and dice them
Cut dried scallops and roast duck into cubes and set aside
Put diced chicken and shrimps in the wok with oil and stir-fry quickly over high heat. Remove from heat and set aside
Fry egg yolks in hot oil until half cooked
Add rice and fry until the rice is loose
Add some chicken soup and salt to flavor it. Set aside
Mix the tapioca starch with one tablespoon of water to obtain water starch and set aside
In the wok put the water and bring to a boil
Add dried shiitake, Chinese broccoli, dried scallops, roast duck, crab sticks, diced chicken and shrimps
Keep boiling add tapioca water starch, oyster sauce, fried diced chicken and shrimps) and mix all well
Plate and serve
Wine

"Morassina" Barbera d'Alba DOC
Giuseppe Cortese
| | |
| --- | --- |
| Description | "Morassina" is made of Barbera grapes which in Piedmont has always been one of the most cultivated varietals. A traditionally "every day" wine, a few decades ago considered modest, Barbera d'Alba DOC has recently had an important qualitative improvement to the point that now compete with much more famous wines. |
| Country | Italy |
| Region | Piemonte |
| Vintage | 2015 |
| Grape | 100% Barbera |
| Colour | Deep purplish color, almost impenetrable red |
| Aroma | Intense and velvety vinous |
| Taste | Dry and full body |
| Alcohol | 14% |
| Aging | 18 months partially in small French oak barrels (225 l), only 30% new ones and partially in Slavonian oak casks, in size of 17 hectolitres. 6 months in the bottle. |
Winery
The wines of Giuseppe Cortese are every Piedmont aficionado's dream. Located in the heart of the famous Rabajà zone, this small, family-owned winery, known for producing exquisitely balanced wines from the Barbaresco zone, is run by those who possess an intimate knowledge of the Nebbiolo grape. With profound respect and knowledge of the Barbaresco terroir, and long-held family traditions, Giuseppe Cortese is able to craft some of Piedmont's most exceptional wines.
A native of Barbaresco, Giuseppe Cortese began a lifelong passion for winemaking by working with his father Giacomo in the family business. After several years of experience, he realized the future of high-quality Barbaresco wines was in developing the potential of the terroir. With this in mind, Giuseppe began re-orienting the family's wine business and remodeling the winery, improving vinification techniques, and purchasing new land among the famous Rabajà vineyards. Giuseppe's son Piercarlo joined him in the 1990s, after graduating from the highly regarded Enological School of Alba. Today, Cortese is the typical small, family-run winery, with Giuseppe's wife Rosella and daughter Tiziana playing active roles in commercial aspects and public relations.
An original Wine & Food pairing from

The guide Zhong Can Yi Jiu and the program Chinese cuisines meet Italian wines are promoted by the Italian Wine Bank, a branch of the project MELIUS, both produced by The I Factor Limited. The guide is realized in collaboration with the Chinese Culinary Institute of the Vocational Training in Hong Kong, the Club China AIS (Associazione Italiana Sommelier) and the Italian Wines World Summit.
This guide is an unprecedented attempt to marry two great gastronomic cultures and artisanal producers: Chinese cuisines and Italian wines. This guide is the first of many steps in a grand project that will be fully realized over the next few years. Our mission is to give interpretive tools to the consumer as well as provide a point of reference for the Italian wine industry, as well as for contemporary Chinese chefs and restaurateurs operating in China, Hong Kong, Macau, Taiwan, Singapore and worldwide.
Discover this original Wine & Food pairing on Chinese Cuisines Meet Italian Wines.