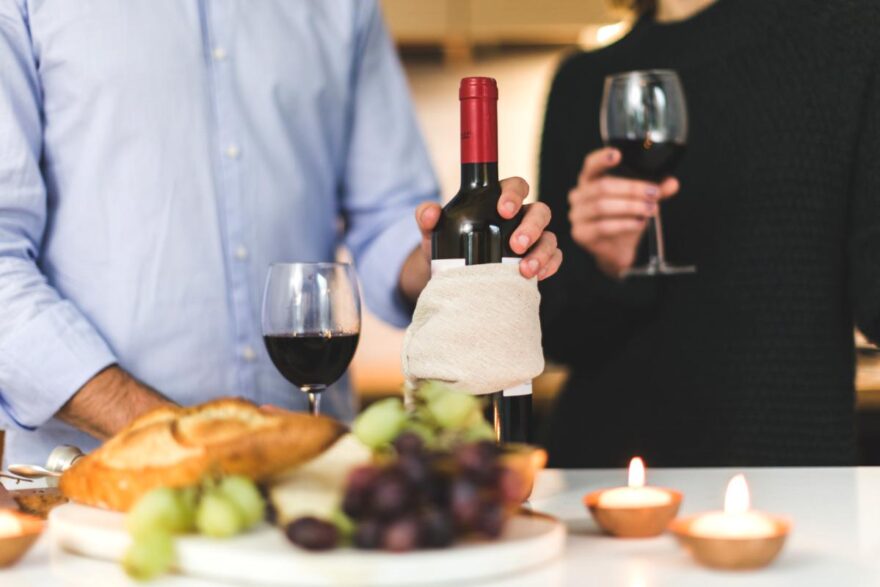 If you are just beginning your wine tasting journey, a blind tasting allows you to try more wines and build an internal catalog of the unique qualities that define different wine grapes and regions.
Read on to find out our ten tips on how to organize a blind tasting.
1. Have your friends contribute wines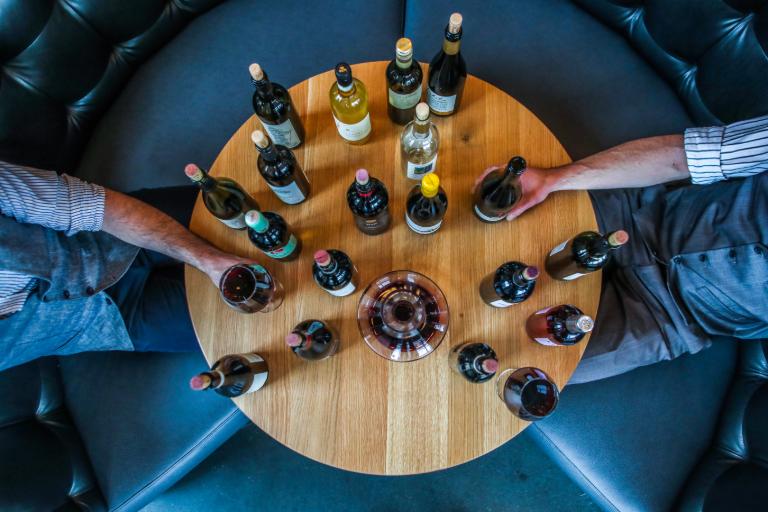 Once you have decided on where and when you would like to hold your blind tasting, you need to decide who will be providing the wine.
If everyone contributes bottles (you included) you will instantly assemble an unexpected and diverse combination of wine variations to taste.
2. Preparation is key
It is a great idea to decide on a theme for your blind tasting. This can be based on wine regions, wine colors, vintages or even grape types. Be sure to establish a price range of the bottles and to determine how many bottles each participant should bring. If you have a trusted wine shop with clued-up staff, you can even have them hand-pick the wines for you!
Blind tastings are a lot of fun and are an interactive way to taste wines objectively. Make sure you have the right glasses available. These should be cleaned and polished. Other important items to have on hand, include a decanter, an Osso, a spittoon, freshwater, crackers and a pen and paper set for each participant to take notes. Have a staging area ready for all the behind-the-scenes preparations, such as the removal of corks and capsules, and to decanter bottles.
3. Keep the identity of the wines a secret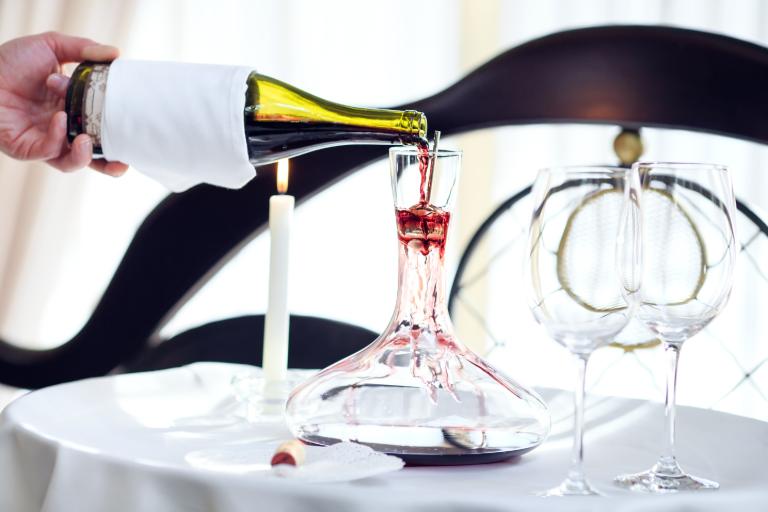 You can choose to pour the wines into decanters or jugs, labeling them with symbols or numbers. Another way to prevent the rest of the group from seeing the label is to place each bottle in a bag before the tasting begins. Bags can be made of any material, but they should be indecipherable to the participants to prevent cheating.
Our preferred method for concealing bottles is by using intricately designed Japanese Furoshiki fabric. Furoshiki is a centuries-old wrapping technique utilized to package and transport items.
Not only does Furoshiki exalt a bottle's presentation, but its reusable quality also makes it an eco-friendly alternative to disposable wrapping paper and gift bags. No scissors and tape are required and the introspective process of carefully folding and tying the cloth is all part of the experience. Watch our video to learn how to wrap your blind tasting bottles with the Furoshiki method here.
4. Limit the guest list to 10 or less
A tight, intimate assemblage promotes great dialog and is the easiest tasting to manage. Once you exceed this number of guests, you will need to double the wine bottles to provide enough for everyone. Everything becomes messier when the group size exceeds ten people. Keep the group tight and reap the benefits.
5. Prepare your wines accordingly
For the white wines, make sure to have a wine bucket and ice handy to keep the bottles at the right temperature. Take care to have extra ice available to replace it when it unavoidably melts. For bolder red wines, use a decanter at least an hour before the tasting is set to start.
6. Make sure you have a way for your guests to tell their wine glasses apart
If your friends are guilty of misplacing their glasses. Stem charms, also known as wine jewelry, are a great way to mark glasses. They consist of a small ring that clips around the stem of the glass as well as a small charm that identifies the owner of the glass. Alternatively, you can make small name tags that stick to glass but are easily removable at the end of the night. That way everybody keeps their glass insight.
7. Serve the right food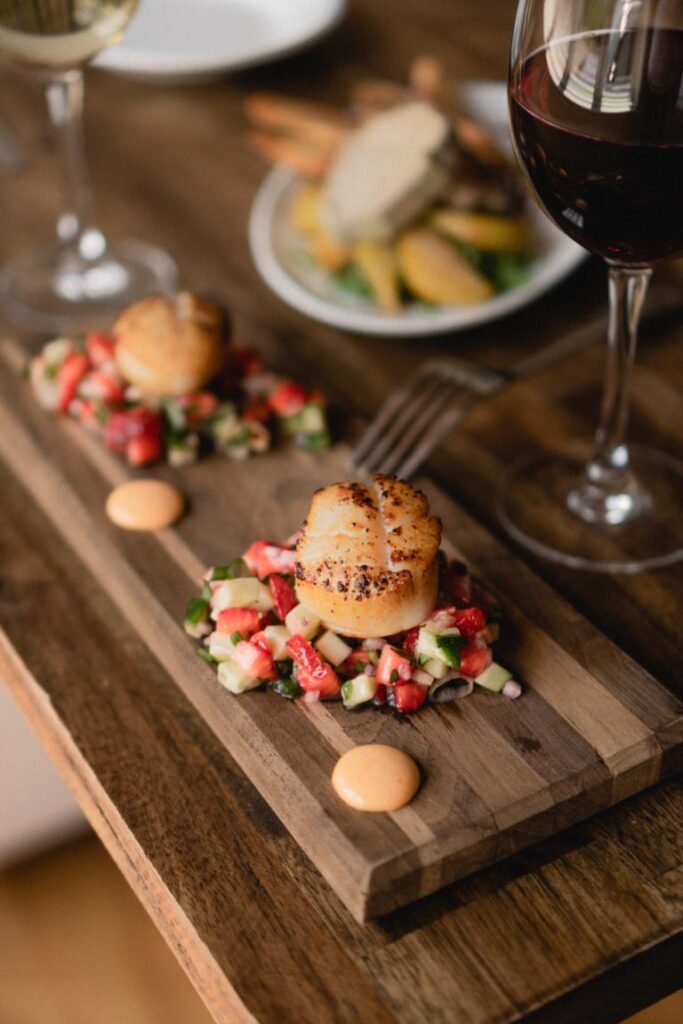 Wine is intended to be appreciated with food. The ideal match will bring out the characteristics of a wine and enrich your palate.
You can choose whether to serve the food or ask your guests to bring a plate to share. Classic options include crudité vegetables, Italian cured meats, pâté, olives, and chocolate. Enjoy these foods during the tasting and note how the flavors of both subtly change. This is a great way to learn what combinations and flavors you prefer. Cheese is always a foolproof option. Make sure to have a combination of varieties, including goat and sheep cheeses to complement the different wines you are tasting.
8. Make sure your group arrives with a clean palate
Warn your friends not to go wild with coffee, cigarettes, strong food or drinks before the blind tasting, as this will interfere with their palate sensibilities. Ask them not to wear strong perfumes, as this can interfere with the ability to taste. Place a pitcher of water on the table, along with water glasses, so people can cleanse their palates between wines. Plain crackers or a basket of plain bread will help, too.
9. Elect a pourer and prepare a grid of questions to ask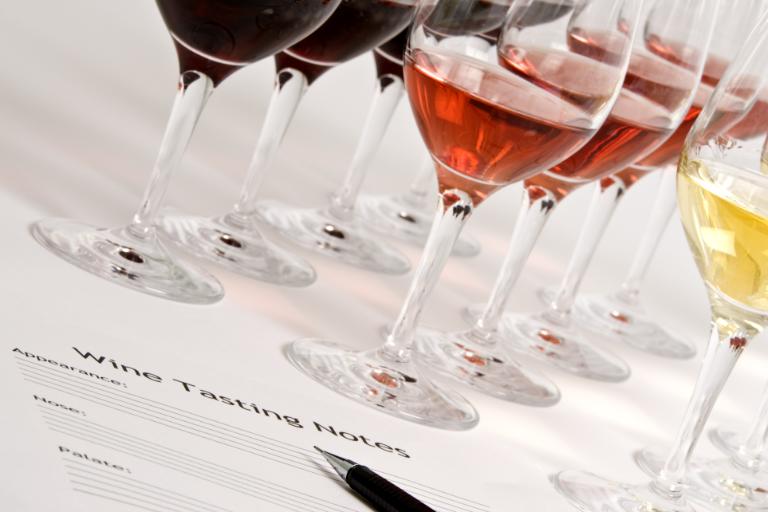 You should elect a volunteer to pour each wine and pass the bottles or decanters around the table. Once everyone has wine in their glass, you can begin with your grid questions. The three categories by which sommeliers assess wine in a blind tasting are visual, nose\palate, and structure.
Ask everyone to evaluate how the wine looks. Is the wine clear, cloudy, or with any floating grains?
How is the intensity? Is it light, medium, or rich? How about the legs? Are they thick (more alcohol) or thin (less alcohol)
If you are discussing sparkling wine, how are the size of the bubbles, how is the strength of the streams?
Evaluate each wine's taste and smell next. Is the wine light, medium, or pronounced? Do you think the wine is old, young or something in between? How is the sweetness? Is it dry, off-dry, or sweet? What about the acidity? Are the tannins low, medium, or high?
Discuss whether the wine is full-bodied, medium or light-bodied. Is the finish long, short or medium? How about any additional qualities' worth noting? How is the balance of the wine, the ripeness, and the texture? Once you have evaluated the various features and the quality of the wine, you can discuss the possible identity of the wine.
A great blind tasting will usually have some eye-opening facts and surprises, which provide opportunities for everyone to learn.
10. Savor the end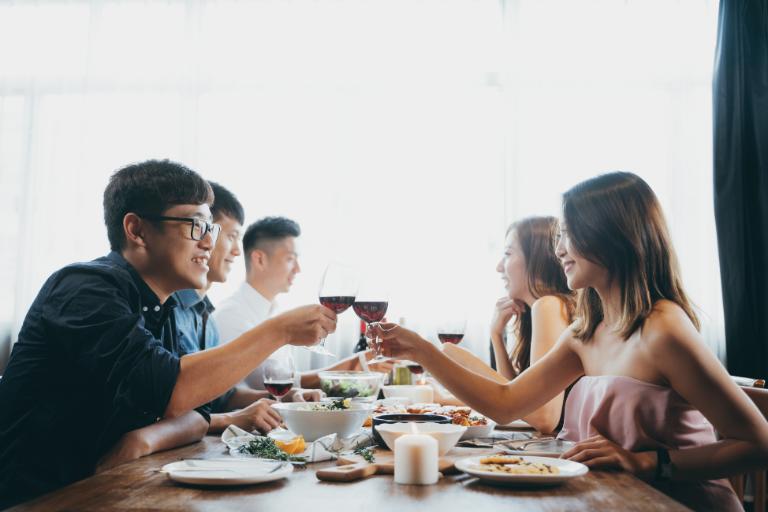 Don't rush this part. Enjoy the discussions and watch the wine experts and first-timers discuss what makes a great wine and what doesn't. Remove the bags and reveal the truth. Laugh at the predictions and, especially, the result. But no one needs to know anything about wine to have fun with it, the results are inevitably surprising too!