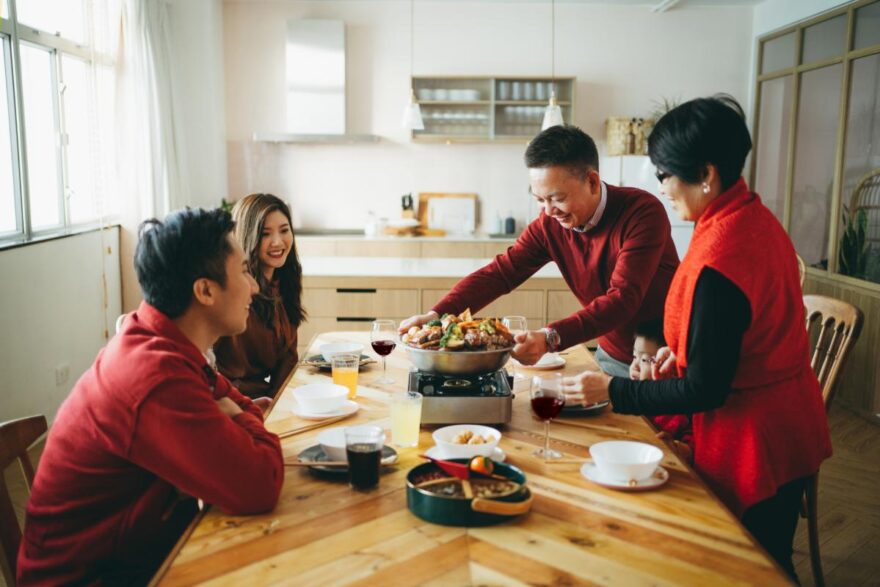 For the Chinese, the Spring Festival holds a special significance. It is not merely a holiday celebrating the passage into a new lunar year, but also a beacon of China's cultural identity which displays its traditions and values on a worldwide stage. And most importantly, it is a time for the entire family to gather together and reflect on all that happened in the previous year, and accumulate positive energy and good fortune for the year to come.
The Spring Festival is gaining influence outside of China
In recent years, the Spring Festival has been consistently gaining influence outside of China. Many Chinese living abroad will hold their own activities and celebrations, thereby spreading Chinese traditions throughout the world, with many of the gatherings even receiving support from local governments.
The Spring Festival belongs not only to China, but to the entire world
In addition, an increasing number of people who are not of Chinese heritage are choosing to visit China for study, work and life, and are beginning to gain a deeper understanding of both the Spring Festival and of Chinese culture as a whole. The Spring Festival belongs not only to China, but to the entire world.
Foreign interest in the tastes and flavors of a traditional Chinese Spring Festival celebration has also grown stronger, and this year is no exception. People across the world are now entering the preparation stages for this year's Spring Festival.
Chinese New Year Regional Dishes & Wine Pairing Guide
The vast majority of the Chinese population will soon celebrate the passage into the new year around a table full of delicious dishes, fit for a feast. In every region, and in every household, there may be a different meal reflecting regional and individual tastes, but one thing they are all sure to have in common is alcohol.
There is even a Chinese saying "it takes alcohol to complete the year", which owes its popularity to the clever wordplay involved (in Chinese, "alcohol" and "a long time" are homonyms) and has the implication that a Chinese Spring Festival celebration can never be without alcohol.
However, due to the conflict between tradition and modernization in food and drink choices, selecting an appropriate alcoholic beverage to pair with the meal which will leave every guest satisfied proves difficult.
That is why for this year's holiday meal, we've prepared the following guide to help you achieve the perfect wine pairing for any regional dish.
Manchuria: Bone in Soy Sauce & A Powerful, High-Tannin Wine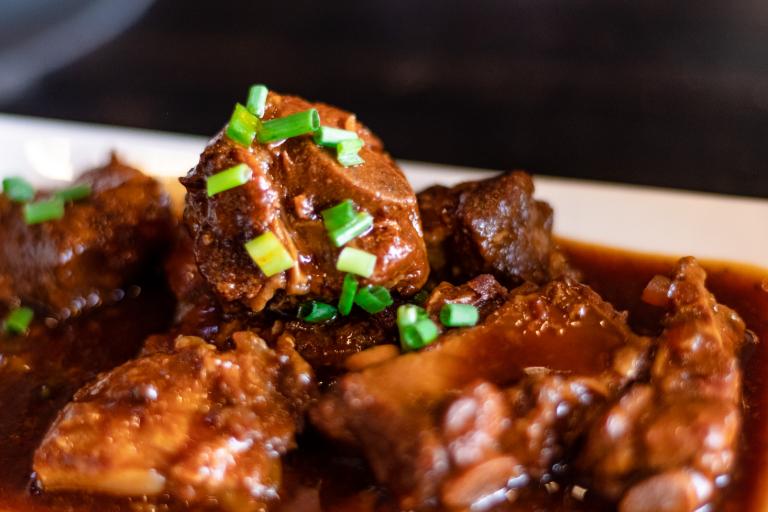 The people of Manchuria, in northeast China, are outspoken and straightforward, and this trait has manifested in their Spring Festival meals as well. Thick and heavy dishes with succulent meat on tenderized bone are sure to be present at any feast in the region; in fact, any table without will seem "inauthentic", and not "Northeastern".
Cabernet Sauvignon, Nebbiolo or a bold Montepulciano d'Abruzzo are full-bodied wines that have powerful tannins, making them an especially suitable pairing for heavier and strongly flavored dishes such as these. As another benefit, the fatty meat is able to soften the astringent taste of the red wine's tannins.
Wine Suggestion

| | |
| --- | --- |
| Name | "Fonte Maggio" Montepulciano D'Abruzzo DOC |
| Winery | Colle Corviano |
| Region | Italy / Abruzzo |
| Tasting Note | Dark ruby-red with violet undertones. Complex wild berry notes framed by elegant oak spices. Blackcurrant, spicy cherry integrated with hazelnut and coffee. |
| Where to Buy | Wechat ID: AMan_In_The_Box |
| Average Retail Price | 368 CNY |
China's Guangdong Province and Hong Kong: Dried Oysters with Black Moss & A Sour Wine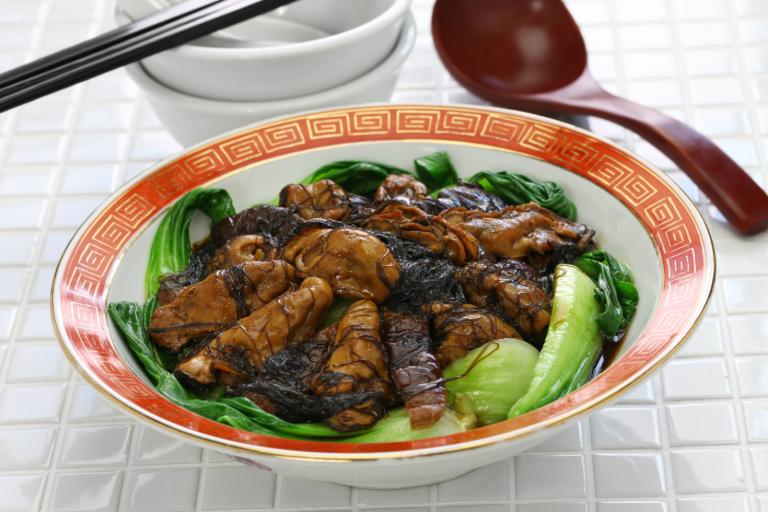 A specialty of China's Guangdong province, as well as Hong Kong, this dish often serves as the "opening banquet of the Spring Festival" in the region. The oysters must first be dried out in the sun before being combined with the black moss.
In Cantonese, "black moss" is a homonym of "to become rich", and the pronunciation of "dried oyster" is very similar to "happy occasion" and "good market" as well. For these reasons, the dish is symbolic as an aspiration for fulfillment and wealth in the coming year.
In general, oysters should be paired with a relatively sour wine; the classic pairing is a young Chablis wine. Because the limestone-rich soil of the Chablis region, where these wines are produced, includes the remains of many oyster shells, a rich earthy aroma, and flavors of minerality and salinity are imparted to the wine. In fact, Chablis wine is sometimes even referred to as oyster wine.
Besides Chablis wine, Burgundy wine also makes a great pairing with this dish because its salty and fresh flavors are able to bring out an even greater level of freshness in vegetable and meat dishes. When its fruity and flowery aroma mixes with the flavor of the oyster, they truly bring out the best in each other.
Dry Riesling has an even wider appeal and can be paired extensively across much of Cantonese cuisine without comprising the delicate flavors of the dishes.
Wine Suggestion

| | |
| --- | --- |
| Name | Wein Und Sektgut Barth Riesling Trocken |
| Winery | Weingut Barth |
| Region | Germany / Rheingau |
| Where to Buy | Wechat ID: AMan_In_The_Box |
| Average Retail Price | 268 CNY |
China's Sichuan, Hunan and Guizhou Provinces: Spicy Sausage & A Rich, Fruity Wine with Low Tannins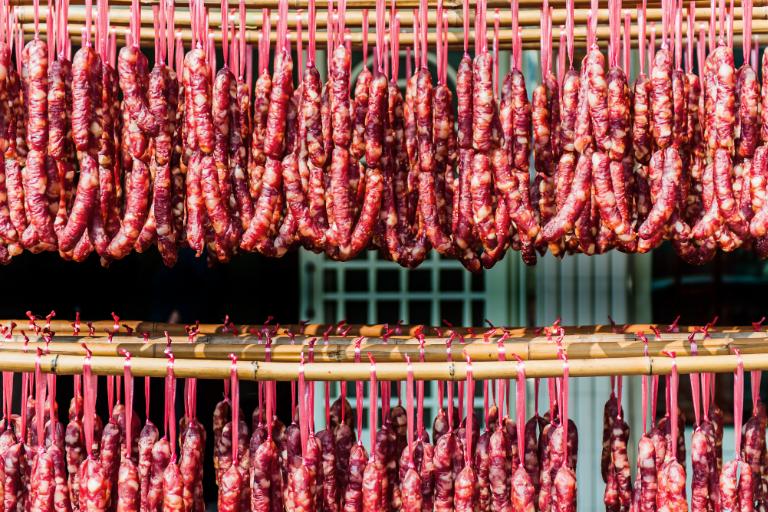 The midwestern Chinese provinces of Sichuan, Hunan, and Guizhou are famous for their spicy cuisine, and spicy sausage is an essential dish for all local Spring Festival celebrations.
Households across the region each prepare several pounds of sausage, with the tidy alternating links of red and white hanging from balconies and porches as far as the eye can see, and an alluring scent captivating the region and stirring up excitement for the upcoming holiday.
A "spicy" dish is typically one of the most difficult to work with when it comes to selecting wine pairings, because it is hard to find a wine that will preserve the pleasant kick of the spice while at the same time bringing out the other flavors in the food; if not careful, the flavor of the wine itself can also be completely overpowered by the dish.
For these reasons, oaky-flavored and tannin-rich wines are not suitable, and the alcohol content should be kept low; any of these characteristics can intensify the burning sensations caused by the spiciness of the food.
Instead, a suitable choice for this kind of dish is a moderate wine with a strong fruity taste, such as a semi-dry or sweet Syrah wine. An Alsace Pinot Gris is also a good choice, with its fresh, clean and slightly sour taste better able to neutralize the spice heavily present in much of the Sichuan, Hunan and Guizhou cuisine.
Wine Suggestion

| | |
| --- | --- |
| Name | Montepulciano D'Abruzzo DOC |
| Winery | Colle Corviano |
| Region | Italy / Abruzzo |
| Tasting Note | An intense ruby-red color with violet undertones. Intense bouquet of ripe red fruit. Rich in fruit, lively, elegantly framed by oak spices. |
| Where to Buy | Wechat ID: AMan_In_The_Box |
| Average Retail Price | 198 CNY |
Taiwan and Southern China: Tangyuan & A White or Sparkling Wine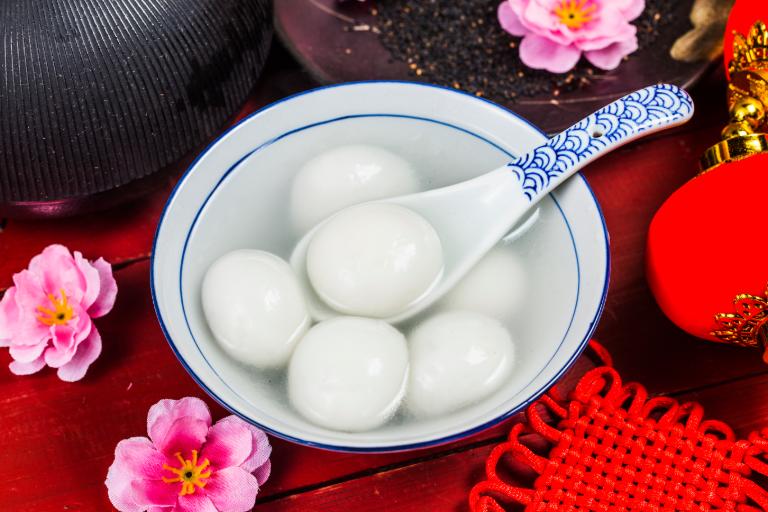 The Taiwanese and southern Chinese love sweets. There is a popular saying throughout the regions to the effect of "eat sweets for a happy New Year," which rhymes in the original Chinese.
During the Spring Festival, every family in the Jiangsu and Zhejiang provinces of southern China as well as Taiwan is sure to be busy making tangyuan (sweet dumplings) by hand, using red bean paste, sesame seeds, peanuts, taro, sweet potatoes, cheese and other sweets as filling. These round dumplings symbolize union and happiness and have inspired two other common sayings (both of which also rhyme in the original Chinese): "eat a sweet, live for 10,000 years," which is often said by children to their elders; and "eat a sweet, make a fortune," which is often exchanged between adults.
Traditional sweet dumpling soup has a white broth, but other methods include using distiller's grain (the leftover residue of fermented rice, sorghum, or other cereals) or boiled Osmanthus flowers, any of which form a sufficiently sweet base for the dish.
Recently a new method has been invented in which red wine and rock candy are boiled together to form the base of the soup, which allows the alcohol in the wine to reduce the sweetness of the dumplings and create a healthier, more delicious blend of flavors. Or, the more traditional sweet dumplings can be paired with a white wine or sparkling wine, and those guests with a particularly strong sweet tooth might enjoy an even sweeter wine.
Wine Suggestion

Name
"Trebi'" Trebbiano d'Abruzzo DOC
Winery
Talamonti
Region
Italy / Abruzzo
Tasting Note
Pale straw with light green hues. Intense bouquet of ripe apples, peaches. Refreshing ripe apple and peach notes end with a gentle acidity. A rich, full, round and persistent wine.
Where to Buy

[email protected]


https://www.mr9.tw
Malaysia: Nyonya Pineapple Shrimp & A Fruity, Full-Bodied Wine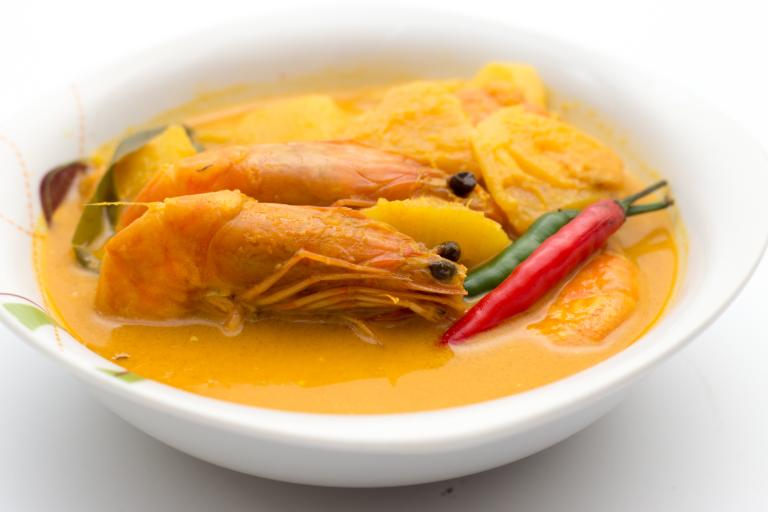 Malaysian Spring Festival customs are generally similar to those of the Chinese, owing to the fact that many of the local people are from China's Fujian province and have been strongly influenced by its culture.
People in Malaysia are certain to include pineapple in their new year celebrations, because in the Minnan (South Fujianese) dialect, "pineapple" and "prosperous" have identical pronunciation, and the fruit therefore holds a special symbolism as a bringer of good fortune.
Pineapple is combined with fresh shrimp in this Nyonya Pineapple Shrimp dish, which is a staple of Malaysian Spring Festival celebrations. The sweet and sour pineapple and the umami shrimp complement each other perfectly, and an aromatic white wine with strong fruit flavor, such as Gewurztraminer, Muscat, or Riesling, will make a good pairing with this meal.
Wine Suggestion

Name
Riesling Spätlese Trocken
Winery
Sybille Kuntz Estate
Region
Germany / Mosel
Tasting Note
Wine Spectator "Crisp, with a luscious savoriness to the ginger, apricot and ruby grapefruit flavors that glide over the palate. Full and rich on the finish, displaying notes of honey and tarragon cream.
Where to Buy

[email protected]


https://www.facebook.com/JJretails/
Average Retail Price
RM 208
Singapore: Hainan Chicken and Rice & A Champagne or White Wine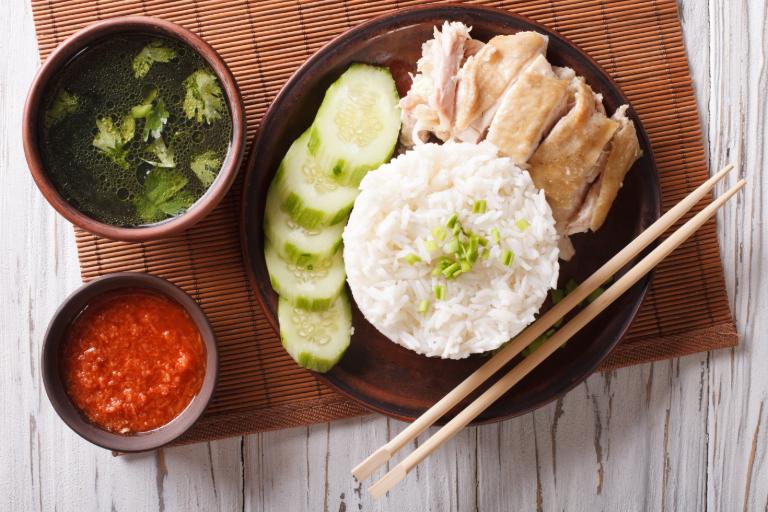 Hainan chicken and rice is a dish considered to be a "national specialty" of Singapore. Cooking time must be enough so that the entire chicken is made tender while in boiling water; the chicken is then cut into pieces and arranged on a plate with a sprinkling of sesame oil and soy sauce.
For this dish, the rice is also cooked with chicken stock and grease, so that it becomes fragrant and smooth in texture. The chicken must not be over-cooked, and the meat surrounding the bone should even be left slightly pink to be considered acceptable. The fresh and tender chicken and aromatic rice are accompanied by chicken stock, sliced cucumber and chili sauce, for a taste almost beyond description.
Champagne, Riesling or Chardonnay all make wonderful pairings with this meal due to their clean taste and tartness, which can help remove excessive greasiness from food. Adding one of these into the mix can ensure that the Hainan chicken and rice dish lives up to its full potential.
Wine Suggestion

| | |
| --- | --- |
| Name | Boschkloof Chardonnay |
| Winery | Boschkloof |
| Region | Africa / Stellenbosch |
| Tasting Note | Boschkloof is a family run vineyard in Stellenbosch. A chardonnay created in a rich complex style with citrus, lime and hints of apricot. Elegant aromas, integrated with subtle hints of oak that adds to the complexity. Good fruit and balance with long lingering finish. Enjoy now or benefit from cellaring. Best served at 13 -14C. |
| Where to Buy | https://www.ttgwines.com |
| Average Retail Price | S$ 35 |
Indonesia: Yusheng & A Low-Tannin Red Wine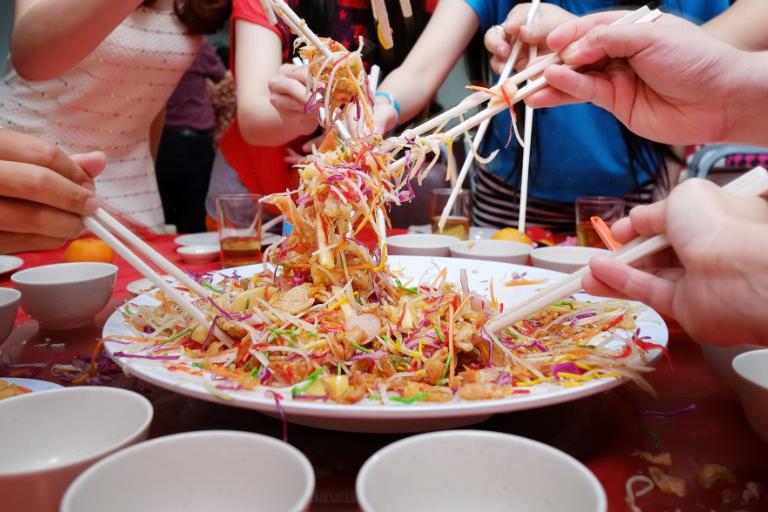 Yusheng (a Cantonese-style raw fish salad) is a customary dish throughout Southeast Asia, and although it is especially popular in Singapore and Malaysia, it has gradually gained popularity in Indonesia as well.
The main ingredients in a Yusheng dish are fresh fish arranged with colorful slices of a variety of vegetables such as peppers, celery, carrots, and white radish, topped with sweet and sour flavoring and sesame seeds. The end result is similar to a Western salad.
When eating this dish, it is tradition to use chopsticks to grab one of each variety of food on the plate while at the same time shouting "Pick up! Pick up!" The similar pronunciation of "Pick up!" and "Bring luck!" makes this an expression of hope for good fortune in the new year. A red wine relatively light in tannins, such as Pinot Noir or Beaujolais, is a perfect choice to pair with Yusheng.
Wine Suggestion

Name
CARTAGENA by Casa Marin Pinot Noir
Winery
Casa Marin
Region
Chile / Lo Abarca
Tasting Note
A great summer red! Also delicious with wild Chilean salmon from the Lake District or any other fatty fish. If you love Italian food, then this wine is a great match with Italian pasta and pizza. For meat lovers, we suggest white meat such as chicken or pork.
Where to Buy
WhatsApp: +628161222 0888
https://dimatique.com
Average Retail Price
IDR. 450.000
Or, choose a versatile wine that will pair well with any meal
If your table has a large variety of dishes, choosing a versatile wine that can pair with any dish is very important. Sauvignon Blanc and dry Riesling are two varieties that do a good job of cleansing the pallet with their sour taste and can be sipped in between each bite of different food.
A red wine that is most universally suitable should also be relatively sour, such as Chianti or Burgundy, or Pinot Noir produced in California or Oregon. If not sour, the wine should have a full-bodied, fruity flavor and be low in tannins, such as Zinfandel or wines produced in the Rhone River Valley in Southern France. These are all safe choices for pairing with any dish, from a simple roasted chicken leg to a more complex spaghetti with meat sauce.
It is worth remembering that at any gathering, although each glass of wine should be worth enjoying on its own, a perfect pairing can bring out the best in both the wine and the meal. For this year's Spring Festival, the secrets to these perfect food and wine pairings are now in your hands. Don't hesitate to try them out at your gatherings with friends and family, and let these delicious flavor combinations lead you into a wonderful new year the right way!