Recipes
Garden Restaurant Spiced and Sauced Beef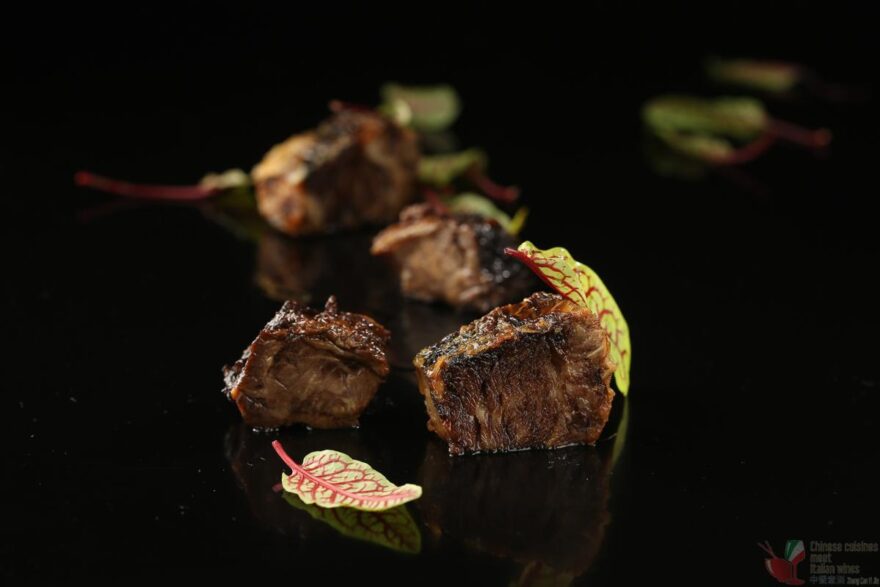 Wine pairing notes
Rosso di Montefalco is a tannic wine. The blend of Sangiovese with Sagrantino and Merlot makes it a strong and long-lasting wine that perfectly enhances the sapidity of this dish. It helps to smooth out the lushness of the beef as well. The good intensity of both the aroma and flavor of the wine matches well and counterbalances the different spices.
Ingredients
200g short ribs
100g light soy sauce
100g dark soy sauce
100g cooking wine
50g Maggi seasoning sauce (Ingredients: Water, Rice, Wheat, Salt, Caramel)
50g"Shi San Xiang" seasoning
50g fish sauce
100g Welsh onions
100g ginger
100g garlic
2 edible flowers
200g water
Method
Put the oil in the wok, add Welsh onions, ginger and garlic and stir fry until fragrant
Add "Shi San Xiang" seasoning and add water to boil
Season with light soy sauce, dark soy sauce, Maggi sauce, and fish sauce
Stew short ribs in the sauce soup for 90 minutes
Cut stewed beef in pieces
Plate and decorate with the edible flowers
Wine

Montefalco Rosso DOC

Arnaldo Caprai
| | |
| --- | --- |
| Description | The Montefalco Rosso DOC is certainly the wine that accompanies the everyday dine in Montefalco. A wine of extraordinary freshness and balance, the result of a traditional blend of Sangiovese, Sagrantino, and Merlot that is matured for about a year in large oak barrels. |
| Country | Italy |
| Region | Umbria |
| Vintage | 2015 |
| Grape | 70% Sangiovese, 15% Sagrantino, 15% Merlot |
| Colour | Deep ruby red |
| Aroma | Small red woodland fruits, dark flowers with hints of herbaceous notes followed by spices scents like vanilla and black pepper. |
| Taste | Dry and fresh, with a great balance between tannicity and acidity. |
| Alcohol | 13% |
| Aging | 12 months in oak barrels, 4 months in bottle. |
Winery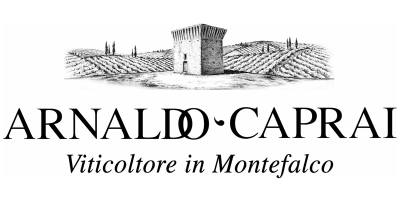 In 1971 Arnaldo Caprai, a successful textile businessman, bought the Val di Maggio estate to fulfill his dream of producing his own wine. He started off with only five hectares. As time went by he believed more and more in the great potential of the local varieties and most of all in Sagrantino. In 1988 his son Marco Caprai started managing the winery and with his passion and determination gave the necessary impetus to the production of top quality wines. Since 1991 huge investments are driven into the acquisition of new vineyards, scientific research, and technological innovation.
An original Wine & Food pairing from

The guide Zhong Can Yi Jiu and the program Chinese cuisines meet Italian wines are promoted by the Italian Wine Bank, a branch of the project MELIUS, both produced by The I Factor Limited. The guide is realized in collaboration with the Chinese Culinary Institute of the Vocational Training in Hong Kong, the Club China AIS (Associazione Italiana Sommelier) and the Italian Wines World Summit.
This guide is an unprecedented attempt to marry two great gastronomic cultures and artisanal producers: Chinese cuisines and Italian wines. This guide is the first of many steps in a grand project that will be fully realized over the next few years. Our mission is to give interpretive tools to the consumer as well as provide a point of reference for the Italian wine industry, as well as for contemporary Chinese chefs and restaurateurs operating in China, Hong Kong, Macau, Taiwan, Singapore and worldwide.
Discover this original Wine & Food pairing on Chinese Cuisines Meet Italian Wines.