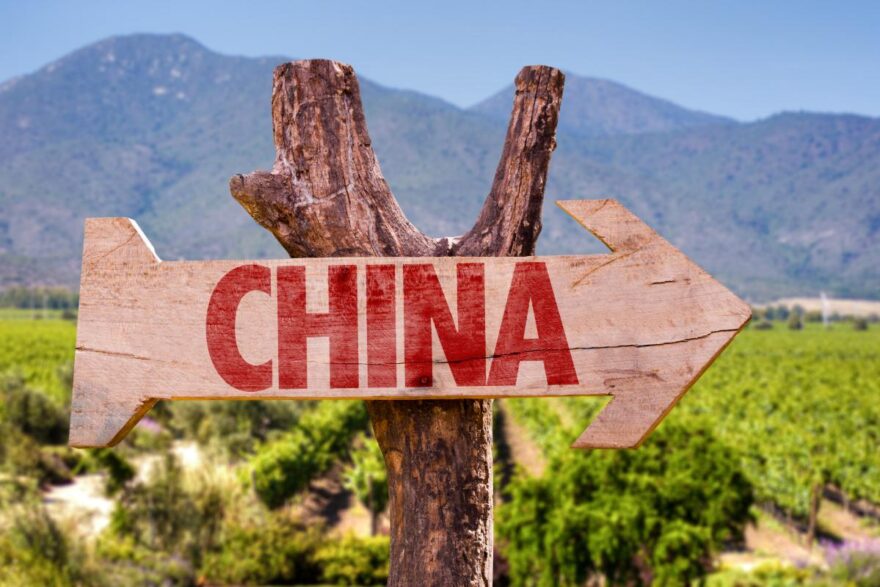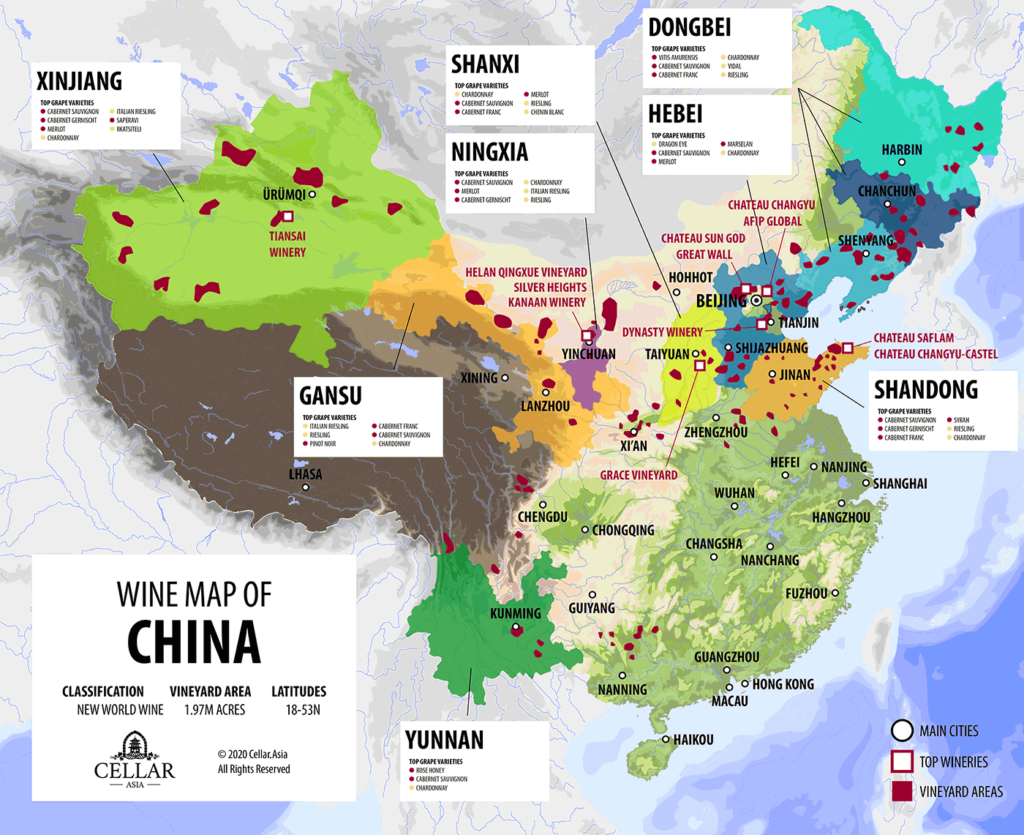 China-Wine-Map.pdf | China-Wine-Map.png (High Definition)
An Overview of China's Wine Producing Regions
In light of recent archaeological findings, the history of wine production in China has been rewritten; it is now known to extend back over 9,000 years.
However, experience is not the only factor in making great wine, and when compared with other wine-producing countries, China is still somewhere in between those with great fame and tradition and the new up-and-comers. This certainly does not prevent China's local wine producers from marching toward the international market, where they are attracting attention the world over.
The division of China's wine-producing regions is often based on administrative areas rather than common sense; however, the local grape and wine varieties of each of these regions together create the extraordinary splendor of modern China's wine industry.
Regional Guides
Shandong
Primary grapes varieties: Cabernet Sauvignon, Cabernet Gernischt, Cabernet Franc, Syrah, Riesling, Chardonnay, (and others)
When speaking of China's leaders in wine production, the fame of Shandong province is certainly justified. The region has a long history of wine production, and its sales figures place it atop China's list. Most of the region's wine comes from the Shandong Peninsula, where the renowned "wine capital" of Yantai is located. Two major production areas are Penglai, a city in Yantai filled with sweeping vineyards, and Qingdao, located on the other side of the peninsula.
Shandong sees abundant sunlight and has a cool and refreshing climate, with vast fields and areas of sloping hills that provide a suitable amount of precipitation as well as favorable drainage conditions. It is truly the vanguard of modern China's wine industry, as well as the birthplace of the famous Changyu Wine.
Many of China's other wineries have also taken root in the region, and together they have contributed to the formation of China's first major wine production region. However, rainfall during the summer season can be excessive, and the rates of plant disease and insect infestation are relatively high, leaving these wineries confronted with many challenges.
Hebei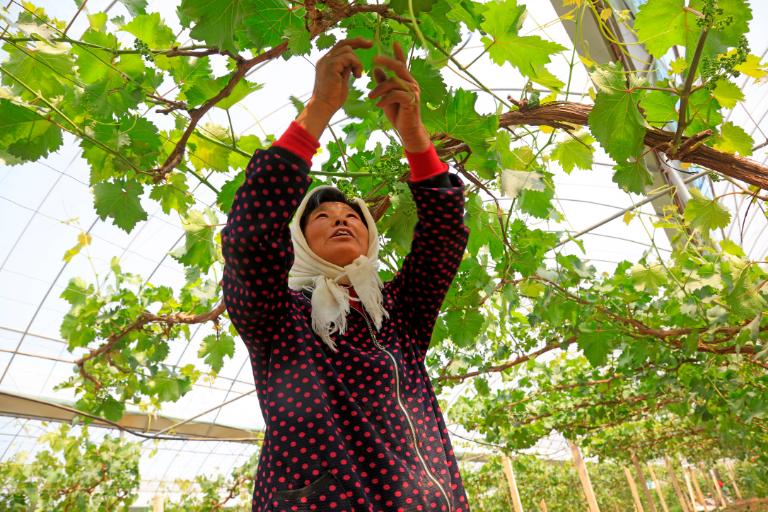 Primary grapes varieties: Dragon Eye, Cabernet Sauvignon, Merlot, Marselan, Chardonnay, (and others)
When the Hebei region is mentioned, Chinese wine lovers will surely make the association with China's first bottles of dry white and dry red wine.
The highest production levels are on the level terrain of the province's Changli county; with its warm and moist climate and slightly above-average rainfall levels, it is necessary to take precautions against fungal diseases at all times. In the cold winter months, the grapes must also be protected from frost damage.
The Shachang region benefits from the barrier provided by the Yan mountain range, which gives it a dry and clean climate with suitable sunlight. This land is mostly utilized to grow the native Chinese dragon eye fruit, which has a stellar reputation both in China and abroad.
Ningxia
Primary grapes varieties: Cabernet Sauvignon, Merlot, Cabernet Gernischt, Chardonnay, Italian Riesling, Riesling, (and others)
It can be said that wine is a pillar industry in Ningxia. The area's sunlight conditions are beneficial, there is a large diurnal temperature variation, and the Helan mountains to the north keep it isolated from cold Siberian winds. However, the winters are still frigid, and grape vines must be buried for protection from the cold, requiring painstaking efforts from the grape farmers. The Yellow River flows through the region, creating favorable conditions for irrigation.
The Ningxia local government has also taken a strong initiative in further investments in the region's wine industry, actively developing new cultivation technologies and grape varieties.
Moët Hennessy–Louis Vuitton, along with other large corporate entities, are all investing in Ningxia, although this hasn't prevented local Chinese vineyards such as Helan Qingxue from beginning to show off their sophistication and elegance on a worldwide stage.
Shanxi
Primary grapes varieties: Chardonnay, Cabernet Sauvignon, Cabernet Franc, Merlot, Riesling, Chenin Blanc, (and others)
Shanxi has been known for its wine since ancient times. With plateaus as its primary terrain and its characteristic loess with great soil drainage properties, the region produces wine with a distinctive flavor.
Shanxi's internationally-renowned winery – Grace Vineyard – has greatly enhanced the region's development, and following in its success are a number of other, smaller-scale vineyards which are now revealing their potential for bright futures. The leader of this pack is clearly Chateau Rongzi, which boasts Bordeaux's winemaker Jean Claude Berrouet as an adviser.
Yunnan
Primary grapes varieties: Rose Honey, Cabernet Sauvignon, Chardonnay, (and others)
With a suitable climate and ample sunlight, Yunnan is an ideal location for growing grapes. But its fields are scattered throughout the region like stars in the night sky, making it hard for large-scale vineyards to be established there.
The region is more suitable for specialty wines and therefore has received much international interest. The Ao Yun vineyards, part of Moët Hennessy–Louis Vuitton, are located here, and Pierre Lurton, winemaker for Chateau d'Yquem and Cheval Blanc, has expressed his interest in investing in the region.
Xinjiang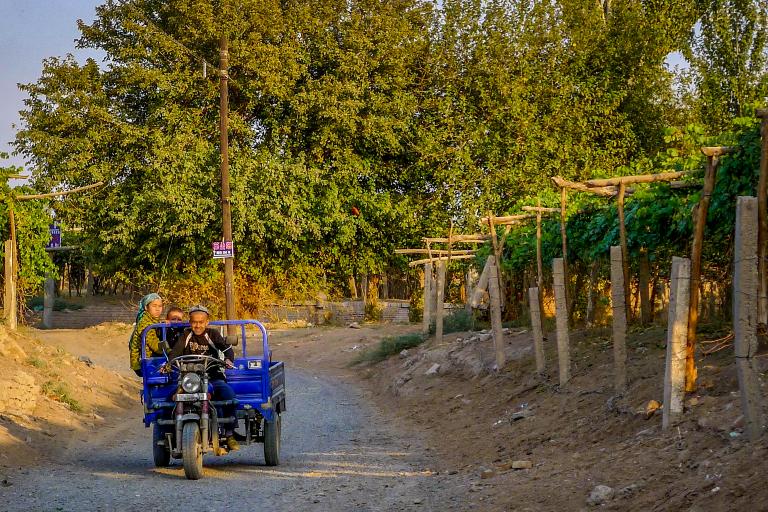 Primary grapes varieties: Cabernet Sauvignon, Cabernet Gernischt, Merlot, Chardonnay, Italian Riesling, Saperavi, Rkatsiteli, (and others)
Xinjiang is a rising power in this list of Chinese winemakers, and its strength cannot be denied. Factors such as the region's scarce rainfall, intense sunlight, extreme diurnal temperature variation, and ample water sources all contribute to its distinct wine grapes.
Ingredients such as Georgian red honey and white feather, which were introduced to Xinjiang through the Silk Road, are sure to help take Xinjiang wine to the next level.
Dongbei
Primary grapes varieties: Vitis Amurensis, Cabernet Sauvignon, Cabernet Franc, Chardonnay, Vidal, Riesling, (and others)
Dongbei's fertile black calcium soils and the wild Vitis Amurensis found in Jilin's Changbai mountain region lead to a unique type of wine. These grapes are abundant in anthocyanins and are relatively sour; it is standard procedure to add extra sugar during fermentation.
Elsewhere in the region, Huanren county in Liaoning is commonly referred to as the "Golden Ice Valley", where its Botrytis Cinera grapes produce a model ice wine comparable in quality to Canadian ice wines.
Gansu
Primary Types of Wine: Italian Riesling, Riesling, Pinot Noir, Cabernet Franc, Cabernet Sauvignon, Chardonnay, (and others)
China's Gansu province is a gem hidden among the sands of the Gobi desert, and it is considered to be a holy land within the Chinese wine industry. The province is located in the eastern part of the Hexi Corridor, which was an important section of the Silk Road. Sunlight is abundant in Gansu, and the province's eastern region has relatively low precipitation and thus lower rates of plant disease and insects.
The region has a moderate grape ripening period, no natural pollution, and a large diurnal temperature variation; these factors are beneficial to grape coloring, so it comes as no surprise that Gansu produces some of the highest quality grapes of any region in China.
Among the province's many wine-producing areas, Wuwei District has distinguished itself as a focal point for the industry, drawing attention throughout China. The climate in Wuwei enjoys temperatures that resemble the Bordeaux region in France, and its reputation in China is comparable to that of the latter. Finally, the northwest region of Gansu – where the famous Mogao caves are also located – is known for having a productive wine industry.
Editor's Note
"We cannot say that China has already seen success in the global market, but as one of the wine industry's most exciting developing markets, we believe China will continue to draw increased international attention and eventually become a major player in the future of wine."