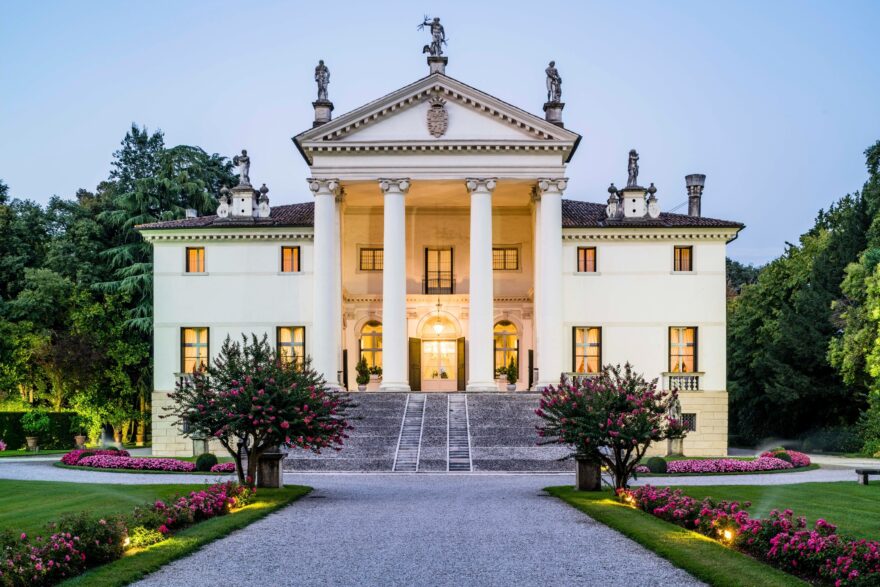 It's that time of year again!! With two big holidays over the next three months it's time to start thinking about what you'll serve for your celebrations this year. Especially after the crazy year that was 2020, we need to take time to relax, savor the moment, and as much as possible, remember and reflect on the good things in our lives.
While Champagne is the holiday drink of choice for many people, think outside the box this year and try a Prosecco! Fresh, crisp, sparkling Prosecco is a perfect match for rich holiday foods, and easy-to-drink at a more affordable price point than Champagne. And if you are looking for a good Prosecco then try one from Villa Sandi, a premium Prosecco producer with a range of wines from different vineyards throughout the Prosecco region.
Based in the province of Treviso, Villa Sandi takes its name from the 400 year old Palladian villa in which it is headquartered. A family-owned company, founded in the 1970s, Villa Sandi brings pride and dedication to their winemaking processes, producing a range of Proseccos from different appellations, with innovative and sustainable methods of viticulture and winemaking.
Villa Sandi owns vineyards throughout the Veneto region, in each of the major Prosecco subregions. From the wider Prosecco DOC region, in the flatter areas of Friuli Venezia Giulia, to the gentle hillsides of Asolo DOCG and the steep vineyards of Valdobbiadene DOCG, Villa Sandi owns and controls vineyards in each appellation, enabling them to keep a close eye on the grapes they are using all the way from the vineyard to the bottle. In this way, they ensure that all the grapes they are using meet the high quality standards of the winery.
Sustainable Production
At Villa Sandi, sustainable practices in both the vineyard and the winery are very important. Their goal is always to leave the Earth in good condition, and maintain the planet as best as possible for future generations.
On the original Villa Sandi estate, a hydro-electric plant provides 20% of the energy required to run operations. Multiple estate vineyards have been awarded the "Biodiversity Friend" certification, meaning they use sustainable practices designed to protect and increase biodiversity in the vineyards, for more healthy and productive vines. Solar panels, recycling water, and use of ecologically-friendly packaging materials also help to reduce their impact on the environment.
The Best of Prosecco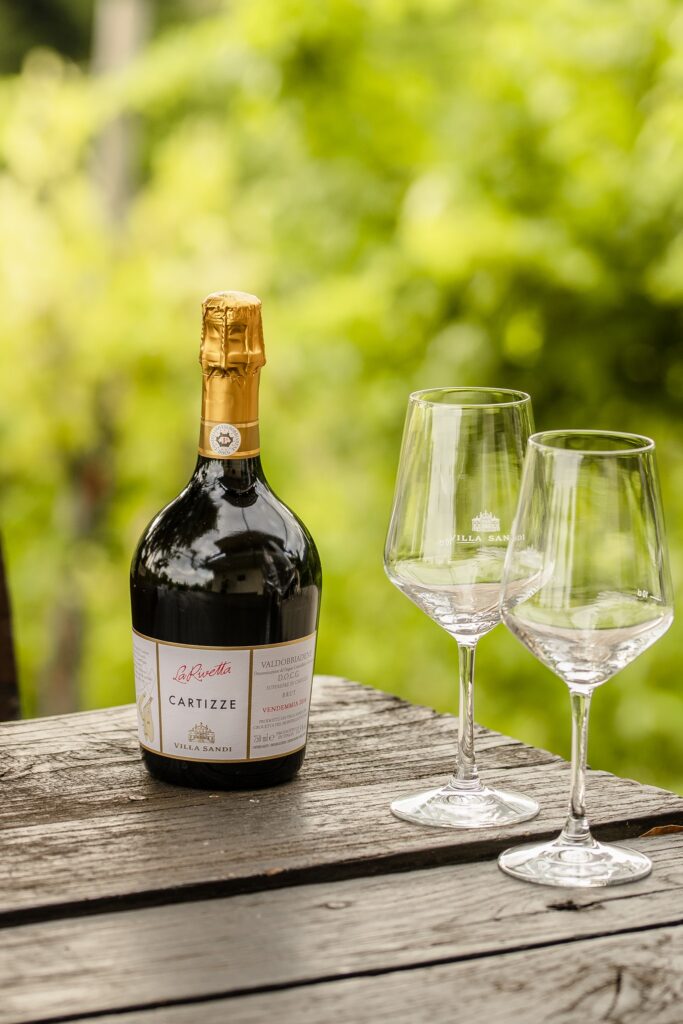 In many ways, Villa Sandi has perfected the art of Prosecco, but before we discover how, let's look briefly at what is Prosecco. One of my favorite sparkling wines, Prosecco is produced in the northeast of Italy from the Glera grape. It is a light, crisp, bright wine with fine bubbles, that is known for its fresh and fruity flavors and aromas. Meant to be consumed young, it is generally drunk quite quickly after production, and it spends no time ageing at winery. This is why you will notice a difference between the fresh fruit flavors in Prosecco and the toasty, bready characteristics of Champagne.
The Glera grape itself has a fairly neutral profile, and produces a wine with fresh fruit characteristics, such as green apple, pear, melon, and honeysuckle. The fruitiness of Prosecco can often make it seem sweeter than it is, since Prosecco is generally made in a dry, brut style, with little remaining sugar.
Production Methods
Prosecco is produced using a different method than Champagne, through a process known as the Charmat, or tank, method. Rather than undergoing a second fermentation in bottle, as is the case for Champagne, Prosecco will undergo a second fermentation in a tank, maintaining the crisp style for which it is known. The tank is sealed during this second fermentation to trap the carbon dioxide released during this process, and this is what gives Prosecco its signature sparkle. You may notice that the bubbles don't last quite as long as Champagne though, because Prosecco is bottled at a lower pressure. This also contributes to the smoother, softer feel of Prosecco in your mouth.
Villa Sandi uses a different tank fermentation method, using chilled grape must rather than still wine, to ensure maximum aromatics and optimal freshness in their wines. Rather than undergoing the traditional two fermentations, one immediately after pressing and another once it is time to produce the bubbles, Villa Sandi chills the grape juice as soon as it is pressed, and holds it at freezing temperatures until they are ready to ferment. The frozen grape juice is then brought back to a higher temperature and goes through one fermentation in a sealed tank.
The method means the wine stays as crisp and fresh as possible, there is no lapse in time between the first and second fermentations that might allow the wine to age or become slightly stale. The high quality of the wines produced in this way is apparent from the first sip.
An Array of Styles
Within the Prosecco region, as in most wine regions, there are several different subregions known for producing different styles of the same wine. Villa Sandi in fact owns estates and produces wines from all the main DOC and DOCG Prosecco areas across their different brands, including Treviso DOC , Asolo DOCG, Valdobbiadene DOCG and the cru of Cartizze.
This variety gives you many choices when you are looking to pick up your next sparkling wine, with some meant more for regular consumption and some of premium quality to impress guests at your holiday festivities. Let's look quickly at a couple of the different styles they produce, starting with Il Fresco Prosecco DOC Rosé 2019.
Il Fresco Prosecco DOC Rosé 2019
This wine is produced in the Prosecco DOC region, a region that has long been dedicated to the production of sparkling wines. As a Brut-style Prosecco, there is just a touch of sweetness in this wine, but very minimal. This hint of sweetness rounds out the edges and adds a smooth finish to the wine, making it a very pleasant apéritif or appetizer wine. It has a beautiful pink color with copper highlights, and aromas of roses, red fruits, pomegranate. Fine, persistent bubbles make it lively and enticing.
Rosé Prosecco is not often seen, as it was not in fact allowed to be made before this year. But to the great joy of producers, the Italian government, as of 2020, has approved rosé Prosecco, and now is the time to try it! You may wonder how the wine takes on its lovely color. In a rosé Prosecco, similar to Champagne, Pinot Noir, a red grape, is added to the Glera grapes. The red grapes are crushed separately, spending some time on the skins to extract a light color, and then added to the white grape juice before fermentation. The mix of red and white juice gives a pretty pink hue to this juicy wine.
This wine's bright acidity whets the appetite and stimulates the palate, which is perfect for salty and fatty holiday foods. It's a great pairing for traditional Italian cheeses and charcuterie, especially semi-firm, fruity style cheeses, or rich, soft triple-cream cheese. All types of cured salumi or ham pair well with this Prosecco, as well as fruit, cheese tarts, or light salads. A salad that incorporates pears, strawberries, or apples would bring out the ripe fruit flavor within the wine, and the acidity in the wine is robust enough to stand up to a vinaigrette.
If you are interested in further exploring the world of Prosecco, also check out Villa Sandi's Cartizze DOCG La Rivetta or Asolo Prosecco Superiore DOCG. Cartizze especially, known as the "Grand Cru of Prosecco", will show you what the region is capable of producing, and you may be surprised.
The Modern Face of Prosecco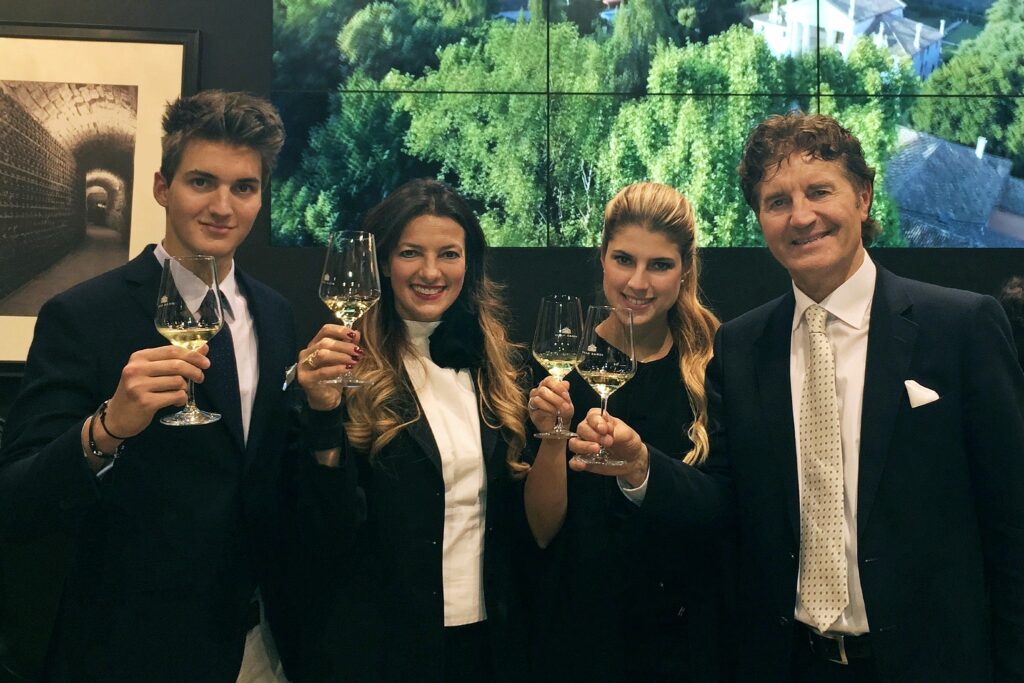 Villa Sandi, as a premium producer, also places great importance of the look and feel of their wines. Their unique bottle shape, designed within by the family, is proprietary to the estate, no other producers may use this same bottle design. It spans the gap between old and new, tradition and modernity, as it pays homage to the traditional Prosecco bottle design, but with a crisper, sharper image.
The packaging and shipping materials used by Villa Sandi are also designed to be recycled, and to be less bulky, to cut down on the amount of waste generated by shipping wines around the world.
Villa Sandi also welcomes visitors from around the world to discover their unique terroir and production methods. Explore nearly 1.5km of underground cellars and discover the secrets to this unique brand, and don't forget, taste some wine!
Conclusion
Available around the world, Villa Sandi offers you more options for your next holiday celebration, or really anytime you need something fun and bubbly to drink. If you've never tried Prosecco before, or if you have but are looking for something interesting and seasonal, try one of the Prosecco Superiores or even Cartizze, to expand your knowledge of the reason. And of course don't forget rosé. These wines are perfect for this time of year, and will add sparkle and fun to your celebrations.
Committed to sustainable development, Villa Sandi is always working to produce a higher quality, more ecologically beneficial style of wine, and transmitting to you the joy and beauty that characterizes the Prosecco region. Raise your glass to the holidays with Villa Sandi Prosecco!