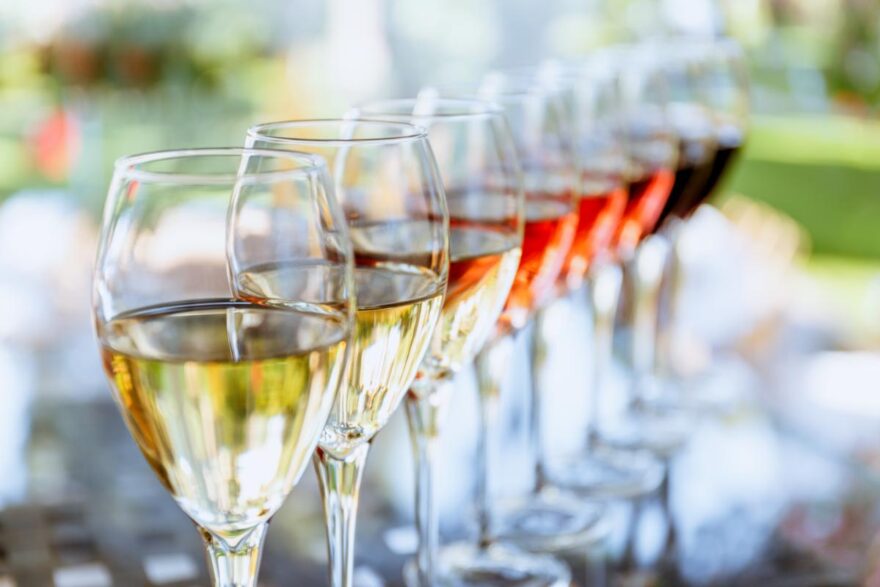 There is a style of wine for every taste. Wine has many forms and many styles. Light to full-bodied, aromatic, bone dry to sweet, white to red, sparkling, flat, fortified.
Here are the 9 primary styles of wine…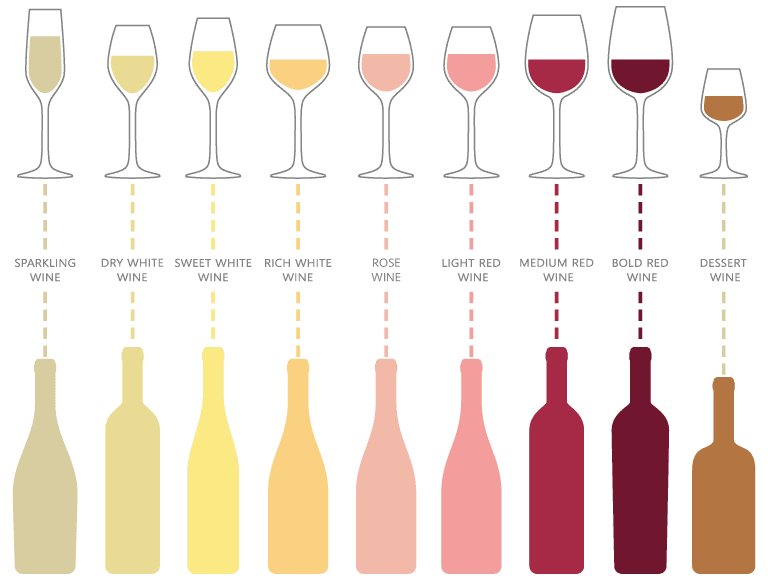 1. Sparkling wine
No special occasion necessary to enjoy your favorite bubbly drink. Sparkling wine can be made out of any wine grape. The two most popular types of sparkling wine are Champagne and Prosecco.
Main Flavors
Common flavors include citrus, peach, toast, and light berries.
Popular Varietals
Any variety of grape can be used to make sparkling wines. It is common to use Pinot Noir and Chardonnay in France and New World countries. Other Old World countries tend to use many different domestic grapes.
Pairings
Sparkling wine pairs well with a variety of cheeses, shellfish, fin fish, and green vegetables.
2. Light-bodied white wine
Known for being tart, crisp, and have a high acidity. Most of these wines are not meant to be aged and are their prime within one year of bottling.
Main Flavor
Main flavors include citrus, melon, apple, grapefruit, and peach.
Popular Varietals
Common light-bodied white wines include Sauvignon Blanc, Gruner Veltliner, and Pinot Gris.
Pairings
Light white wines are great with nutty cheeses, mollusk, shellfish, and fresh herbs.
3. Full-bodied white wine
These wines are rich, bold, and sometimes aged in oak.
Main Flavor
Flavors of pineapple, apple, starfruit, honeysuckle, and stonefruit are common. If aged in oak or on the lees, flavors of butter, cream, and vanilla are apparent.
Popular Varietals
Popular full-bodied white varietals include Chardonnay, Semillon, Pecorino, and Viognier.
Pairings
Full-bodied white wines pair with the largest variety of food out of all white wine styles. Pungent and salty cheeses, finfish, white meat, and roasted vegetables are good pairings choices.
4. Aromatic white wine
The third category of white wine ages well and range from dry to sweet. They are very aromatic and age better than other white wines.
Main Flavor
Honeysuckle, apple, pear, flowers, peach, beeswax are dominant flavors.
Popular Varietals
Riesling, Gewurztraminer, Muscat Blanc, and Chenin Blanc are the main aromatic white varietals.
Pairings
Pairs well with all cheeses, finfish, beans, and spicy dishes.
5. Rose wine
Essentially rose is red wine made in the style of white wine. The juice is not fermented alongside the skins and seeds like red wine is. Instead, the juice sits with the skins for only a few hours, allowing only the slightest bit of color and tannin into the wine.
Main Flavor
Melon, strawberry, and citrus are flavors you can find in most Roses.
Popular Varietals
Any red grape variety can be made into a rose. Popular varietals include Pinot Noir, Merlot, and Sangiovese.
Pairings
Known for the ability to pair nicely with a large variety of dishes, roses pair well with cheeses, cured meats, white meat, and pasta dishes.
6. Light-bodied red wine
Pinot Noir and Gamay are the two most well-known light-bodied red wines. They are very thin skins, so the color and tannins are lighter than that of other red grapes. They tend to have higher acidity and lots of flavors of cranberry.
Main Flavor
Cranberry, blackberry, mushrooms, and cherries are common flavors in light reds.
Popular Varietals
Pinot Noir and Gamay are the two most popular light red varietals.
Pairings
Light reds go well with cured meats, game birds, and a variety of cheeses.
7. Medium-bodied red wine
This style makes up the majority of red wines. They age well and are often used for blending purposes.
Main Flavor
Blackberry, cherry, plum, cured meat, and cranberry are common flavors throughout medium-body red wines.
Popular Varietals
Popular varietals in this category include Merlot, Carmenere, and Cabernet Franc.
Pairings
Nutty cheese, cured meat, and beef are popular pairings.
8. Full-bodied red wine
Known for their bold tannins, dark colors, and ability to age well. Full-bodied red wines come from grapes that have a thick skin, have fermented for a good time on the skins and seeds, and spent an ample amount of time in an oak barrel.
Main Flavor
Flavors include tobacco, cherry, dark berries, cedar, black pepper, and currant.
Popular Varietals
Malbec, Cabernet Sauvignon, Syrah, Montepulciano, and many other varieties are in the full-bodied red category.
Pairings
Game meats, steaks, stews, and rich dishes are a great partner for bold reds.
9. Dessert wine
Dessert wines range from off-dry to very sweet. Many of these wines can be aged for decades. Some of these wines are fortified and have a high alcohol content.
Main Flavors
Caramel, hazelnut, stone fruits, tobacco, and brown sugar are common flavors in dessert wines.
Popular Varietals
Within this style are Port, Marsala, and Sherry made from indigenous grapes.
Pairings
Often an aperitif or a dessert in itself, these wines pair well with desserts and sweet dishes.
Drink up! There are many styles of wine to choose from.