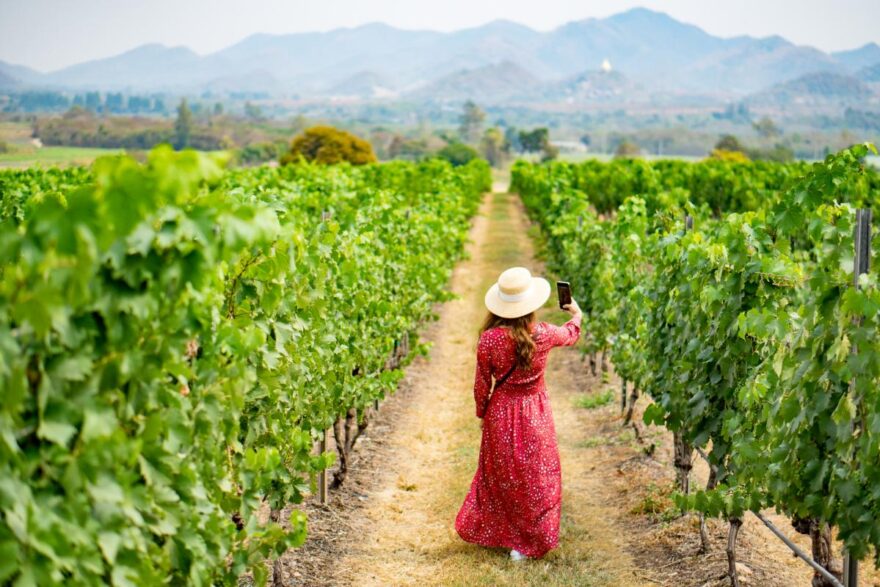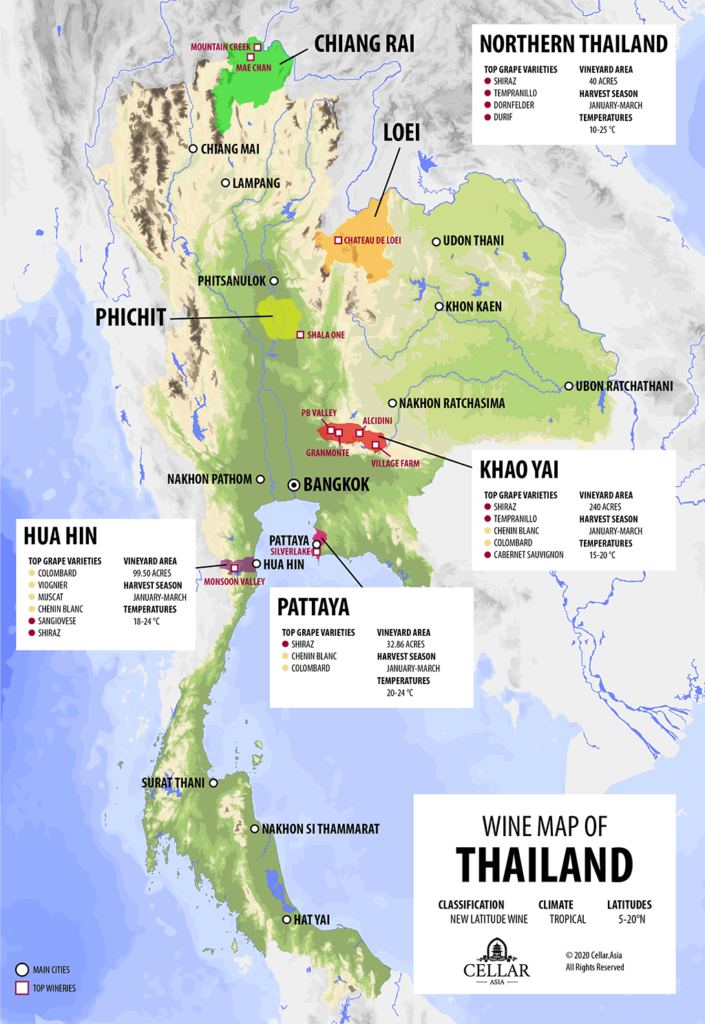 Thailand-Wine-Map.pdf | Thailand-Wine-Map.png (High Definition)
Thailand has always been a prime destination for travelers, whether drawn by its tourism, culture, or food. However, historically, drinking wine has never been a major aspect of Thai culture. The Thai people have instead been more interested in beer and liquors.
In 1960, one of the first vineyards in Thailand was established for table-grapes. Thailand lies between the latitudes of 5-20 degrees north, and therefore, like most countries in Southeast Asia, it is very hot and humid. Despite its tropical climate, Thailand has not been as successful as it could be due to rod and fungi diseases. Additionally, the seasons are not suitable for a grape vine's dormancy period.
However, these obstacles were seen as a challenge for the production of better quality wine, and wine producers in Thailand have responded to adopt adaptive technologies and techniques for growing their grapes. Currently, Thai wines are gaining popularity both domestically and internationally and are considered a new latitude wine that is difficult to produce but has great results.
Thailand has 4 main regions, which have variable soil composition and climatic conditions.
1. Northern Thailand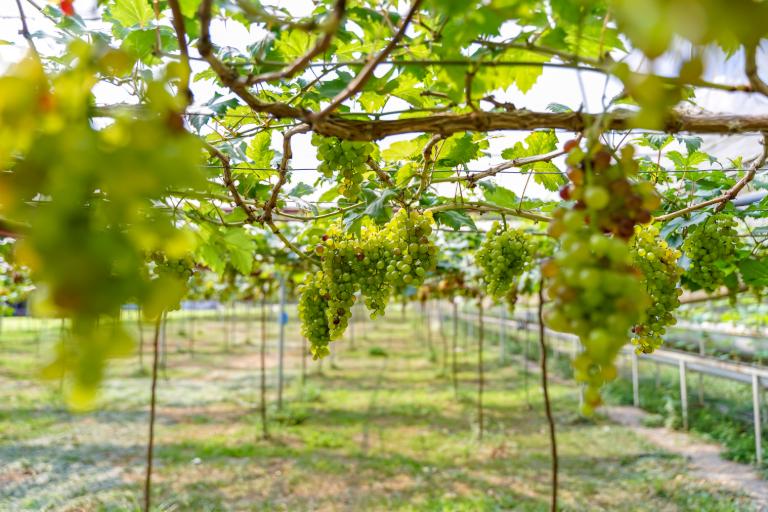 The wineries in northern Thailand lie about 800 kilometers to the north of Bangkok, and their vineyards comprise a total area of 40 acres. This region is home to famous vineyards and wineries such as the Chateau de Loei winery in Phu Ruea, Loei province, Chateau Shala One in Phichit province, and Mae Chan Winery in Chiang Rai province.
Topographically, the land sits at 300 to 600 meters above sea level, 17-18 degrees north of the equator. The soil conditions are different in each production area, but include compositions such as red soil and limestone mixed with gravel.
During the January – March harvest season, temperatures range from 10 – 25 degrees Celsius, and the most popular grape varieties are Shiraz, Tempranillo, Dornfelder, and Durif.
2. Khao Yai, Nakhon Ratchasima Province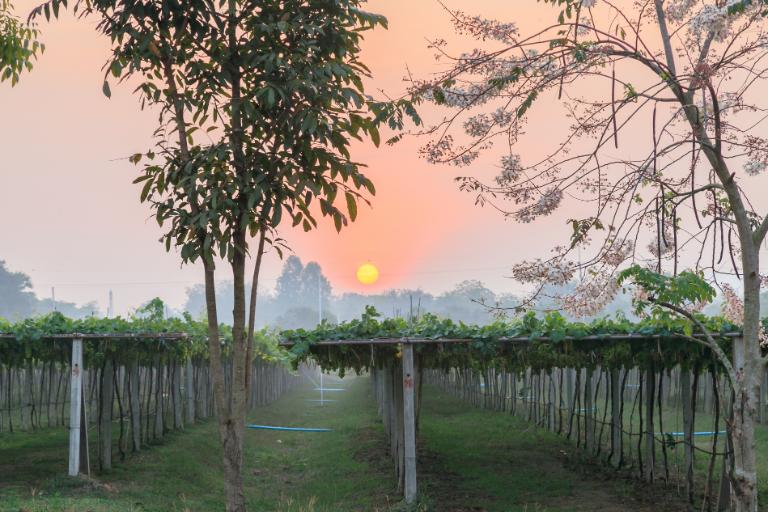 Khao Yai is considered to be the most popular wine region in Thailand. It's not far from Bangkok, only about 2 and a half hours by car. With more than 240 acres of vineyards and wineries, this region sits at 300-550 meters above sea level, 14.3 degrees north of the equator.
Its soil conditions are red soil and limestone clay, and the temperature range during the harvest season of January – March is 15-20 degrees Celsius. The famous vineyards and wineries which are located in the western portion of this region include PB Valley and GranMonte, while the Chateau des Brumes lies toward the east. The region's most popular grape varieties are Shiraz, Tempranillo, Chenin Blanc, Colombard, and Cabernet Sauvignon.
3. Hua Hin, Prachuap Khiri Khan Province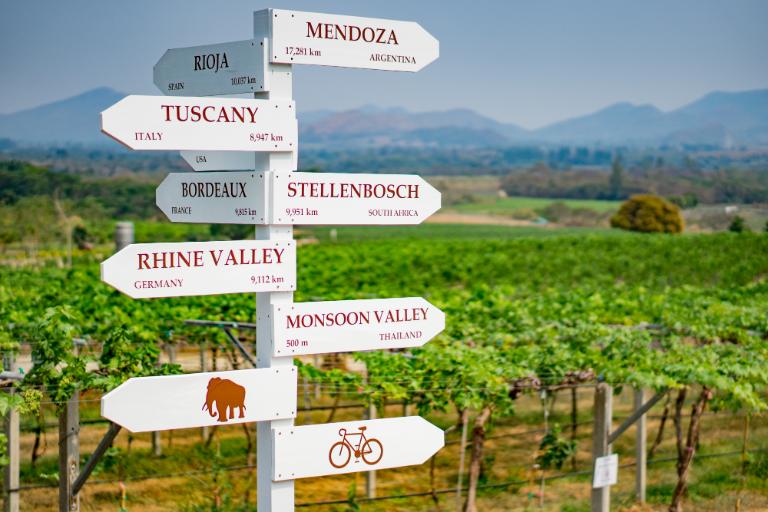 Moving southwest, a 3-hour trip from Bangkok by car will bring you to the vineyards near the beach of Hua Hin. At 150-200 meters above sea level, this region has a flat terrain and loamy, sandy beaches, along with consistent breezes directly from the ocean.
The soil and sea breeze allow international grape varieties to grow very well here, and the total vineyard and winery area in Hua Hin is now approximately 99.5 acres. The temperature during the January – March harvest season is 18-24 degrees Celsius. Hua Hin is home to the Siam Winery's Monsoon Valley winery, and the region's most popular grape varieties are Colombard, Viognier, Muscat, Chenin Blanc, Sangiovese, and Shiraz.
4. Pattaya, Chonburi Province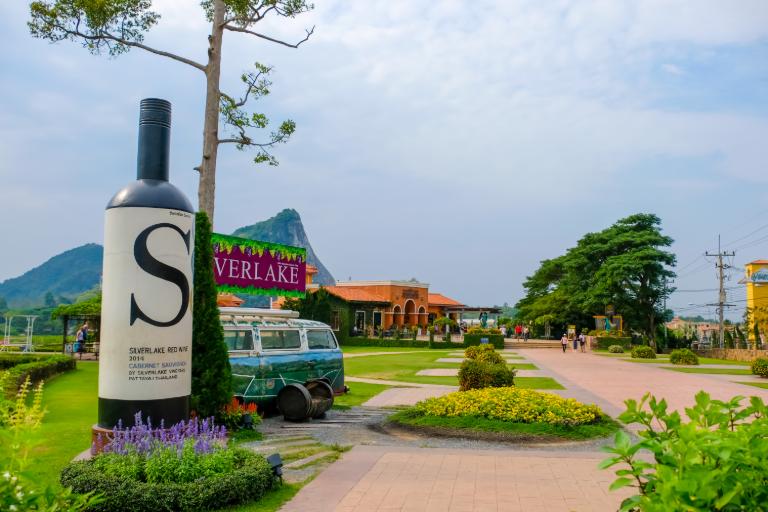 Pattaya is another region that is close to the sea, requiring a mere 2-hour drive southeast from Bangkok. Silverlake Vineyard is the pioneering vineyard and winemaker on the hills of Pattaya, with its lands comprising a total area of 32.86 acres.
At an altitude of 110 meters above sea level, temperatures during the harvest season of January – March are 20-24 degrees Celsius, and popular grape varieties are Shiraz, Chenin Blanc, and Colombard.
What type of wine is produced in Thailand
In addition to making wines from grapes, Thai winemakers are also making wines from a variety of other fruits, including pineapple, roselle, passion fruit, mulberry and many more; even Thai herbs that have been proven to hold health benefits are sometimes mixed with these fruits.
Some examples include Black Krachai wine, which claims to help refresh and revitalize the body, and Santol wine which contains high levels of tannic acid and antioxidants. They are also making a variety of other wines, including sparkling wine.
Most Thai wines are produced to be smooth, soft, and fruity, with the intention of matching the country's spicy cuisine. They also have excellent aromas. These features are helping to promote Thai wines both domestically and internationally, as export numbers keep increasing. Thai restaurants around the world tend to have a selection of Thai wines available to try as well.
Thailand is a bit different when compared to other winemaking countries, but its uniqueness and flexibility have allowed it to become one of the world's most interesting wine-producing regions.